 Free Crypto Signals Channel
More than 50k members
Technical analysis
Up to 3 free signals weekly
Educational content
Free Telegram Channel
Are you looking to get into the world of Cardano trading but don't have any prior experience in the art of technical analysis or chart reading? In that case, Cardano trading signals are well worth considering!
Simply put, trading signals are tips that are analyzed by a team of highly experienced traders, then distributed out to their online community. These suggestions will help teach members what orders to place with their online broker. For example, a signal may suggest that you enter the Cardano market at $1.10 and exit the digital coin hits $1.65. 
This article will explain what you can expect from our Cardano trading signals and how they allow you to profit from the cryptocurrency markets without having any trading background!
What are Cardano Trading Signals?
Cardano trading signals are suggestions that our analysts will send you when they believe they have discovered a profitable trading opportunity. For example, you may receive a signal if our team is confident that Cardano is overvalued based on the current market sentiment. 

Our traders at cryptosignals.org will reach their decision by using a unique skill set of in-depth technical analysis and fundamental research. In turn, giving you all the data needed to place a precise order with your chosen broker. 
To give you a clearer idea of what a crypto signal will look like, check out the example below: 
Cardano Pair

: ADA/USD

Position:

Buy order 

Limit Price

: $1.15

Stop-Loss

: $1.00

Take-Profit

: $1.25
This example shows us that the provider suggests placing a buy order on the crypto pair ADA/USD (Cardano/US dollar). This emphasizes that our in-house traders are looking to profit from the Cardano pair increasing in value.
Each crypto signal also includes other essential points of information, such as – the limit, stop-loss, and take-profit order. To help you get a more rounded understanding of what each point means, we will go into more detail in the sections below. 
When you have received your Cardano signal from us, all you need to do is take the information suggested by our experts and place the orders via your broker. 
What are the Benefits of Quality Cardano Trading Signals?
There are numerous beneficial factors you receive when you sign up for our quality Cardano trading signals. Each one is assisting you in your long-term investment and trading goals. 
Here is a selection of what we believe are our core benefits:
Expert Analysts
cryptosignals.org is home to a team of highly experienced traders who have spent years honing the craft of online trading. Our team's primary task is to perform advanced technical analysis around the clock, focusing on the forever-developing cryptocurrency markets. 
Our in-house experts do this by combining advanced technical analysis, Al algorithms, and fundamental research. As a result, by joining signing up for our Cardano trading signals, you can have our analysts research the market on your behalf- giving you a higher chance of increasing your trading balance!
Great for Inexperienced Traders
The service we provide is not solely tailored to experienced traders. On the contrary, our platform is ideal for newbies. To make consistent profits in the cryptocurrency industry, you need to have a solid understanding of the analytical tools used by traders—for example, technical analysis or artificial intelligence algorithms. 
The truth is –  this can take many years and much hard-earned cash to master. That is why signing up for cryptosignals.org is the best course of action. Not only can you expand your knowledge of trading strategies, but you can also trade Cardano in real-time without any prior experience in the cryptocurrency world whatsoever! 
Have Clear Entry and Exit Goals
At cryptosignals.org, we believe it is vital to have clear and concise goals when trading cryptocurrencies, such as Cardano. This is why when we send out one of our trading signals, we will always provide you with an entry and exit target. 
These targets help remove any confusion and tell you at what price is optimal to enter or exit the market. To assist our entry and goals, we also provide what is known as a stop-loss and take-profit price. We will cover in detail how these are key to a successful trade further on in this guide.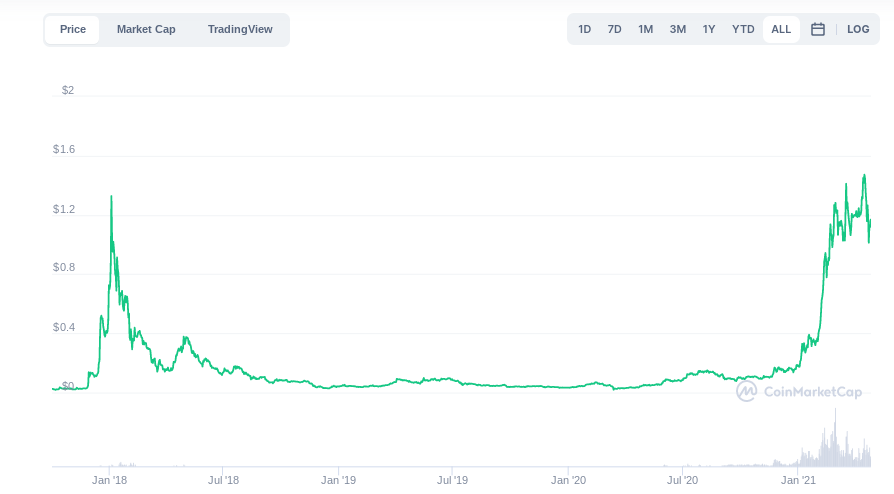 Ultimately, when you have instructed the broker on your suggested entry and exit targets, then there is nothing more you need to do with this particular trade. 
Trade Within Your Budget 
As many may know, creating a budget in the trading space is crucial to growing your capital organically while simultaneously preventing future risks. When you receive a Cardano trading signal, you can choose how much you wish to stake. 
However, keep in mind that our experts will typically suggest risking no more than 1% of your trading account. To give you an example, if your account balance is $600,  the recommended amount to place on our signal would be $6. Likewise, if your balance were at the higher end of the scale, such as $10,000, the suggested trade amount would be $100. 
In conclusion, it is natural to see a fluctuation in your trading capital as each day passes. But, by keeping your stakes sensible, this ensures you are on your way to growing your profits in a risk-averse and strategic manner. 
How do our Cardano Trading Signals Work?
At cryptosignals.org, we feel the most reliable trading signals contain five crucial data points. To be certain you have a firm grasp of how each of our crypto signals works, we have elaborated below: 
Cardano Pair
You can trade Cardano against a variety of different assets. Similar to many other stock markets, you can identify which currencies are being exchanged with one another by the "pair" it presents. For example, if you were to trade Cardano against the US dollar, this would show as ADA/USD. On the other hand, if you were to select ADA/BTC, you were looking to trade Cardano against Bitcoin. 

Our in-house team is proficient in dealing with both crypto-cross and crypto-to-fiat pairs. Therefore, you may see our traders' research prices for Cardano, Bitcoin, Ethereum, Ripple, Litecoin, and Binance Coin, to name a few. In any case, we will always seek to find new trading opportunities for our members 24/7. 
As a side note, as Cardano can be traded against dozens of popular assets, it is crucial to choose an online broker that facilitates plenty of markets. A good suggestion for this is eToro, which is home to a multitude of cryptocurrencies – all offered on a commission-free basis. 
Buy or Sell Position
Now you have a better idea of what crypto-pairs you are focusing on; the next step is knowing which direction to take with your broker. Needless to say, our analysts at cryptosignals.org will seek to profit from both the rise and fall of the cryptocurrency markets. 
For example, if the Cardano trading signal instructs you to place a buy order, this will be represented as the term 'long.' What we mean by this is we think the pair will increase over time.
In the case of a sell position, the signal will show as 'short,' and much like the sell order – we think this pair will decrease in value over time. Either way, telling you whether to go long or short ensures you don't need to make any market judgments independently. 
Limit Price
If you are brand new in the cryptocurrency space, then the following three data points are perhaps the most crucial in executing a profitable trade.
Firstly, the limit order instructs your chosen broker on what price you would like to enter the market. For example, you might be looking to place a sell order on ADA/USD at $1.10. No matter what the current position is, your broker will only execute the trade at the limit price ($1.10). 
The alternative is known as a market order; this allows you to enter the market as quickly as possible at the next available price. Our traders rarely go for market orders as there is no option to set our specific entry price target.
All you would need to do now is proceed to your chosen broker, select a limit order, and place the entry price we suggested via our Cardano training signal. 
Stop-Loss Price
A stop-loss order was designed as the ultimate way of downsizing potential losses in the highly erratic trading market. Our in-house experts encourage a stop-loss price that does not exceed a loss of 1%.
Since 2014, our team has a long-time record of achieving consistent gains; however, losses can be part of the risk of online trading. This is why our analysts pride themselves on distributing reliable and well-researched stop-loss prices. 
Take-Profit Price
In a similar nature to the stop-loss order – a take-profit price was designed to help lock in profits in an automatic manner. For this reason, we always have a particular set of goals in mind when we create our Cardona training signals.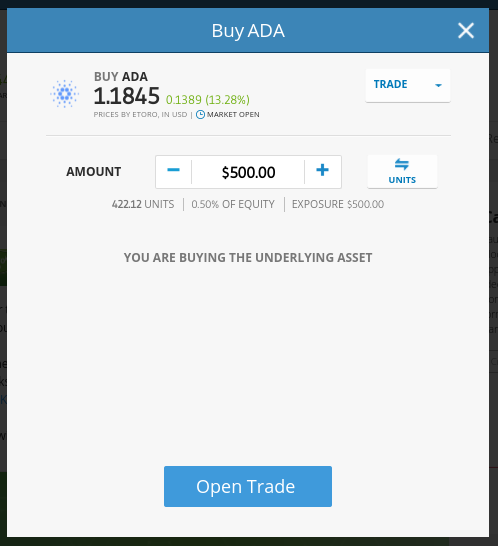 We usually work on a risk-reward ratio of 1:3; an example of this may be if you were to place an order at a stake of $20, we would aim for a profit of $60. Regardless, our Cardano trading signals always include a suggested take-profit order price. Remember, you will need to enter each suggested target price with your chosen broker. 
Cardano Trading Signals Telegram Group
When cryptosignals.org previously issued its crypto trading signals, it used email. Although at the time, our signals were popular and still had great results, there were setbacks. This included having to update your inbox constantly to ensure you did not miss a viable trading opportunity. 
That is why we now opt for Telegram. Not only is the platform extremely user-friendly, but it is also an excellent method of delivering our trading tips in real-time.  As soon as the trading signal is sent, you will receive a notification instantly! 
Each report will come with an overview of the technical analysis behind the signal,  why we are taking the trade, and how to place it with your broker. In many cases, we will also include a chart or graph – making it easier than ever to step into the world of cryptocurrency trading. 
Free Cardona Trading Signals
If you are interested in high-quality Cardona signals but don't want to commit fully just yet – then cryptosignals.org has you covered. In a nutshell, we send out a total of three FREE crypto trading signals per week via our Telegram group. 
These signals contain the same information we offer to our premium members, meaning you are never missing out on any core points or advanced trading strategies. The free signals will include all five of our essential data points, such as the crypto pair you need to trade, the stop-loss price, and the take-profit price. 
After you get a feel for our crypto trading signals, thus becoming more confident in your abilities – you may then decide to join one of our premium plans – which we have explained below. 
Premium Cardano Trading Signals
Let us look at what you should come to expect from a cryptosignals.org premium membership. After all, many of our existing subscribers have continued their journey with us due to our high-quality signals. These plans give you access to 3-5 signals per day (Monday – Friday)  – which is a significant contrast to the free Telegram group. 
We like to be transparent with our prices and have listed them below: 
If you are still unsure if our premium plan is for you – then cryptosignals.org has a perfect risk-free strategy.
When new members subscribe to one of our premium plans, they are presented with a 30-day moneyback guarantee. You may wonder why we do this – it is to show our potential subscribers that we are confident that the service we offer is suitable for traders of all shapes and sizes. 
 If you want to know more, then please see our sections below. 
Cardona Trading Signals – Risk-Free Strategy
When you sign up for a premium plan at cryptosignals.org – you have 30 days to try out our service. We also openly encourage finding a broker that provides you with a free brokerage demo account. Therefore, you can trade our crypto signals and get a feel for how the market runs without the risk of losing any funds! 
Here are the next steps you need to take:
Select your chosen broker, making sure it offers a wide range of cryptocurrencies. For example, eToro is a good choice as it gives you the option to trade multiple pairs commission-free. 

Register for a demo account with your chosen broker. 

Subscribe to the premium plan that suits you best at cryptosignals.org. 

Join our VIP Telegram channel.

Once you obtain your first signal – place our suggested orders with your brokerage demo account. 

After the first few weeks, look at your account and see how much profit you have made. 
If you are happy with our service and are looking to see how your trading journey progresses, we might suggest choosing one of our longer-lasting plans. This will ensure that you are getting the most out of our monthly fees.
Alternatively, if you decided to go for the moneyback guarantee – all you need to do is let us know within the first 30 days and we will refund your total subscription price. 
Choosing a Crypto Broker for the Best Cardano Trading Signals 
As you may have seen throughout this guide, we regularly mention the importance of choosing a quality crypto broker. The reason for this is simple; the broker you pick will be executing all your orders – therefore giving you access to the Cardano trading markets. 
We have provided the segments below to show what we believe to be the key factors to look out for when selecting your crypto broker.
Fees and Commissions
There are many ways that crypto brokers can make money – one of these is by charging a mixture of fees and commissions. For example, several brokers may charge upwards of 2% on each trade you choose to place. 
This is one of the main reasons many crypto traders use eToro. After all,  the platform openly states it has a 0% commission fee policy – allowing you to buy, sell and trade in a low-cost manner.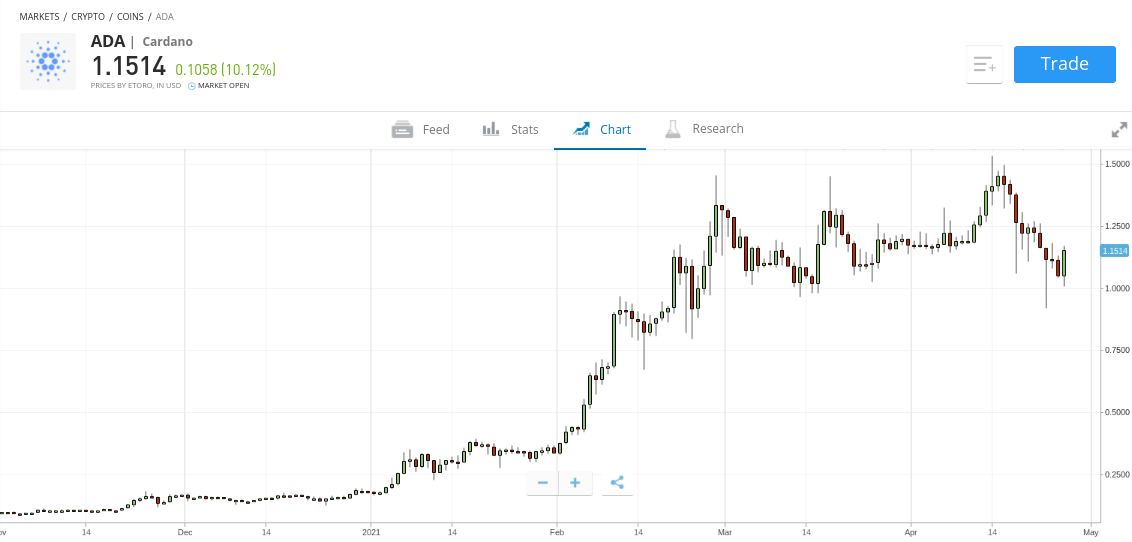 This reason alone makes the online broker and our Cardona trading signals highly matched for each other. As we mentioned previously, our overarching objective is to target small gains – meaning you won't need to worry about the trading fees eating into any of your profit margins. 
One crucial detail that will need to factor in is the 'spread' – which refers to the difference between the bid and ask price quoted for the crypto asset in question. The larger the gap between these prices – the more you are paying to your online broker. The spread can differ with each market and asset – so remember to keep a lookout for this when researching your crypto broker!
Safety and Trust
When you search for your crypto broker, it is a good idea to choose a fully regulated platform. The reason being is that a large proportion of cryptocurrency exchanges are unregulated – meaning anyone could open an account and trade without giving any personal details. 
Ultimately, you will be asked to risk a percentage of your hard-earned funds into the market. As such, making your profits secure should be a top priority. This is why we like eToro –  as three of the leading financial bodies currently regulate the online broker. This includes ASIC, CySEC, and the FCA. eToro is also registered with FINRA – making it ideal for consumers based in the US. 
Supported Crypto Markets
As we covered earlier, our crypto trading signals can and will target a variety of different markets. For example, you may receive a notification on a crypto-cross pair, such as ADA/BTC. In the next instance, our traders could provide you with a crypto-to-fiat trade like BNB/USD.
Keeping this in mind, it is vital to select an online broker that presents you with access to an extensive array of cryptocurrency markets. Thus, allowing you to act instantly on our Cardano trading signals – all through one independent brokerage site. 
Deposits, Withdrawals, and Payments. 
Suppose you are looking to deposit and withdraw funds using fiat money. In that case, utilizing a regulated broker is the best proposal. As we mentioned above, most exchanges are unregulated, meaning they will only accept cryptocurrency payments.
For example, eToro seeks to make it easier than ever to place your orders instantly – AS the platform accepts all major debit/credit cards such as Visa, Maestro, and Mastercard. If you are more interested in e-wallets, you can also use Paypal, Skrill, and Neteller. 
Depending on where you live in the world, you may also have the option of Klarna/Sofort Banking and perhaps other local payment types. 
As an added bonus, eToro deposit charges are only 0.5%.  If you are looking to fund your account with a USD payment method, the company will happily waiver this 0.5% conversion fee. To put this in perspective – Coinbase charges a fee of 3.99% on debit card deposits!
Get Started With the Best Cardano Trading Signals Today
If what cryptosignals.org has to offer is precisely what you are looking for, then getting started couldn't be any easier. For your convenience, we have given you a step-by-step guide on what you need to do next: 
Step 1: Join cryptosignals.org
The first thing you need to do to begin receiving our Cardano trading signals is to open an account with cryptosignals.org. 
If you are more comfortable starting with our free service, this will get you three trading tips per week via the Telegram channel. However, keep in mind that you will have the massive advantage of 3-5 trading signals daily when you join our premium plans! 
And don't forget – we offer a 30-day moneyback guarantee to all new premium plan members – so you've nothing to lose by trying us out!
Step 2: Join Our Crypto Trading Signal Group
After you have finished creating your account with cryptosignals.org – we will issue an email packed with all the information needed to join the VIP Telegram group. 
As a side note, it is beneficial to set a notification alert that is custom to yourself.  By doing this, you can identify when you have obtained a new crypto trading signal – giving you plenty of time to place our suggested trades.  
Step 3: Place Cardano Trading Signal Orders
When you have received a Cardano trading signal from us, all you need to do is sign into your chosen brokerage site and place our suggested orders.
To remind you, this will include the Cardano pair, whether it is a sell or buy position, and the suggested limit, take-profit, and stop-loss price.  
The Bottom Line
To summarize, our Cardona trading signals open the door to the profitable market of cryptocurrency. Meaning – you can trade like a pro while our team of experts does all the fundamental research and technical analysis on your behalf! All you must do is choose your broker and place the proposed orders our team sends out. 
If you want to receive your very own quality Cardona trading signals, select a suitable premium plan for you. And remember, we offer every new member a full 30-day moneyback guarantee – meaning cryptosignals.org has you covered in every way possible!