Cardano Ranked As The Third Most-Staked Cryptocurrency
August 5, 2022
#ADA#Cardano#CRYPTOCURRENCY#NEWS#TechnicalAnalysis
Cardano (ADA) made it to the top three rankings of cryptocurrencies with the most staked supply on CoinRank. The cryptocurrency statistical portal recently released its 15 most-staked coins, showing that Cardano had a whopping 70.6% of its total supply, over $12 billion, locked in staking.
The first on the list was none other than Ethereum (ETH), the reigning king of blockchains, with $21.3 billion of its entire valuation staked ahead of the network's PoS consensus transaction. In second place on CoinRank's list was Solana (SOL), with about 75.5% of its valuation (over $15 billion) locked in staking pools.
Cardano being in the top three on the list comes as no surprise considering the blockchain was, in a way, built for this reason considering it ran on the PoS model from the start.
The PoS structure is optimum for practicing true democratization of a crypto project as the impact or influence of a minority controlling a large number of tokens on the ecosystem is minimal compared to its PoW counterpart. This makes PoS blockchains more attractive to mid-level investors, which translates to a higher influx of active users on the network.
The notable number of staked ADA tokens also shows the level of confidence investors have in Cardano despite the ongoing market struggle.
Key Cardano Levels to Watch — August 5
Ever since Cardano broke away from its downtrend, highlighted by a downward-facing channel, the cryptocurrency has maintained a steady sideways pattern despite the noise in the market. ADA remains glued to the $0.500 line and awaits some market impulse to act.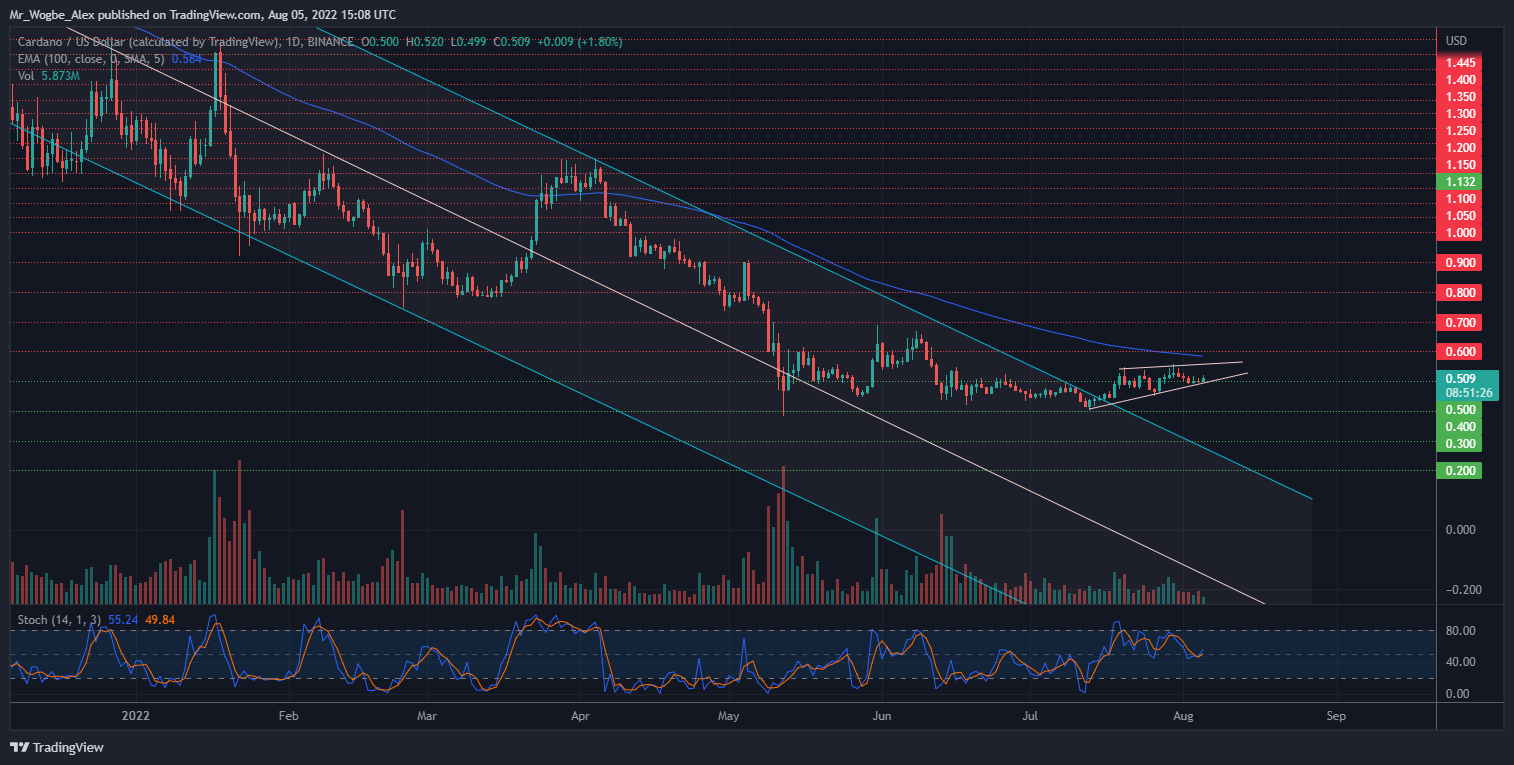 Despite the sideways pattern, the cryptocurrency adopts a slightly bullish bias as it continues to record higher lows. The main obstacle moving forward is the $0.600 mark, where my daily 100 EMA currently resides. Only after breaching the mentioned level can ADA shake off the sideways pattern and resume an upward recovery.
Meanwhile, our resistance levels are $0.560, $0.700, and $0.800 and our support levels are $0.500, $0.400, and $0.300.
Total Market Capitalization: $1.09 trillion
Cardano Market Capitalization: $17.1 billion
Cardano Dominance: 1.57%
Market Rank: #8
You can purchase Lucky Block here. Buy LBlock
Join Our

Free Telegram Group

We send 3 VIP signals a week in our free Telegram group, each signal comes with a full
technical analysis on why we are taking the trade and how to place it through your broker.

Get a taste of what the VIP group is like by joining now for FREE!

Join Our Telegram