 Free Crypto Signals Channel
More than 50k members
Technical analysis
Up to 3 free signals weekly
Educational content
Free Telegram Channel
If you are looking to start trading Polkadot but don't have the time to navigate the market yourself – consider opting for a top-class signal provider like cryptosignals.org. 
In layman's terms, signals are trading suggestions that investors use to help gain an advantage in the cryptocurrency market. The signals at cryptosignals.org are well- analyzed using various technical indicators such as the RSI, MACD, and many more. 
This guide aims to help new or existing traders get a better understanding of how Polkadot trading signals work. More importantly, how anyone can use them to gain profit in their everyday lives!
What are Polkadot Trading Signals?
Polkadot trading signals are suggestions that our experts will send out when they believe there is an impending market change or reversal. For example, you may receive a signal to buy Polkadot when it reaches $25 and sell the position when it touches $27. 
Our house of analysts works around the clock using a key combination of technical analysis tools, market research, and AI algorithms. In doing so, we provide our members with the details needed to execute a profitable trade. 

To show you what a Polkadot signal will look like, check out our example below: 
Polkadot Pair

: DOT/USD

Position:

Sell Order 

Limit Price

: $31.00

Take-Profit

: $30.69

Stop-Loss

: $31.93
This information set demonstrates that our traders believe that Polkadot may be overvalued against the US dollar. In turn, they are suggesting that by placing a sell order on DOT/USD, you would look to profit from the decrease in value.  As you can see from the example, there are five key data points – each with an important part in building a successful trade.
We will cover these points in more detail in the segments below. Nevertheless, when you have received your Polkadot trading signal, it is just a matter of heading over to your chosen broker and placing your order.  
What are the Benefits of Quality Polkadot Trading Signals?
Joining our community at cryptosignals.org  gives you access to the core benefits that our quality Polkadot trading signals have to offer. Each of them is crucial If you intend to have long-term and realistic investment goals. 
These include the following:
Expert Analysts
Our expert analysts have been actively trading the cryptocurrency market for over 7 years – spending many hours perfecting their craft. Our team's daily tasks revolve around performing fundamental and technical analysis, focusing primarily on the cryptocurrency market. 
As a result, our long-term members have benefited from our reliable crypto trading signals – which currently boast a success rate of 82%. We are able to achieve this by gathering extensive research via technical indicators and ground-breaking AI algorithms. 
By signing up for our Polkadot trading signals, you will have our analysts researching the markets on your behalf! 
Great for Inexperienced Traders
When our team at cryptosignals.org created the platform in 2014,  our main objective was to form a community accessible to new and seasoned traders – alongside anyone looking to learn. 
Crucially,  to make steady profits in the crypto trading industry, you need a very particular set of skills. For example, you need to be able to analyze past price charts to recognize any recurring patterns. 
This alone can take years to master; which is why cryptosignals.org is ideal for inexperienced traders. You can sign up for our Polkadot signals and start trading immediately – without having any knowledge of technical analysis at all. 
Have Clear Entry and Exit Goals
Perhaps a more significant benefit of our crypto trading signals is that we always include a straightforward entry and exit target with every alert we send. This means that our team of analysts will advise you on what entry price to place with your chosen broker.  By doing this, we can ensure that you are entering or exiting the market at a more beneficial time and price.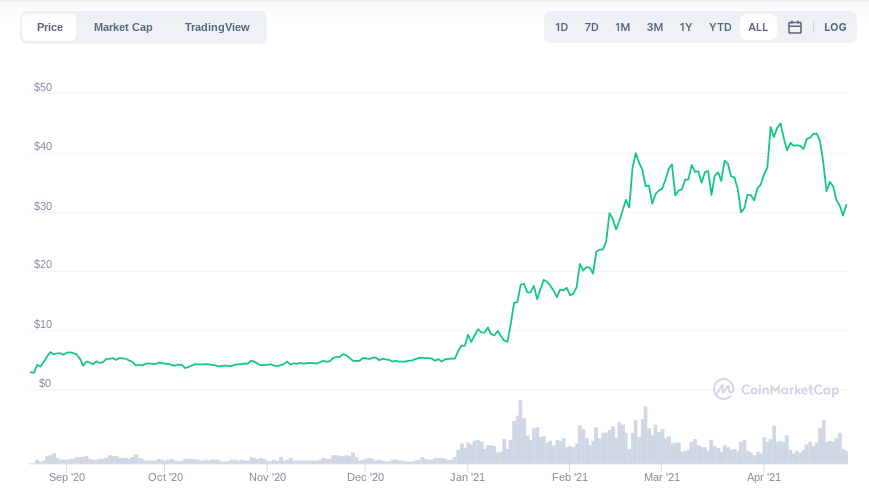 To achieve our entry and exit target, we provide a take-profit and stop-loss price.  These orders help maintain healthy profits while simultaneously minimizing any potential losses. Some new traders can sometimes forget the importance of these price orders. For this reason, we have made sure to break them down for you later in this guide.  
Trade Within Your Budget 
When you sign up at cryptosignals.org and begin receiving your new trading tips – you are in control of how much you wish to stake. However, don't forget that the cryptocurrency market can be highly volatile at times. Due to this, our traders encourage sticking to a maximum risk of just 1% of your total trading capital. 
For example, if your account holds a sum of $450 – you might want to allocate no more than $4.50 on a single position.  We also apply the same 1% rule on more considerable volumes.
That is to say, if your account balance stands at $45,000, the recommended stake amount would be $450. Each trade size will vary depending on how much your balance has wavered during each week/month.  We do this to show our members how to grow their investment capital in a risk-averse way. 
How do our Polkadot Trading Signals Work?
As we stated previously, each Polkadot trading signal carries five key data points. To ensure you have a thorough insight on each piece of information – we have explained this in more detail below. 
Polkadot Pair
The first thing that we include in our trading signals is which crypto pair our analysts currently have their sights on.  To simplify, a  crypto "pair" consists of two currencies that you can trade against one another. This works in the same way as trading forex. 
Our experts are accomplished in a wide range of cryptocurrency markets. These include crypto-to-fiat and crypto-cross pairs. To help anyone new to these terms, a crypto-to-fiat pair will consist of one digital currency and one in the form of fiat money—for example, Pound Sterling or US Dollars.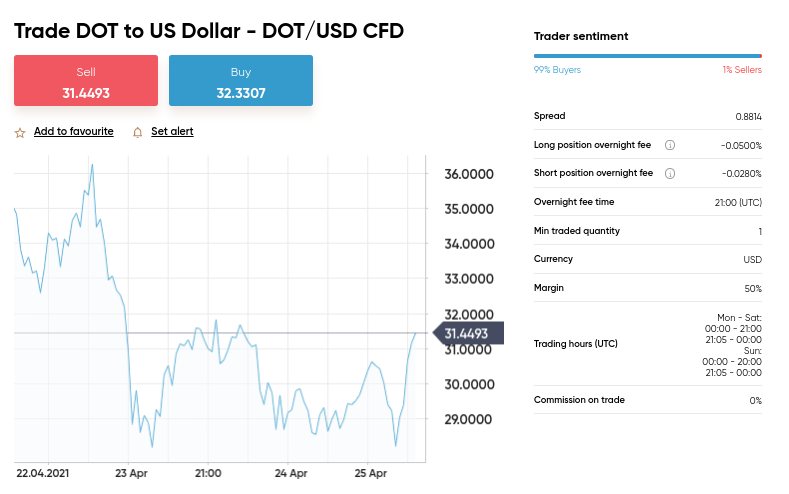 On the other hand, you have crypto-cross pairs, which can be explained more simply as two rival digital currencies. For instance, DOT/BTC (Polkadot and Bitcoin). 
With Polkadot having the ability to be traded alongside various currencies, it is vital to choose a broker that can fully facilitate this. You may have seen some brokers on our website – these brokers currently offers 3000+ different markets on a commission-free basis – including Polkadot.   
Buy or Sell Position
Knowing which position to take can be tricky as a newbie. Essentially, our traders are looking to profit from any situation. For example, if we believe that Polkadot is about to fall in value, we would tell you to go short, otherwise known as placing a sell order. 
On the opposite side of the board, we may think Polkadot is due to a rise in value. In that instance, we would advise going long, meaning you would need to select a buy order with your broker.  
Crucially, by knowing which market direction to take with your crypto pair, you don't need to make any rash decisions – giving yourself a more pronounced chance of making a profit.  
Limit Price
If you are brand-new to crypto trading, then there are two separate ways you can enter this market. You may see brokers offering both of these, depending on whether your goals are short or long-term. 
The first is a limit order – this would instruct your broker at what specific price to enter the market at. For example, you may want to place a buy order on DOT/USD at an entry price of $31. Regardless of the price the pair is currently sitting at, the trade will only be executed if and when DOT/USD hits $31. 
The other option is a market order. This allows your broker to administer your trade at the next available price. Our team rarely opts for market orders as they do not allow us to stipulate a preferred entry amount. 
As such, the correct step would be to select your desired limit order with your chosen broker then place the entry price that our crypto signals have suggested. 
Take-Profit Price
Our team of in-house traders believe that top-rated signals always include a solid take-profit order. That is why we at cryptosignals.org, clearly state that our goal is to work off a risk-reward ratio of 1:3. 
To give you an example of this –  if we had suggested a limit order with the value of $70, our take-profit price would sit at $72.10. The reason behind this is that it calculates to a profit margin of 3%. By implementing a target return of 3%, we are looking to make modest but consistent gains. 
In conclusion, we will always provide our members with a suggested take-profit order price. All that is needed is to enter this price with your chosen broker. 
Stop-Loss Price
In addition to employing a take-profit price order to help secure any future profits – we also encourage our members to use a stop-loss order. This reduces potential losses if a position was to go in the opposite direction. 
Let's use the example above; if our take-profit is $72.10, that will make our stop-loss price $69.10. This price depicts the maximum loss you will incur when using the 1% rule. 
Although we have a substantial track record of producing consistent gains  – we can not promise there will not be losses at times. That is why we always strive to share a well-analyzed and reasonable stop-loss price. 
Polkadot Trading Signals Telegram Group
In prior years, we distributed our Polkadot trading signals via email. This method proved to be a slow and unorganized way of sharing our tips, charts, and data.  That is why the team at cryptosignals.org now opts for Telegram. 
Telegram is an instant messaging service that allows our analysts to quickly and efficiently send out crypto signals. Meaning that as soon our new trading signal has been posted, your phone will receive an immediate alert.
We also send out a chart or graph breaking down the technical analysis undertaken by our team. As a result, you can learn how to get your trading account into profit!
Free Polkadot Trading Signals
Suppose you are looking to start trading Polkadot straight away – but are slightly apprehensive of committing financially. In that case, the free signals that cryptosignals.org offer might be precisely what you need. 
In total, we send out three free crypto signals every week – all containing the same data that our premium members receive. In other words, we never hide or separate the signals between the free and premium groups. 
When you feel more positive about your trading skills, you might then decide to join one of our premium packages – which we elaborated on below. 
Premium Polkadot Trading Signals
We have reviewed our prices and plans against various other providers, and subsequently, believe we offer a well-rounded and reasonably priced service. 
Below we have listed our prices and what you can come to expect from our platform:
These plans will get you access to between 3-5 signals per day, five days a week – all containing the respective limit, stop-loss, and take-profit price order.  
If you are still considering whether the packages are suitable for you – then cryptosignals.org has a great risk-free strategy! We offer all new subscribers a 30-day money-back guarantee; so if this interests you, then keep reading!
Polkadot Trading Signals – Risk-Free Strategy
As we mentioned above, when you sign up for cryptosignals.org – you are offered a no-questions-asked money-back guarantee.  
We also encourage our members to run our signals through a demo brokerage account for the first month. The outcome being you can actively trade our signals without risking any of your own funds. 
Here's what you need to do:
Choose a broker that supports lots of cryptocurrency markets.

When you have chosen your broker, open up a demo brokerage account. 

Select a suitable price and package that cryptosignals.org provides.

When you have joined a premium plan, join our Telegram group. 

When you receive your signal, head to your chosen demo brokerage account and place the suggested orders. 

After 2/.3 weeks, total up your results and see how much profit you have made.
If the results have met or even exceeded your expectations – we would advise signing up for a longer plan to get the best out of premium signals. Alternatively, if you decide that you want to go for the money-back option, just make sure to let us know within your first 30 days!
Choosing a Crypto Broker for the Best Polkadot Trading Signals.
One of the essential parts of Polkadot trading (or any crypto trading) is choosing a top-rated broker. The reason for this is that the broker is the one that will place all orders on your behalf – consequently allowing you to access the crypto trading world! 
There are several factors to consider when choosing your crypto broker – we have listed our top four below. 
Fees and Commissions
The first thing we encourage our members to do is get to know what fees and commissions that each broker charges. For example, Coinmama prices are based on loyalty level and have a commission fee of up to 3.90%.  
That is why many opt for Binance; the broker allows you to open and close positions with a 0% commission fee. This makes the online broker an excellent match for our Polkadot trading signals. As we aim to target small, steady gains, you won't have your profits eaten away with expensive trading fees.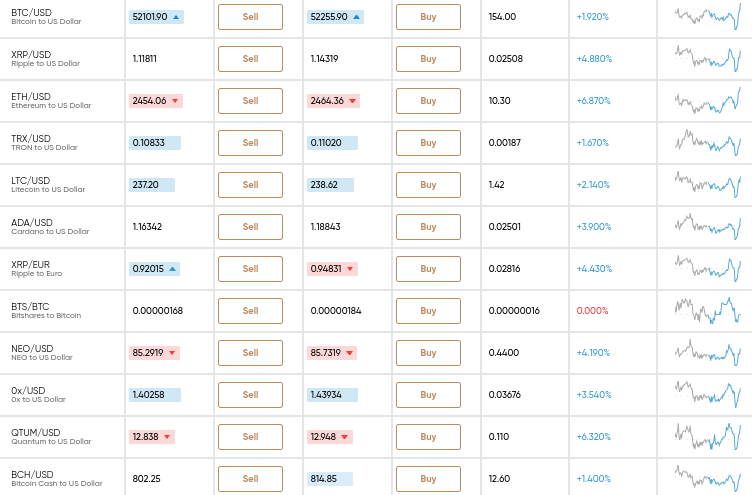 One last thing to note is the 'spread'. This cost is the difference between the bid and ask price on each market. You will need to ensure that your chosen broker offers tight spreads – which in turn, will reduce the fees you pay to enter and exit the market.   
Safety and Trust
Some people may already be aware that a large number of cryptocurrency exchanges are unregulated. What this means is that you can open an account and trade on the market without submitting any personal information. 
However, we don't recommend this to our members, and the reason is simple.  When you sign up with any broker, you will be asked to deposit funds into your account. Therefore, making sure your money is safe should be the primary intention of the platform. 
Supported Crypto Markets
As we touched on earlier, Polkadot can be traded against dozens of varying assets. That is why our traders work around the clock to make sure our signals support this. 
For example, our analysts could share a signal that is focusing on a crypto-to-fiat pair like DOT/GBP. Then in the next instance, they may send a crypto-cross pair like DOT/ETH. 
That is why it is imperative to join a crypto broker that provides you with a selection of diverse markets. This decision means you do not need to join multiple brokers to place an order – on the contrary; you can act on our suggestions with just one site!
Deposits, Withdrawals, and Payments. 
The final thing to look for when choosing your broker is what payment methods are accessible. For example, most unregulated exchanges will only accept transactions in the form of cryptocurrencies. 
If you are looking for a site that will accept debit/credit cards and a selection of electronic payment services  – then Binance has you covered.  We have included a list of just some of the methods it supports:
Visa, Maestro, and Mastercard

Bank wire transfer 

ApplePay

iDeal

Giropay
Best of all, some brokers charge no transaction fees on deposits and withdrawals. This amount is a vast difference from brokers like Coinmama – which charges 5% on all debit card deposits. 
Get Started With the Best Polkadot Trading Signals Today
If the sound of what cryptosignals.org offers has your interest peaked – then getting started with our Polkadot trading signals is easier than ever. Follow the directions highlighted below to begin receiving quality crypto trading signals straight to your Telegram account!
Step 1: Join cryptosignals.org
Step one is to open an account with cryptosignals.org – this is a nice quick process and explains what steps to take next. 
You can start with our free crypto trading signals – to remind you, this gets you three recommendations per week. However, by picking our premium plan, you get a tremendous advantage of 3-5 per day! 
And remember, you can always opt for the 30-day moneyback guarantee if you wish. 
Step 2: Join our Crypto Trading Signal Group
After you have finished setting up your cryptosignals.org account, you will receive an in-depth email about joining the Telegram group. A good piece of advice we give to all our new members is to set a custom notification sound. 
This sound could be anything you like as long as it lets you know when you have received a new trading signal. By doing this, you can instantly act on our suggestions – giving yourself a chance to outperform the market! 
Step 3: Place Polkadot Trading Signal Orders
The last step is to head over to your chosen broker – and place the order we suggested via the Polkadot trading signal. Remember to include the crypto pair, whether it's a buy or sell position,  the limit order, stop-loss, and take-profit prices. 
The Bottom Line
We hope this guide has been beneficial when it comes to understanding how our crypto signals work! Let us recap for you – Polkadot signals allow you access to the crypto trading sphere in a risk-averse manner. 
You won't need to spend hours researching current market trends or performing any fundamental technical analysis. Instead, the only thing you must do is place the orders that our trading signals have suggested. 
If you are ready to get started with cryptosignals.org, then simply choose the premium plan that meets your requirements. When you have followed the step-to-step guide we highlighted above; you will begin receiving your crypto trading signals. 
Keep in mind; cryptosignals.org offers all-new premium plan members a 30-day moneyback guarantee – so there really is nothing to lose!