 Free Crypto Signals Channel
More than 50k members
Technical analysis
Up to 3 free signals weekly
Educational content
Free Telegram Channel
Best Bitcoin Trading Signals 2023 – Ultimate Guide
If you're interested in actively trading Bitcoin but don't possess enough knowledge to outperform the market on a consistent basis – signals are well worth considering.
Put simply, Bitcoin signals are trading suggestions that tell you what orders to place with your broker. For example, a signal might tell you to buy Bitcoin when it hits a price of $52,500 and to cash out when it breaches $56,000.
In this guide, we explain how our Bitcoin trading signals allow you to profit from the cryptocurrency markets without needing to do any research or technical analysis of your own.
What are Bitcoin trading signals?
Bitcoin trading signals will inform you when a profitable market trend has been identified. That is to say, your chosen signal provider will research the Bitcoin markets and send you a trading suggestion when it believes an opportunity has been established.
For example, you might receive a signal because the provider is confident that Bitcoin is overvalued based on current prices. The provider will reach this decision by performing its own in-depth technical analysis and research.


To clear the mist, below you will see an example of what a Bitcoin trading signal looks like:
Bitcoin Pair: BTC/USD
Position: Buy Order
Limit Price: $45,000
Take-Profit: $49,000
Stop-Loss: $42,000
The example above shows us that the signal provider is suggesting that you should place a buy order on BTC/USD. This highlights that the Bitcoin trading signal supplier thinks the price of BTC/USD will rise. The above Bitcoin trading signal also tells us what limit, take-profit, and stop-loss order we should place.
Then, it's just a case of heading over to your online broker and placing the orders that have been suggested via the Bitcoin trading signal.
What are the benefits of quality Bitcoin trading signals?
By signing up for a quality Bitcoin trading signals service, there are many benefits that this can offer for your long-term investment goals.
This includes the following:
Expert Analysts
Here at cryptosignals.org – we have a team of highly experienced traders and analysts that work in-house. Our team is primarily tasked with performing compressive technical analysis around the clock – focusing exclusively on the cryptocurrency markets.
Our traders do this by deploying advanced research strategies via technical indicators and other chart analysis tools. As such, by signing up for our quality Bitcoin trading signals, our analysts will research the markets on your behalf – so you don't have to.
Great for inexperienced traders
Perhaps an even bigger benefit of using our Bitcoin trading signals is that our service is ideal for inexperienced traders. Crucially, in order to make consistent gains in the Bitcoin trading scene (or any investment sector for that manner), you need to have a solid understanding of technical analysis and chart reading.
This can take many years to master, which is why most newbie traders simply quit. But, by signing up to cryptosignals.org, you can actively trade Bitcoin without needing to have any knowledge of technical analysis at all. On the contrary, this role is reserved for our team of in-house traders.
Have clear entry and exit goals
When you receive Bitcoin trading signals via the cryptosignals.org Telegram channel, you will always be provided with an entry and exit target. Although we cover this in more detail in the sections below, this means that we tell you what entry price to execute at your chosen broker. This ensures that you are not left to guess when to enter the market.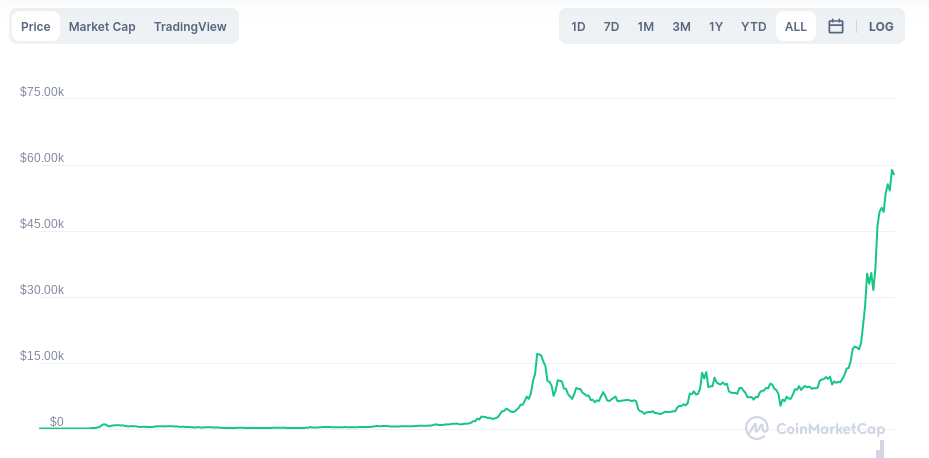 Additionally,  we also provide a take-profit and stop-loss order price. This ensures that your trade is closed automatically when a price target is hit or the position goes against us by a certain amount. Ultimately, once you have placed the entry and exit orders that we have suggested, there is nothing else for you to do on that particular trade
Trade within your budget
When you receive a Bitcoin trading signal from us – you can decide how much you wish to stake. In most cases, we suggest risking no more than 1% of your trading capital. For example, if you have an account balance of $500 – you might decide to allocate $5 on our signal.
Similarly, if your account balance was $10,000 – the suggested trade size would stand at $100. It goes without saying that your account balance will rise and fall throughout the month. As such, the monetary value of your trade – based on the 1% rule, will vary. This ensures that you grow your trading capital in a risk-averse and organic manner.
How do our Bitcoin trading signals work?
It is important to note that all of our Bitcoin trading signals come with a minimum number of data points. To ensure you have a firm grasp of how our crypto signals work – we elaborate on these data points in more detail below.
Bitcoin pair
Bitcoin can be traded against dozens of other assets. In a similar nature to forex, each market is identified by a 'pair'. For example, if you were to trade Bitcoin against the US dollar – this would be represented as BTC/USD. If, for example, you traded Bitcoin against Ethereum, the pair in question is ETH/BTC.
Our team of in-house traders focuses on crypto-to-fiat pairs as well as crypto-cross pairs. The former typically focuses on BTC/USD as this pair possesses the most liquidity and trading activity. The latter might see our traders research price against, between Bitcoin and Ethereum, Ripple, Litecoin, Stellar, and other popular digital assets.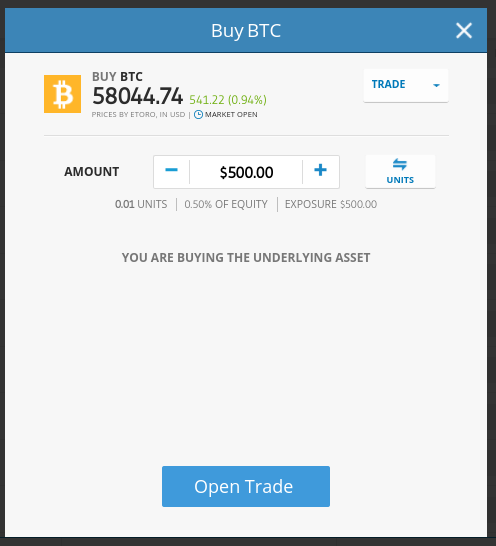 Either way, the first data point contained within our Bitcoin trading signals, is the pair you need to trade. As a side note, it's best to sign up with an online broker that offers a wide variety of markets to ensure that you always have the means to act on our Bitcoin trading signals. A good example in this respect is eToro – which offers dozens of cryptocurrency markets.
Buy or sell position
It goes without saying that our team of analysts will look to profit from both rising and falling markets. For example, if we think that Bitcoin is undervalued against the British pound, we will tell you to place a 'buy' order at your chosen broker. This simply means that we think the Bitcoin pair will increase in value.
If, however, we thought that Bitcoin was overvalued against the British pound, we would suggest a 'sell' order. This means that we are looking to profit from the pair going down in value. Ultimately, by telling you whether to go long or short on the identified Bitcoin pair – you don't need to make a market judgment yourself.
Limit price
If you're a complete newbie in the world of online trading – as limit order tells your chosen broker what price you would like the enter the market. For example, you might be looking to place a buy order on BTC/USD at $50,000.
Irrespective of what price the pair is currently trading at, your limit order will only be executed by the broker when $50,000 is matched by the markets.
The alternative to a limit order is a market order. This will enable you to enter the market instantly at the next available price. We rarely opt for market orders as they do not allow you to specify our desired entry price. As such, all you need to do is select a limit order when placing the trade at your chosen broker and enter the entry price that our Bitcoin signal suggests.
Take-profit price
As we mentioned earlier, we always have a clear set of goals when we send out a new Bitcoin trading signal. In many cases, we might look to make a profit of 3% based on a stake of 1%. In other words, our risk/reward ratio in this instance is 1:3 – meaning that for every $1, we aim to make gains of $3.
Either way, our Bitcoin trading signals always come with the suggested take-profit order price. You simply need to enter this price when setting up the order at your chosen broker.
Stop-loss price
On top of setting up a take-profit order, you are also suggested to deploy a stop-loss order. This ensures that your potential losses on the trade are capped. Usually, our suggested stop-loss price amounts to a maximum loss of 1%.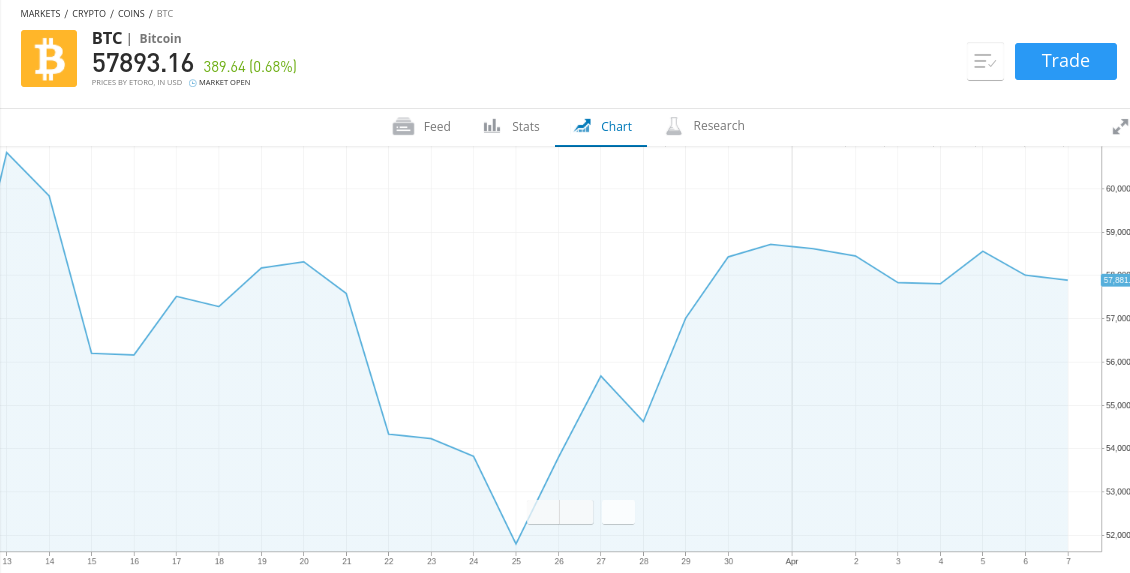 Crucially, although we have a long-standing track record of generating consistent gains – losses are part and parcel of trading. As such, we never send out a Bitcoin trading signal without a sensible and well-researched stop-loss price.
Bitcoin signals Telegram group?
In previous years, Bitcoin trading signals were distributed via email. However, this is a slow and cumbersome way to forward on trading signals. Instead, we at cryptosignals.org opt for Telegram. In doing so, we can send out Bitcoin trading signals to our group in real-time.
That is to say, as soon as the signal is posted, your phone will receive an instant notification. Then, you simply need to click on the notification and you will be presented with the signal. In many cases, we also include a chart or graph that explains the research behind the signal that we have posted. This allows you to understand the thought process undertaken by our team of in-house analysts.
Free Bitcoin trading signals
If you're looking for free Bitcoin trading signals – this is something that we at cryptosignals.org offer. In total, we send out three crypto signals per week via the free Telegram group. These free signals contain the same information that our premium members get. In other words, we never 'black out' or 'hide' core data points – such as the suggested take-profit or stop-loss prices.
If you're wondering why we send out free Bitcoin trading signals – the reason for this is simple. We want our potential subscribers to get a feel for how we work before making a financial commitment. Only when you are confident that you want to up-the-ante, might you then decide to sign up for our premium plan – which we explain in the section below.
Premium Bitcoin trading signals
Most of our members here at cryptosignals.org are long-standing subscribers of our premium Telegram channel. This will get you access to between 3 and 5 crypto signals every day (Monday to Friday).
We are very upfront about how much we charge for our premium plan. For clarity, please review our prices below:
If you're still sitting on the fence as to whether or not the cryptosignals.org premium plan is right for you – we have you covered. This is because we offer all new subscribers a no-questions-asked 30-day moneyback guarantee.
All you need to do is contact us within this timeframe and we will refund your original subscription. We do this because we are confident in the service we offer and thus – find that the vast majority of new subscribers remain on our books long-term.
Bitcoin trading signals – Risk-free strategy
When using a Bitcoin trading signal provider like us – you have 30 days to test our service out before making a commitment. In fact, we actually suggest running our crypto signals through a brokerage demo account during the first month. In doing so, you can place all of our suggested signals without risking a single cent.
Here's what you need to do:
Open a demo account with an order broker. Ensure the broker supports lots of cryptocurrency markets.
Sign up for a cryptosignals.org premium plan
Join our premium Telegram group
As soon as you receive a signal – place our suggested orders via your brokerage demo account
After a few weeks, tally up the results to see how much money you have made
If you're happy with the results and we have met your expectations – you might decide to upgrade to a longer plan to reduce the monthly fee. Alternatively, if you decide that you want to execute the moneyback guarantee – just make sure you let us know within 30 days of signing up!
Choosing a crypto broker for the best Bitcoin trading signals
We can't stress enough how important it is to choose a good crypto broker when using Bitcoin trading signals. After all, it is the broker that will execute your orders for you – subsequently giving you access to the Bitcoin trading markets.
There are several core factors that you need to look out for when choosing a crypto broker – such as those listed in the sections below.
Fees and commissions
Crypto brokers make money by charging an assortment of fees and commissions. For example, the likes of Coinbase charge a commission of 1.49% on each position that you place. At the other end of the pricing scale, eToro allows you to buy, sell, and trade cryptocurrencies without paying any commission.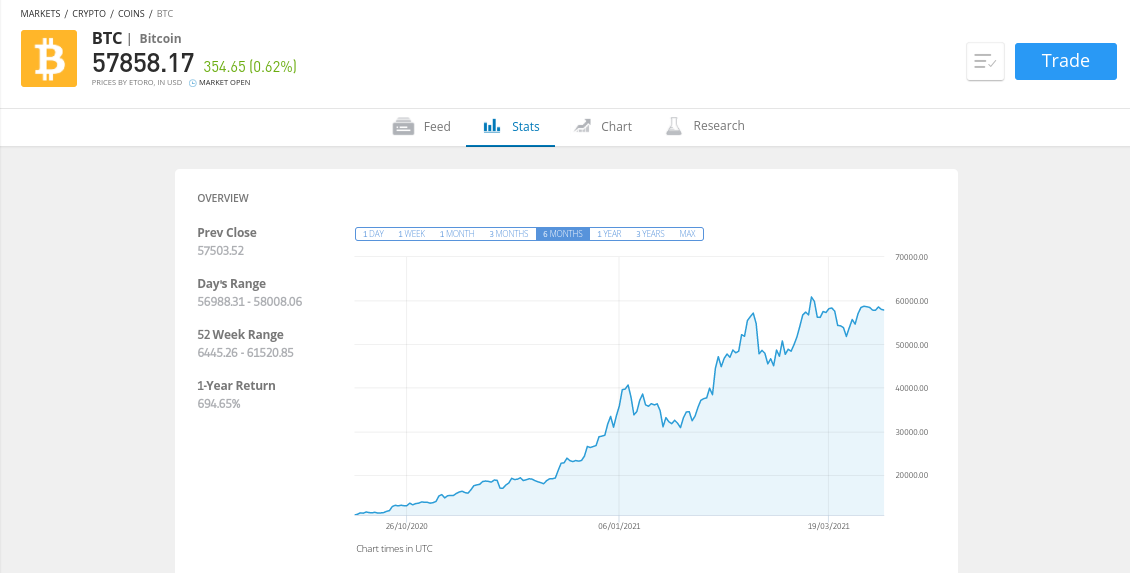 This makes the online broker highly conducive for our Bitcoin trading signals – which often look to target small gains. As such, you won't have your profits eaten away by expensive trading fees. Additionally, you also need to factor in the 'spread' – which is the difference between the bid and ask price of the respective crypto pair. The wider the spread, the more you are indirectly paying to your broker.
Safety and trust
As you may well know – the vast majority of cryptocurrency exchanges are unregulated. This is why you are often able to open an account and trade without giving any personal information. However, using an unregulated cryptocurrency exchange is not a good idea.
After all, you will be required to deposit your hard-earned capital into the platform, and thus – you need to be 100% sure that your money is safe. This is why we like eToro – as the online broker is regulated by three financial bodies. This includes ASIC, CySEC, and the FCA. Additionally, eToro is also registered with FINRA – making the platform ideal for those based in the US.
Supported crypto markets
As we covered earlier, our Bitcoin trading signals cover a wide variety of markets. For example, one signal might consist of a crypto-to-fiat pair like BTC/USD while the next might concern a crypto-cross pair such as ETH/BTC.
With this in mind, it's important that you choose a crypto broker that gives you access to a wide suite of Bitcoin markets. Once again, this will ensure that you are able to act on all of our Bitcoin trading signals through a single brokerage site.
Deposits, withdrawals, and payments 
Another reason why choosing a regulated broker is the best course of action is that you will be able to deposit and withdraw funds with fiat money. This is why most unregulated exchanges can only accept payments in the form of cryptocurrencies. At eToro, for example, you can instantly deposit funds with a debit/credit card (Visa, Maestro, MasterCard), or an e-wallet (Paypal, Skrill, Neteller).
Depending on where you live, you might also be able to benefit from instantly processed bank transfers. Best of all, eToro charges just 0.5% on deposits. If you're funding your account with a USD-denominated payment method – this 0.5% currency conversion fee is scrapped altogether. This is in stark contrast to Coinbase – which charges 3.99% on debit card deposits!
Get started with the best Bitcoin trading signals today
If you like the sound of what cryptosignals.org offers – getting started with our Bitcoin trading signals could not be easier. Simply follow the steps outlined below to start receiving quality Bitcoin trading signals directly to your Telegram app!
Step 1: Join cryptosignals.org
Before you can start receiving our quality Bitcoin trading signals – you will need to open an account. This should take you no more than a couple of minutes.
You are welcome to start off with our free Bitcoin trading signals – which will get you three suggestions per week. But, by becoming a premium member, you will get 3-5 signals per day. And of course – you can request a full refund within 30-days of joining our premium signal group if you are dissatisfied with our service.
Step 2: Join our Crypto Trading Signal Group
Once you have joined cryptosignals.org – we will send you an email with information on how to join our Telegram group. Once you have joined, it's worth setting a custom notification sound via the Telegram settings page. This will ensure that you know a Bitcoin trading signal has been distributed and thus – you can act on our suggestion in real-time.
Step 3: Place Bitcoin Trading Signal Orders
As soon as you receive a Bitcoin trading signal from us – you then need to head over to your chosen crypto broker. All you need to do is place the orders that we suggest. To recap, this includes the crypto pair, whether it's a buy or sell order, and the respective limit, stop-loss loss, and take-profit prices.
The Bottom Line
In summary, Bitcoin trading signals allow you to access the lucrative cryptocurrency markets without needing to do any research and technical analysis. Instead, the only task you are required to complete is to place the orders that our signals suggest.
If you're ready to start receiving quality Bitcoin trading signals right now – choose a plan that meets your needs. And don't forget – all new premium plan subscribers are offered a 30-day moneyback guarantee  – so you've got nothing to lose!