 Free Crypto Signals Channel
More than 50k members
Technical analysis
Up to 3 free signals weekly
Educational content
Free Telegram Channel
New to the online cryptocurrency scene and want to learn how to place trades? If so, the process is a lot easier than you think. With that said, making a mistake by placing the wrong crypto trading order can be fatal – so this guide is a must-read.
Within it, we walk you through the end-to-end process of how to place trades at a top-rated cryptocurrency broker in a risk-averse manner. Not only does this include buy and sell positions, but risk-management orders, too.
How to Place Trades at a Crypto Broker – Quick Guide
If you've got your finger on the pulse and wish to place your first crypto trade right now – follow the quickfire guide outlined below.
Choose a Top-Rated Crypto Broker: In order to place trades, you will first need to find a suitable broker. ByBit is a good option for newbies, as the platform offers lots of digital currency markets at super-low fees. Plus, the platform is really easy to use.
Open an Account: You will need to open an account with your chosen crypto broker. Simply follow the on-screen instructions by entering your personal information and contact details.
Deposit Funds: It goes without saying that you will need to deposit some money before you can start placing trades.
Search for Crypto: You can now search for the cryptocurrency you want to trade.
Place a Trade: Finally, you will need to choose from a buy or sell order to place your trade – depending on whether you think the cryptocurrency will rise or fall in value.
And that's it – you've just placed your first crypto trade! However, there's a lot to discuss before you go and trade with real capital – especially when it comes to risk management. As such, we would suggest you continue to read to rest of this guide before proceeding.
Step 1: Choose a Platform to Trade Crypto
The first – and perhaps most important step in learning how to place trades is choosing a suitable platform. Otherwise referred to as a broker or exchange, cryptocurrency platforms sit between you and your chosen market. That is to say, irrespective of whether you want to trade Bitcoin, Ethereum, EOS, Cardano, or any digital currency for that matter – you need a broker to execute your orders for you.
In choosing the best platform to trade crypto – there are a number of key metrics that you need to cross off.
This includes:
Safety: Most cryptocurrency exchanges are unlicensed, which is why we suggest using a regulated broker. This will ensure that you are able to trade in safe, fair, and transparent conditions. Some of the most reputable financial bodies that license regulated crypto brokers include the FCA, ASIC, and CySEC.
Markets: If you're looking to learn how to place trades, you also need to think about which cryptocurrencies you want to speculate on. For example, if you want to trade Ripple against the US dollar – you'll need to ensure the platform supports XRP/USD. We cover crypto trading pairs in more detail later on.
Fees: When you place trades at your chosen crypto broker, you will be charged a fee. This might come in the form of a trading commission that is multiplied against the size of your stake. Some platforms – such as ByBit, AvaTrade – allow you to trade digital currencies without paying any commission. Instead, it's only the spread you need to cover.
Payments: Another drawback of using an unregulated cryptocurrency exchange is that you won't have access to fiat currency facilities. Instead, you will need to fund your account with a digital asset. As regulated platforms have the legal remit to accept fiat money deposits – you can often choose from a debit/credit card, e-wallet, or bank account transfer.
Features and Tools: It's also worth ensuring that the platform offers tools and features that can enhance your trading experience. For example, if you are a newbie, you'll want access to educational materials, a demo account, and even a copy trading facility. If you're an experienced trader, you'll want technical indicators, advanced order types, and pricing charts.
As is evident from the above checklist,  the process of choosing the best broker to place trades can be time-consuming and cumbersome. With this in mind, below we review some of the best platforms that are currently in the market.
1. Avatrade – Great Trading Platform for Technical Analysis
If you have a bit of experience in the world of cryptocurrency trading, Avatrade is a great option. This is because the platform offers an abundance of trading tools, technical indicators, and advanced order types. You can trade directly through the Avatrade website or via MT4 and MT5.
Although Avatrade offers everything you need to perform in-depth technical analysis on a professional basis. the platform also offers a free demo account. This will allow you to learn the ropes of analyzing cryptocurrency pricing charts without needing to risk any money. Avatrade is home to heaps of crypto markets - most of which focus on pairs containing the US dollar.
As a CFD provider, you can go long or short on your chosen crypto market. Avatrade is also a commission-free broker, so it's only the spread that you need to factor in. Leverage is available - albeit, your limits will be determined by your country of residence. The minimum deposit at Avatrade is just $100 and you can fund your account with a debit card or bank wire.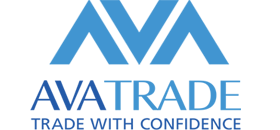 Lots of technical indicators and trading tools
Free demo account to practice trade
No commissions and heavily regulated
Perhaps more suited to experienced traders
71% of retail investors lose money when trading CFDs with this provider
Step 2: Select a Crypto Market to Trade
Once you have selected a broker that meets our strict criteria, it's then time to think about which cryptocurrencies you wish to trade. In a nutshell, there are almost 10,000 digital currencies in existence – so you will have access to an abundance of markets.
Of course, most of these crypto-assets won't be worth your time, as they attract super-low trading volumes and thus – there are minimal levels of liquidity. Instead, you will probably want to avoid trading any cryptocurrencies that fall outside of the top-50 in terms of market capitalization.
Furthermore, and perhaps most importantly, you also need to think about how you want to trade your chosen digital asset. This is because cryptocurrencies are traded in pairs – much like the traditional forex scene. In particular, there are two different types of crypto pairs that can be traded – which we discuss in more detail below.
Crypto-Fiat Pairs
Most traders will elect to trade crypto-fiat pairs. This means that the pair contains a fiat currency like USD and a cryptocurrency like EOS. In this example, you would be trading EOS/USD. In the vast majority of cases, crypto-fiat pairs contain the US dollar – but it's also possible to find markets with other currencies.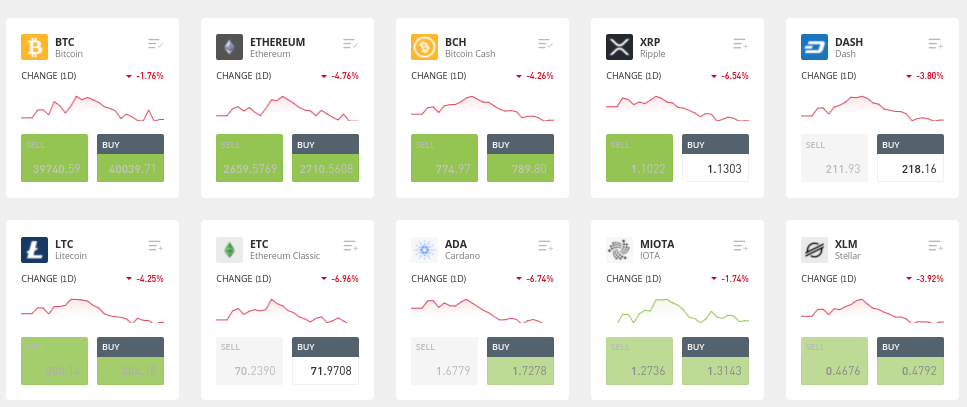 For example, major digital assets like Bitcoin, Ethereum, and Ripple can typically be traded against the Japanese yen, British pound, euro, and Australian dollar. With that said, it's best to stick with crypto-fiat pairs containing the US dollar – as these attract the most liquidity and thus – the tightest spreads and lowest fees.
Crypto-Cross Pairs
You then have crypto-cross pairs – which only contain digital currencies. A prime example of this is BTC/USDT. This pair would see you trade the exchange rate between Bitcoin and Tether. Other popular crypto-cross pairs include ETH/BTC, XRP/BTC, and BCH/BTC.
As a newbie, we would suggest avoiding crypto-cross pairs. The reason for this is that they are not priced in traditional currencies like the US dollar. For example, when trading a crypto-fiat pair like BTC/USD – it's easy to perform research and technical analyses. After all, you can evaluate the price of the pair in USD.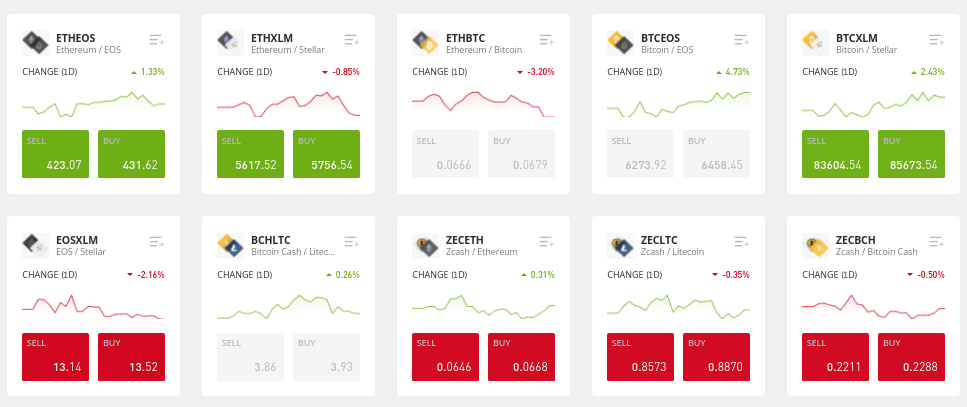 However, when trading a crypto-cross pair, the price of the market is detonated in digital currency. For example, let's suppose you are trading Ethereum against EOS (ETH/EOS).
At the time of writing, this pair has a buy price of 423.07. This means that for every 1 Ethereum, the market is prepared to pay 423.07 EOS. As you can imagine, unless you have an intimate understanding of both digital assets involved, trading crypto-cross pairs can be challenging.
Step 3: Choose From a Buy or Sell Order
When learning how to place trades in the cryptocurrency scene, you will notice that some orders are compulsory while others are optional. In the case of buy and sell orders, these fall within the remit of the former. This is because in order to place a trade, you need to enter the market with either a  buy or sell order – depending on whether you think the pair will rise or fall in value.
Buy Order: If you think the crypto pair will rise in value – place a buy order
Sell Order: If you think the crypto pair will fall in value – place a sell order
There are two important things to mention when placing buy and sell orders. Firstly, all trading platforms charge something called the 'spread'. This is the difference between buy and sell price of the respective crypto pair. The buy price will always be higher than the sell price and the difference between the two in percentage terms is the spread.
If the spread amounts to 1%, you are paying an indirect fee of 1%. This is because you are paying 1% more than the current spot price. This is why we stressed earlier the importance of choosing a crypto platform that charges low spreads.
Secondly, when you place a trade with a buy order, you will need to place a sell order to close your position. If you enter with a sell order, then you'll be placing a buy order to close it.
Step 4: Choose Your Entry Price
Once you have decided on a buy or sell order, you then need to determine how you wish to enter the market. For example, you might decide to place your trade instantly through a market order. In doing so, you will get the next best available price – which will be slightly above or below the price you are being quoted at the time of the trade.
For example, let's suppose you are trading Uniswap against the US dollar – which is currently priced at $26.50. In placing a market order on this pair, it might be executed at say $26.49 or $26.51. Either way, the gap in pricing (known as 'slippage') will be minute.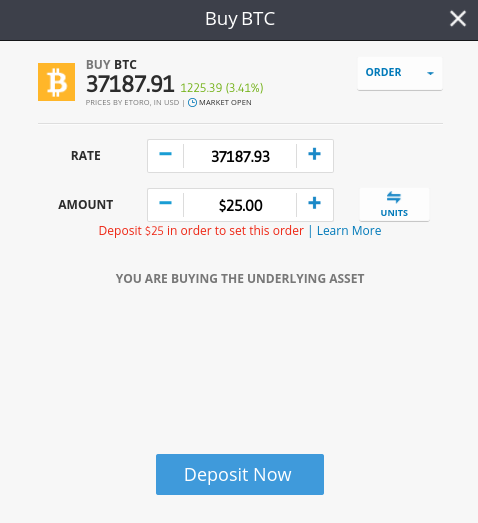 On the other hand, seasoned traders will rarely enter a position with a market order. Instead, they prefer to specify the exact price that the trade is placed at. In order to do this, you will need to opt for a limit order. For example, while UNI/USD might be priced at $26.50 right now – you might want to enter the market when the pair hits $27.00.
All you would need to do is select a limit order and enter the respective price. If your price level isn't matched by the markets, it will remain pending. You can cancel your limit order at any time.
Step 5: Set Up Risk Management Orders
At this stage of our guide on how to place trades, you can proceed to place your orders and thus – the broker will execute this on your behalf. However, assuming you are looking to make consistent gains over the course of time – it's crucial that you also deploy stop-loss and take-profit orders. These two order types are optional – but fundamental nonetheless.
Here's why:
Stop-Loss Order
As the name suggests, placing a stop-loss order on your crypto trade will cap your potential losses. In other words, you can ensure that you do not lose more than a specific amount. For example, you might decide to go long on EOS/USD – meaning that you think the exchange rate will increase.
But, of course, there is no guarantee that this will happen – so you deploy a stop-loss order at 1%. This means that if the price of EOS/USD falls by 1% – the broker will automatically close the position on your behalf. As a result, the most you can lose is 1%.
In terms of where to place the stop-loss order, this will depend on whether you are long or short on the pair. For example, if you are going long, then you place the stop-loss price above the entry price. For example, if the pair is $25 and you want to limit your potential losses to 2% – you'd place the stop-loss order at 2% above $25. If you're going short, then you place the stop-loss order at 2% below the entry price.
Take-Profit Order
In addition to mitigating your potential losses, you also need to think about locking in your gains. Otherwise, you will need to sit at your trading screen for hours-on-end waiting for your desired profit target to be matched by the markets.
But, by deploying a take-profit order, your broker will close the trade for you automatically when your specific price is triggered. For example, if you want to target gains of 5% – simply place the take-profit order 5% above or below the entry price – depending on which way you think the markets will go.
Step 6: Stakes and Leverage
To recap, you should now have an order box that has the following:
Buy or Sell Order
Limit or Market Order
Stop-Loss Order
Take-Profit Order
It goes without saying that you will also need to specify a stake. In most cases, all you need to do is enter the amount you want to risk in monetary terms – for example, $50. However, you need to be a bit more systematic when it comes to deciding how much to stake. In fact, we would suggest adopting a bankroll management strategy.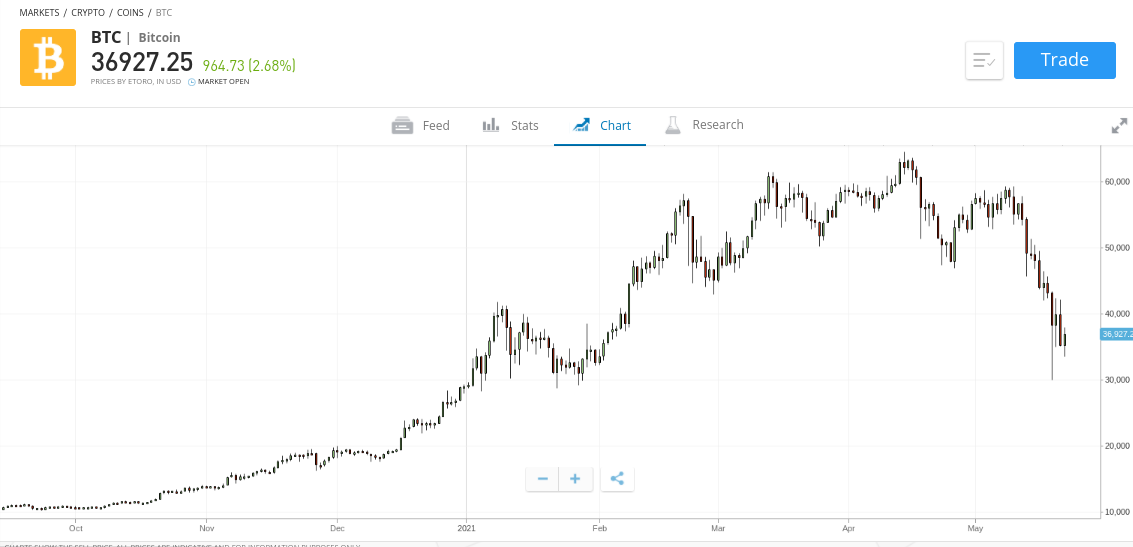 This will see you allocate a percentage of your current account balance. For example, you might elect to restrict your stake size to 3%. This means a $1,000 balance would allow a maximum stake of no more than $30. After the completion of each trade – your balance will go up or down depending on whether the position resulted in a profit or loss.
As such, this will also impact the value of your next stake. For example, if your balance goes up to $1,500 – a 3% bankroll management strategy would allow a maximum stake of $45.
Leverage
If you want to trade cryptocurrencies on a regular basis but you don't have access to a large amount of money – it's worth looking into the pros and cons of leverage. This is a tool offered by a number of leading cryptocurrency platforms and it essentially allows you to trade with more than you have in your account.
For example, let's suppose that you stake $50 on a Bitcoin trade. At the same time, you apply leverage of 10x. This means that your stake has been amplified from $50 to $500. We should mention that leverage will also boost your losses when the trade goes against you. As a result, keep your relationship with leverage modest.
Step 6: Confirm Orders and Place Trade
All that is left for you to do now is to confirm the order. By installing a stop-loss and take-profit order, you can allow your crypto trade to play out. That is to say, if your target price is triggered, then the take-profit ordered will be executed and your gains locked in automatically.
If the unfortunate happens and your trade doesn't go to plan, then the stop-loss order will be executed. Either way, your trade will be closed when one of the two orders are triggered.
How to Place Trades: The Bottom Line
This beginners guide on how to place trades has explained the importance of getting orders right. Not only do you need to choose from a buy or sell position, but also the most favourable way to enter the market. In many cases, this will be achieved by opting for a limit order.
Additionally, we have also covered the fundamentals of risk-management tools – namely, stop-loss and take-profit orders. And of course, it's also a crucial step to choose a cryptocurrency broker wisely. This will ensure that when you place trades – you will be doing so in a safe, cost-effective, and user-friendly manner.