 Free Crypto Signals Channel
More than 50k members
Technical analysis
Up to 3 free signals weekly
Educational content
Free Telegram Channel
Crypto trading bots are gaining popularity with investors who are looking to automate their trades. The best crypto bots can be used to buy, sell, and trade digital currencies quickly and efficiently without having to monitor the market 24/7. 
In this guide, we take a look at some of the best crypto trading bots currently available in the market – exploring their top features and discussing why they may be the right choice for investors. 
List of the 10 Best Crypto Trading Bots
Here is a list of the 10 best crypto trading bots for investors to consider in 2023:
Dash 2 Trade – Overall Best Crypto Trading Bot 
CryptoHopper – AI-Powered Crypto Bot With 24/7 Trading Options
Trality – Access High-Quality Crypto Trading Bots Created By Experts
HodlBot – Crypto Trading Bot With Automatic Portfolio Rebalancing
Zignaly – Crypto Platform Supporting Copy Trading Bots
Haasonline – Deploy the Best Crypto Trading Bots Using HaasScript Editor
TradeSanta –  Powerful Trading Bots With In-Built Algorithmic Strategies
Bitsgap – Automated Trading Bot With a 7-Day Free Trial
Gunbot – Crypto Trading Bot With Lifetime Subscription
Pionex – Provides Free Access To Over 16 Crypto Trading Bots
Before choosing a crypto trading bot, investors should take time to research the provider, its features, and of course – the potential risks.
Needless to say, using an unreliable bot can not only get in the way of trading but can also lead to financial loss. Therefore, be sure to read our comprehensive reviews below to make an informed decision.
Full and Detailed Reviews of the 10 Best Crypto Trading Bots
Nowadays, trading bots are a crucial part of any crypto strategy. This is why many investors wish to have the best crypto trading bots by their side. 
However, with dozens of providers, choosing the right platform is no easy feat.
Below, we offer comprehensive reviews of the best crypto trading bots in the market right now, so investors can choose a provider that's suitable for their experience level as well as risk appetite.
1. Dash 2 Trade – Overall Best Crypto Trading Bot
Dash 2 Trade is a robust analytics platform that is perfect for investors who are in search of the best crypto trading bot. It provides users with a wide array of powerful tools and insights, which includes support for automated trading and backtesting. The platform also enables users to develop their own trading strategies by providing access to more than 10 key technical indicators.
Moreover, Dash 2 Trade also comes with unique tools that analyze social sentiments and on-chain metrics, which can give investors valuable insight into market trends. This helps traders to make more informed decisions when investing in and trading cryptocurrencies. Furthermore, traders can test their strategies in live market conditions before implementing them.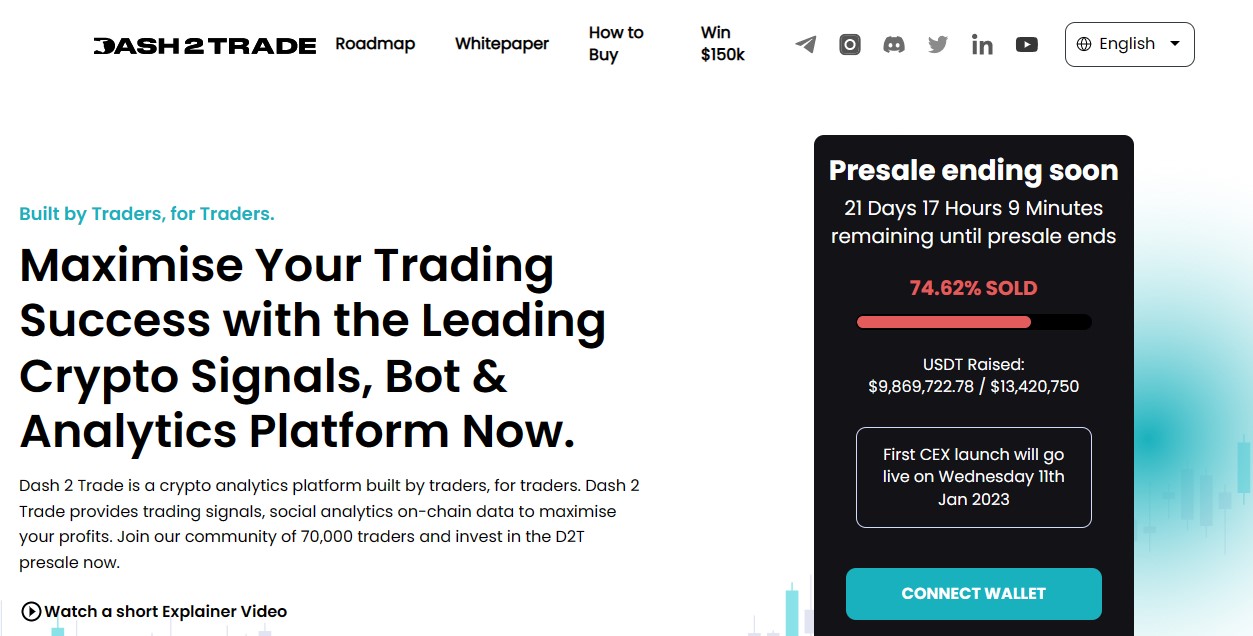 For traders seeking an effortless approach, Dash 2 Trade also provides trading signals. These are trading suggestions containing data points such as entry prices, take-profits, and stop-loss levels. These signals alert Dash 2 Trade users of potential investment opportunities in the market. 
Whether investors are using their own strategies or following the signals, they can execute their orders automatically with Dash 2 Trade's ingenious auto-trader feature. To do this, users simply have to connect their Dash 2 Trade account with their crypto exchange through an API, 
Similarly, Dash 2 Trade also has an automatic review feature for its trading bots. It carries out a detailed comparative analysis of how the strategy would work if metrics such as stop-loss and take-profit orders are changed. Using this information, investors can make any required changes before they actually execute the crypto trading bot.
Dash 2 Trade has its own native cryptocurrency, D2T. As of writing, D2T is in its final presale stage and has already raised over $10 million. The token will be used by traders to pay for subscriptions and other features on the Dash 2 Trade ecosystem. The platform intends to list D2T on crypto exchanges in January 2023.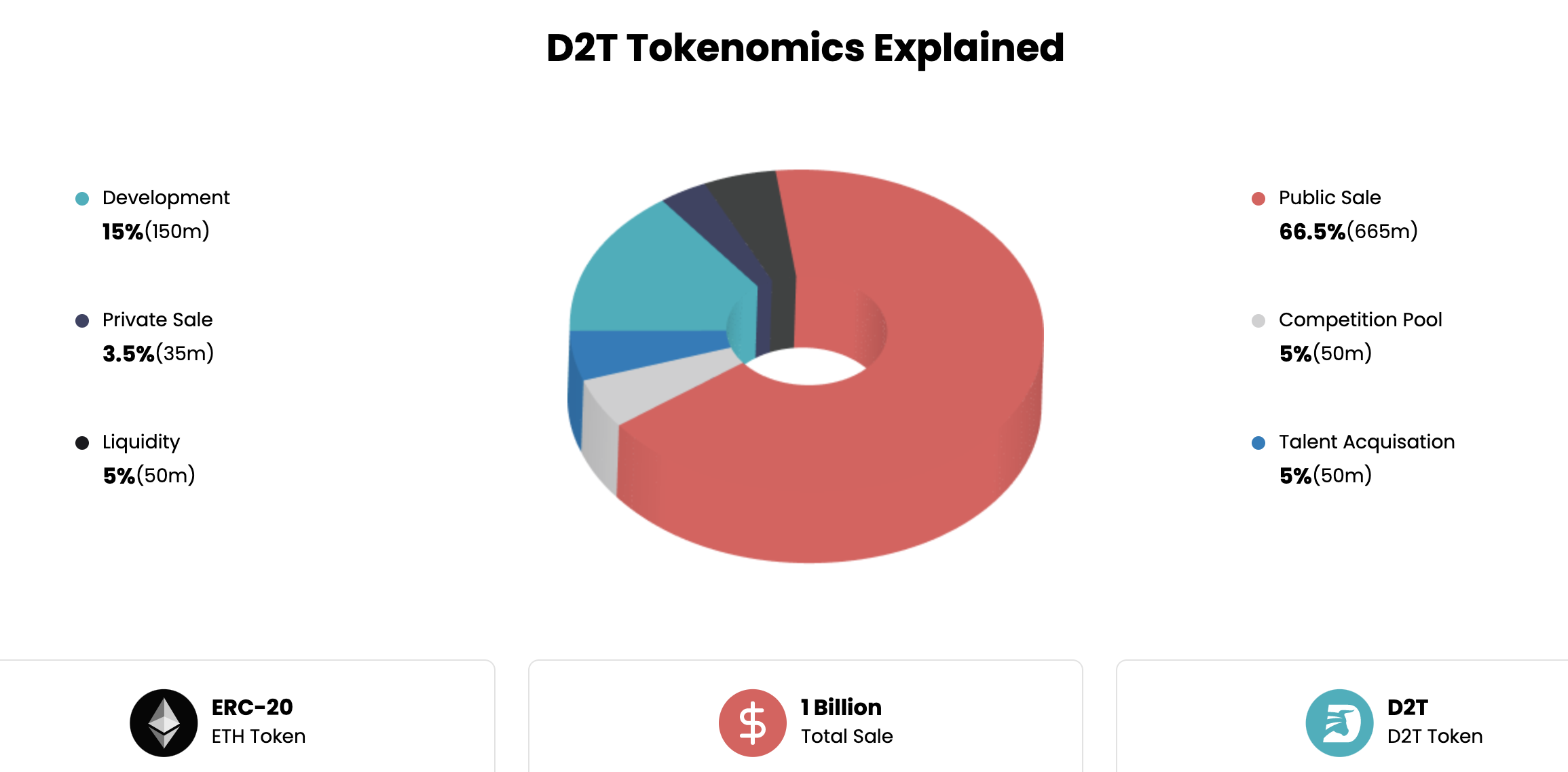 Dash 2 Trade is still a new crypto project. It's developed by the Learn 2 Trade team, a successful crypto signals provider with more than a decade worth of experience in the industry. As per the Dash 2 Trade roadmap, users can expect the platform to be live with all its trading features by the second quarter of 2024. Dash 2 Trade also intends to conduct a prize draw to celebrate its successfully growing community.
This giveaway offers one lucky investor the chance to win $150K worth of D2T tokens. To be eligible, an investor must hold at least $150 at the time of the draw. Investors are also qualified for multiple entries. Dash 2 Trade has a list of activities that investors need to complete in order to gain entries to the giveaway. These activities are simple, such as entering their crypto wallet addresses used to purchase D2T or visiting the Dash 2 Trade website. 
To increase their chances of winning, investors can complete multiple activities. The Dash 2 Trade platform indeed comes with a free version, albeit it's limited in terms of features. There are two subscription plans, and payments are accepted only in D2T tokens. The starter pack comes at a price of 400 D2T tokens – or around $20. Ultimately, to get access to all features and functionality, traders will need to be on a paid plan.  
Pros
Overall best crypto trading bot in the market 
Ability to backtest strategies
Access to 10+ technical indicators
Social sentiment and on-chain analysis
Daily trading signals 
Multiple subscription plans
Cons
Subscriptions payments through D2T tokens only
2. CryptoHopper- AI-Powered Crypto Bot With 24/7 Trading Options
CryptoHopper is a powerful bot that is designed with the goal of making automated trading easy and accessible for everyone. The platform provides its users with a number of features, including a free trading simulator, simultaneous connection to multiple crypto exchanges, and a user-friendly mobile app. 
CryptoHopper's free trading simulator is an excellent resource for those learning the ropes of the crypto market. This feature replicates real-time trading conditions, offering beginners a chance to learn how to place trades and build confidence before risking real money. 
CryptoHopper also comes with an invaluable copy trading feature. Users can follow successful traders by copying their strategies and templates. This way, traders get to benefit from the expertise of professionals without having to do any of the legwork.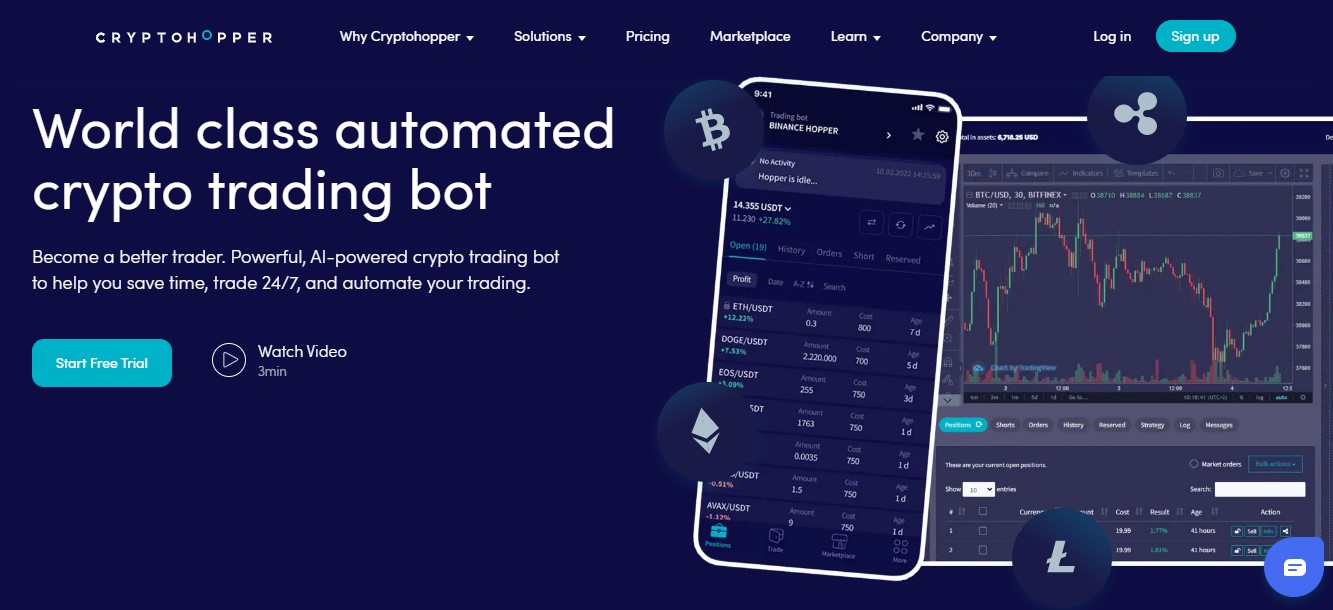 CryptoHopper also allows users to connect to multiple crypto exchanges such as Binance, KuCoin, Kraken, OKEX, and Huobi. Moreover, users can also link to more than one exchange account simultaneously. This feature increases the user's ability to compare prices across different platforms and make profitable trades quickly.
Additionally, CrytoHopper is equally accessible on mobile phones as it is on computers. Due to this quality, traders can monitor their bots on the go and make adjustments to strategies as needed.
Overall, CryptoHopper has three payment plans, namely – explorer, adventurer, and hero. While it also has a free plan, it lacks access to trading bots. Explorer, the basic plan of CryptoHopper, costs $19 per month. This plan also comes with a 7-day trial period.
The hero plan costs $99 per month, which is the only AI-powered option available at CryptoHopper. This can be disappointing for some users, as CryptoHopper is considered one of the best crypto trading bots due to its AI feature. 
Pros
Support for copy trading
Free trading simulator and AI-based strategies
24/7 customer support
Cons
Free plan doesn't offer access to trading bots
AI feature is only available on the most premium plan, Hero.
High subscription fees 
 3. Trality- Access High-Quality Crypto Trading Bots Created By Experts
Trality is a cloud-based platform with crypto trading bots that run around the clock. It provides access to some of the best crypto trading bots created by highly experienced investors. To get started, users can sign up with Trality, link their crypto exchange accounts, and choose a suitable trading bot that best meets their unique needs. 
Trality also supports margin trading, however, only with Binance. As of writing, Trality supports leverage of up to 3X with a low daily interest of 0.01%. However, as per the platform, these interest rates are variable, so traders should double-check the figures before accessing this feature.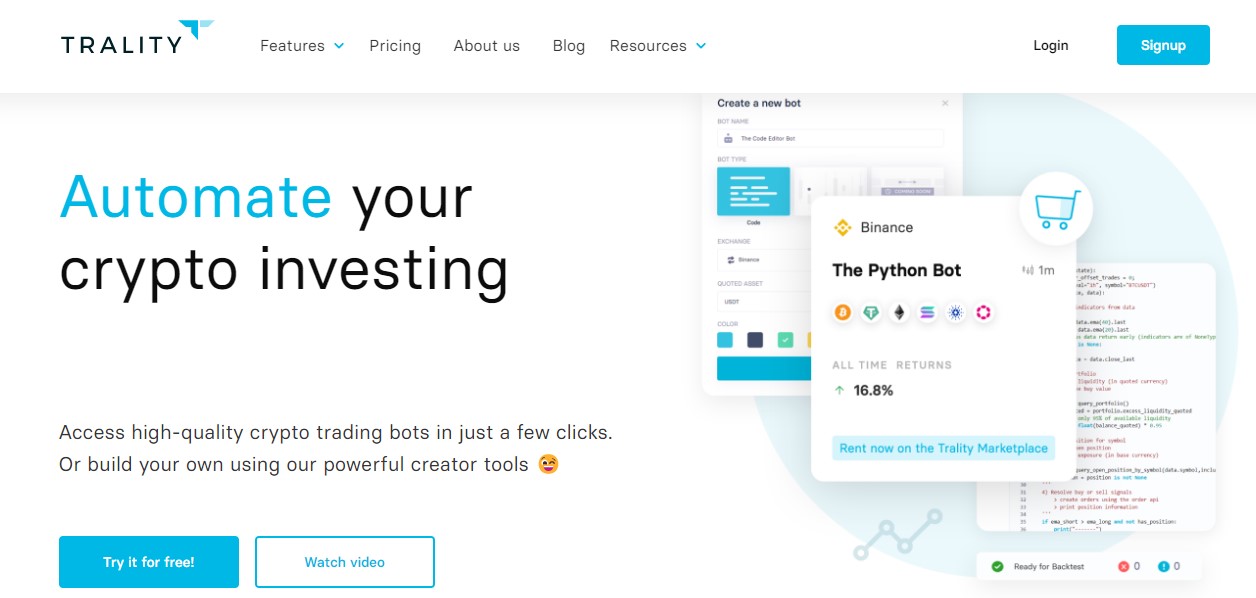 With Trality, users also get the option to create a trading bot of their own. To do so, users get two options. The first option is to use the 'code editor' feature to build a trading bot using the Python programming language.  Alternatively, if a user is not familiar with coding languages, they can use another Trality feature, 'rule builder', to create a trading bot by setting preferences.
This means that users can develop automated strategies easily without any coding knowledge. Users can also easily backtest their strategies before running them. And advanced traders can even rent out their trading bots to earn additional income. As of writing, if a bot is approved by the platform and rented by traders, the creator will get a monthly net subscription revenue of 70%.
Trality has one free plan and three paid packages. Knight, which is the basic paid plan offered by Trality, costs €10 per month. This plan gets users a trading volume capacity of €25,000, unlimited backtests, and the smallest tick interval of 30 minutes.
Pros
Access pre-built strategies or create a new bot
Cloud-based platform
Equally friendly for coders and complete beginners
Cons
Supports a limited number of cryptocurrency exchanges
No additional features other than a trading bot
Trading volume restrictions for each plan
4. HodlBot – Crypto Trading Bot With Automatic Portfolio Rebalancing
HodlBot is best known as a top-class crypto portfolio management system. But it is also one of the best crypto bots that investors can employ to trade like a pro. HodlBot works slightly differently from other providers on this list. Instead of creating a trading bot, users can develop a portfolio and implement a pre-built strategy. HodlBot will then automatically rebalance the portfolio based on the user's preference.
On HodlBot, users also have the option to index the market and diversify their crypto portfolios. This way, users can make sure that they don't have all their eggs in one basket, minimizing the overall risk.  Moreover, users get access to advanced market metrics to build a healthy portfolio.
For instance, before adding any coin to their portfolio, HodlBot allows its users to study historical price movements and even deploy trading strategies to calculate potential profits.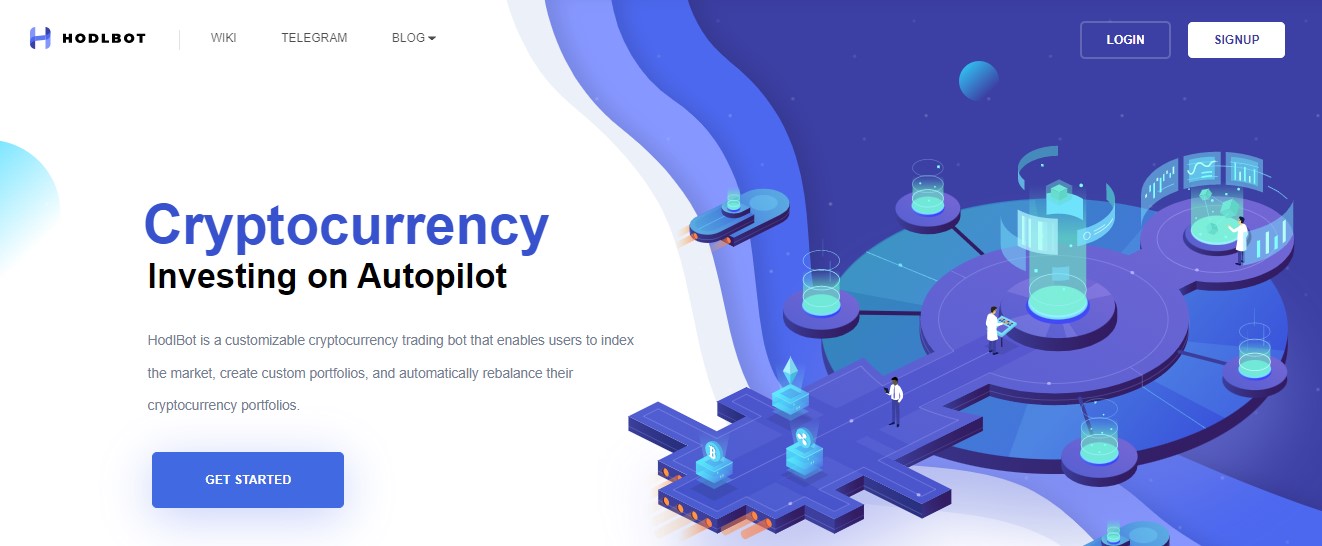 Another notable attribute is that HodlBot automatically rebalances its users' portfolios based on market changes. As such, users don't need to worry about the volatility of the crypto market as much, as the necessary steps are automatically taken by HodlBot to mitigate the risk or maximize the profit. 
Additionally, users can also customize how often they want their portfolios to be rebalanced. With HodlBot, users can also blacklist cryptocurrencies as well as liquidate them at any time of their choice. Needless to say, there are many unique features that make HodlBot one of the best crypto trading bots for portfolio management. 
In terms of pricing, HodlBot has three different plans for its users. These plans are based on the size of the portfolio. For an account with a portfolio size of less than $500, users have to pay a monthly price of $3. Similarly, users have to pay $10 per month for a portfolio worth between $500- $1,000. Lastly, for account portfolios of more than $1,000, HodlBot charges $14 per month.
Pros
Affordable pricing
Great customization options
Automatic rebalancing option
Cons
Not as advanced as some of its competitor trading bots 
Limited features
Payment plans based on trade sizes
5. Zignaly –  Crypto Platform Supporting Copy Trading Bots
Zignaly is another good option for those looking for the best crypto trading bots in this crowded market. Founded in 2018, Zignaly is part of the Binance Broker Program, and therefore it is protected by the SAFU fund. In addition to this, Zignaly uses encrypted data and two-factor authentication to ensure the safety of its users' personal information and financial data.
All in all, we found that Zignaly is one of the best crypto trading bots in terms of security and credibility. Zignaly comes with a unique feature called 'profit sharing.' Users can choose any of the traders listed on Zignaly based on their past track record and strategy – and make an investment in them. The Zignaly marketplace has a pool of more than 100 traders, giving users plenty of options when making a decision.
When the chosen trader makes a profit, so will the user. Users can start with an investment as low as $1. They can also choose multiple traders, which can help them diversify their crypto portfolio and minimize risks. Interestingly, users only have to pay pro traders when they make a profit.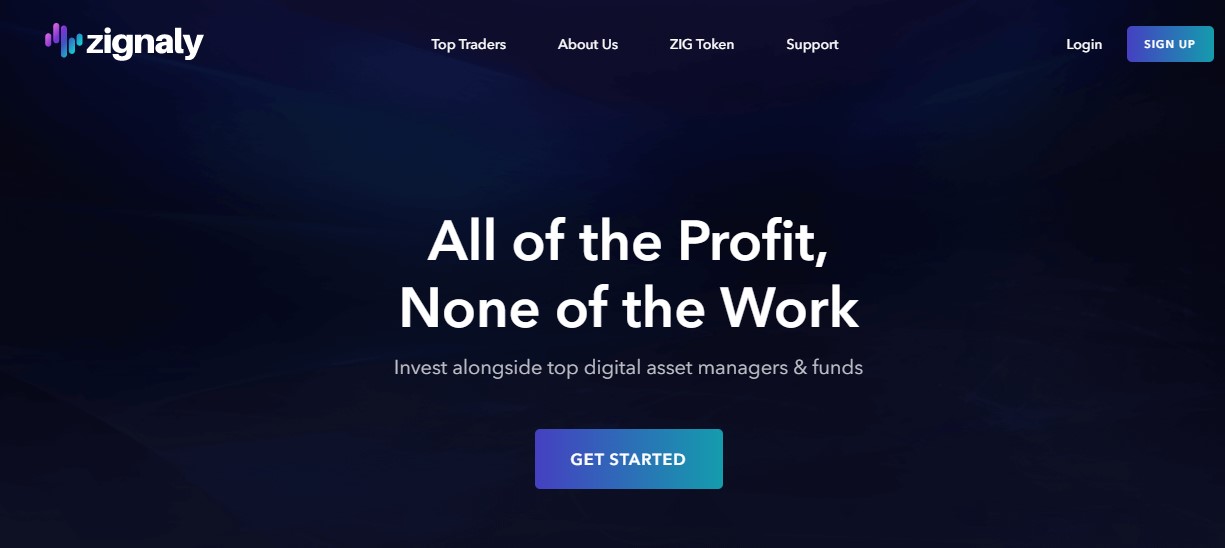 Aside from the profit-sharing feature, the most popular aspect of Zignaly is its copy trading bot. Zignaly allows users to copy expert traders. Users will only need to connect their Zignaly account, fund it, and specify the maximum amount they are willing to invest. 
Meanwhile, Zignaly will work as a bot, copying the selected trader's activity on the user's account. The users will get returns in proportion to the amount they invested. The platform has its own native token, ZIG. Using this token, investors get additional benefits on the Zignaly platform, such as the opportunity to save up to 15% on trading fees.
Zignaly does not charge monthly subscription fees to its users, and creating an account is completely free. Users are only required to pay when they make a profit. It also comes with 24/7 customer support, and that too in multiple languages, including English, Spanish, and Vietnamese.
Pros
No monthly subscription charges
Easy to use, especially for beginners
Cons
Not advanced enough for experienced traders
Limited features to consistently outperform the market 
6. Haasonline- Create the Best Crypto Trading Bots Using HaasScript Editor
Haasonline, launched in 2014, is one of the best crypto trading bots to cater to both beginners and expert traders. It provides users with the choice of pre-built as well as configurable crypto trading bots. Hassbot also offers a wide range of customization for each individual bot, including chart settings, technical indicators, and advanced options such as order execution time, spread, and stop-loss.
On the other hand, the pre-built bots are backed by solid strategies. Users can also backtest and vet the in-built strategies through paper trading before putting them into practice. With almost no configuration required, a trader can execute their bot 24/7.
The good thing is that Haasonline charges no trading fees. Also, it does not impose any kind of trade volume limits. Haasonline supports the most popular exchanges, including  Binance, Kraken, HitBTC, and Bitfinex. Users can also receive live market data and trading suggestions by joining Haasonlione's Telegram channel.
Users can also generate scripts for bot customization using the HaasScript language. Like Trality, Haasonline offers a 'drag-and-drop visual designer' or an 'intelligent text-based editor' to make the script. These powerful tools provide users with the ultimate flexibility in developing their own strategies. And best of all, there is no need for any programming knowledge to create these scripts.
Hassonline features three plans specifically tailored to meet the needs of every user – beginner, simple and advanced. Unfortunately, the options are limited when it comes to payment methods since users can only pay with Bitcoin. This means that the price of the subscription can vary depending on the value of Bitcoin. 
Moreover, traders will need to sign up for a minimum period of three months. The beginner plan is offered at 0.006 BTC per month.
Pros
HaasScript for creating the best custom crypto trading bots
Supports over 22 exchanges 
Pre-built crypto trading bots
Cons
No free trial offered
No monthly payment plans
Expensive compared to its competitors
Accepts only Bitcoin as a payment method
7. TradeSanta- Powerful Trading Bots With In-Built Algorithmic Strategies
TradeSanta is another provider that helps investors automate trades using bots. It supports a myriad of pre-designed trading bots such as DCA, grid, futures, spot, long and short. It also comes with a demo trading bot that investors can use to hone their strategies. 
TradeSanta offers all its users access to a free trading terminal that can be utilized to manage multiple crypto portfolios from one place. Furthermore, TradeSanta integrates powerful indicators like MACD, RSI, Bollinger, and TradingView Signals that can help traders make smarter, informed trading decisions.
The platform even offers an analysis of each bot's performance before deploying them. TradeSanta is compatible with many leading cryptocurrency exchanges – such as Binance, Bittrex, Bitfinex, Huobi, and HitBTC.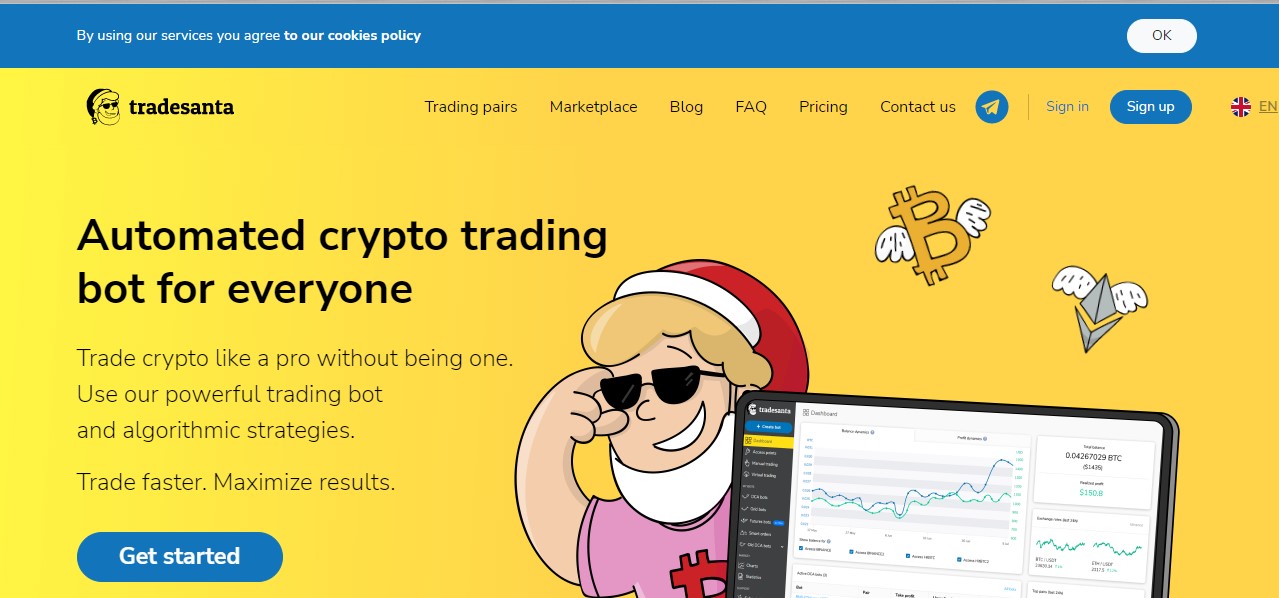 TradeSanta also offers a unique feature called 'extra orders'. For example, suppose the market is going through a trend reversal. The trading bot will automatically open additional positions to average out entry price points. This will help to revise the average take profit level. Moreover, this feature grants users the ability to control at which point these supplementary entries will be carried out.
TradeSanta accepts 100+ cryptocurrencies for payment, including Bitcoin, Ethereum, and Tether. It also supports fiat currency payments – made via credit/debit cards. TradeSanta offers three tiers of pricing – basic, advanced, and maximum.
Those who opt for the most economical plan will be charged $25 on a monthly basis. Traders looking for more features with advanced functionalities can upgrade up to the 'maximum' subscription plan – at $70 a month. This unlocks unlimited bots and pairs in one comprehensive package. TradeSanta also features a mobile app available for both iOS and Android users.
Pros
Free trial on all plans
Compatible with both spot and futures trading
Cons
Live chat customer support is not available
Free trial lasts for just 3 days
Overpriced plans compared to its competitors
8.  Bitsgap – Automated Trading Bot With a 7-Day Free Trial
Bitsgap is an intuitive, cloud-based crypto trading bot that comes with advanced features. It supports many popular crypto exchanges such as Binance, Huobi, Kraken, Kucoin, and Bybit. The user interface is easy to navigate and understand – even for someone who is new to the world of crypto trading bots.
With Bitsgap, users can access a wide variety of pre-built trading bots, including DCA, grid, futures, and combo. Similarly, users can customize trading bots according to their own strategies. Bitsgap provides complete information about running their crypto trading bots so that users can monitor their progress at any time. Users also get the option to backtest their strategies before going live with them.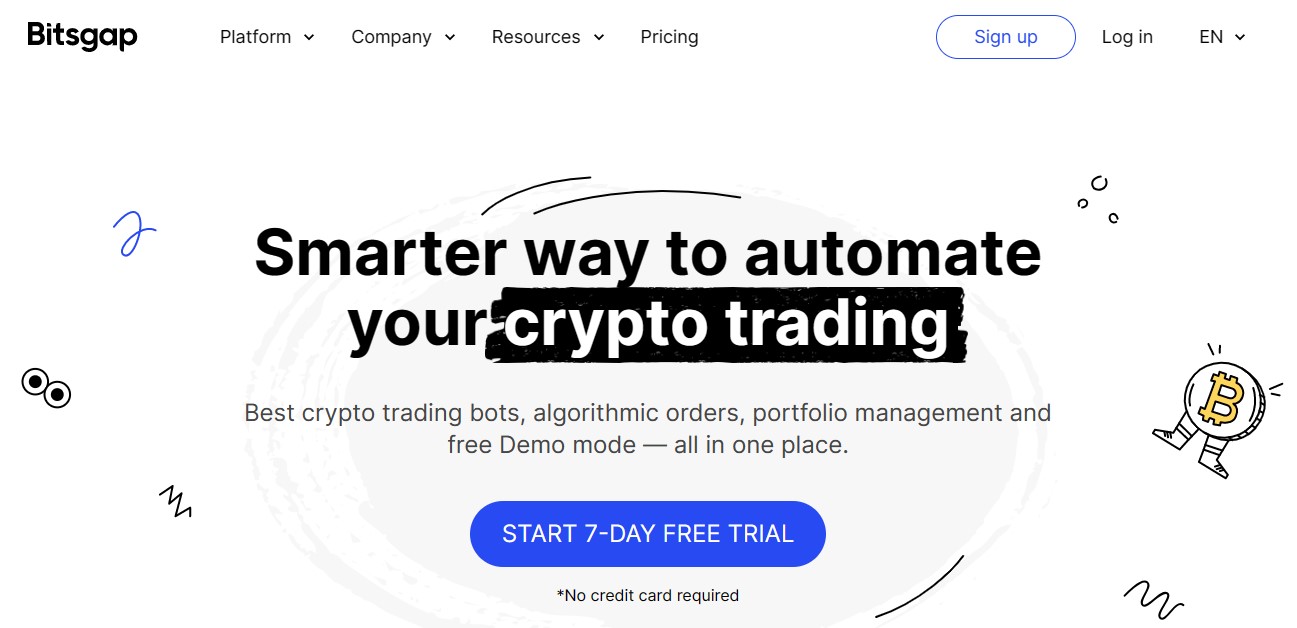 The best part is that Bitsgap offers a free demo trading account which allows users to get familiar with its features and capabilities before committing to a paid subscription. Bitsgap has three subscription plans in total – basic, advanced, and pro. Users can choose a plan that best suits their trading needs. The basic plan starts from $29 per month, advanced at $69, and the pro at $149. 
The basic plan of Bitsgap offers two active grids and 10 DCA bots, as well as unlimited smart orders. With the 7-day free trial on the 'pro' plan, users can get a taste of the platform's peak performance before they make their decision. Finally, Bitsgap also provides convenient payment options such as Visa, PayPal, and over 50 altcoins, including Bitcoin. 
Pros
7-day free trial with pro plan
Backtesting of strategies
Cons
Trading with leverage not supported
Online chat support feature is missing
Lacks a license from a reliable regulator
9. Gunbot- Crypto Trading Bot With Lifetime Subscription
Gunbot is a crypto bot that provides automated trading solutions for investors. It supports multiple exchanges, including Huobi, Binance, Bitget, KuCoin, Kraken, and many more. Gunbot provides users with over 20 pre-designed trading strategies. Some of them are good enough for investors to simply plug and play – such as the StepGrid bot. 
However, users should know that Gunbot does not provide any cloud services, so they will have to run it on their own systems. As is to be expected of the best crypto trading bots, this platform also supports backtesting for the benefit of its users. Moreover, it provides users with a mobile app to manage their trades while on the move.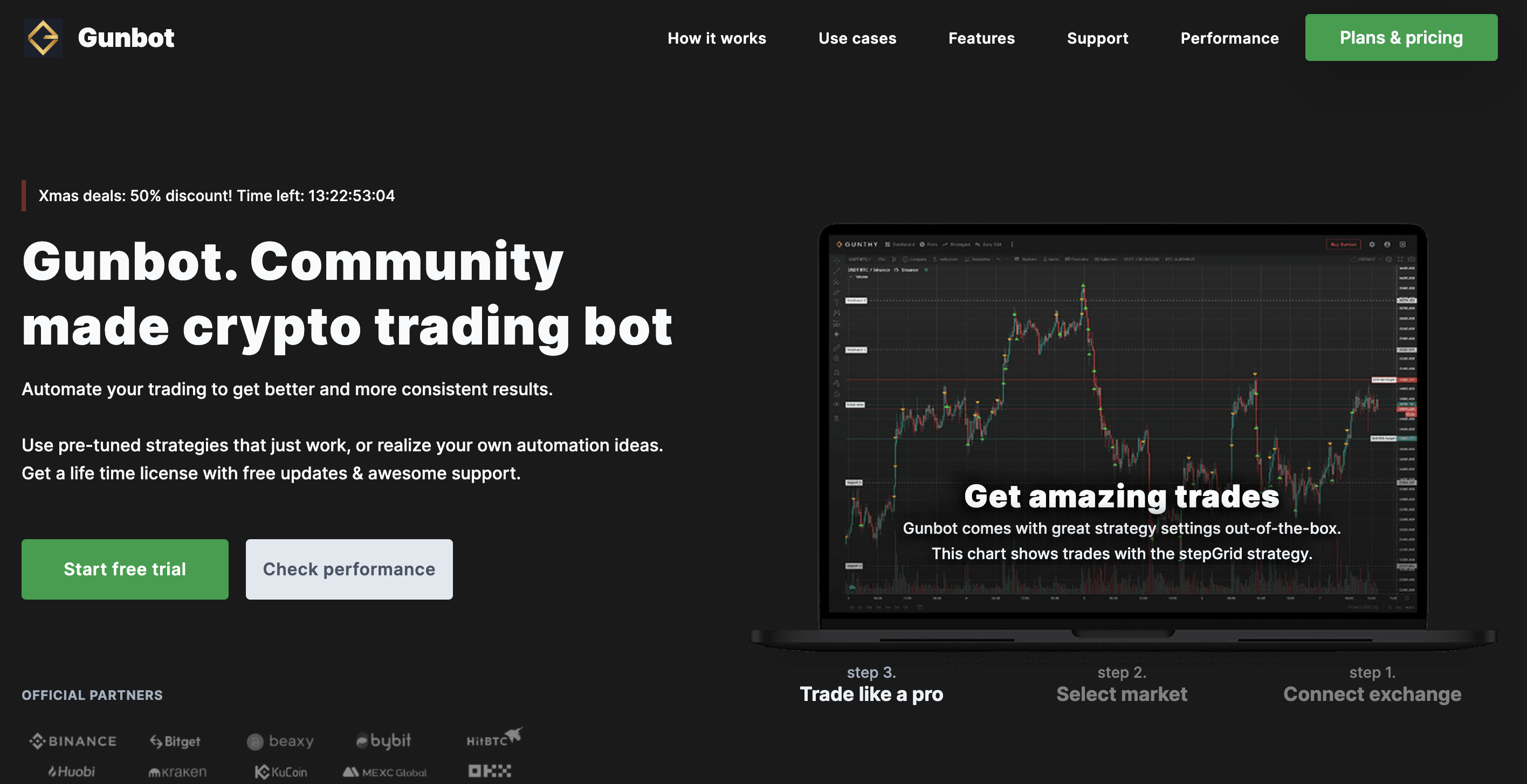 Users also get access to useful technical indicators such as EMA, MFI, and RSI, which are vital to predict the trajectory of any crypto project. Similarly, on Gunbot, users get access to TradingView charting, where they can monitor the potential performance of a trading strategy. This offers traders an opportunity to fine-tune strategies in case anything looks offbeat. 
Unlike other providers on this list, Gunbot comes with a lifetime subscription fee. With respect to pricing, Gunbot has three different plans: standard, pro, and ultimate. The standard package costs 0.014 BTC, which amounts to around $235 as of writing. For many users, this is somewhat expensive. Furthermore, users will only be able to use a single crypto exchange while on this plan.
Pros
Mobile app available 
20+ trading bots
24/7 customer support
Cons
Lacks cloud support
Expensive subscription fees even for the basic package
No monthly subscriptions are available
Free trial of just 3 days
10. Pionex- Provides Free Access To Over 16 Crypto Trading Bots
Pionex is a crypto bot that offers its users access to 16 free in-built strategies and 379 trading pairs. The platform covers some of the best crypto trading bots, including DCA and grid. While access to these crypto trading bots is free, there is a transaction fee of 0.5% on spot trades and 0.1% on executing leveraged positions.
Similarly, there are also minimum deposit and withdrawal limits on Pionex. Also, withdrawals come with a fee. These limits and fees vary according to the currency as well as the network. For example, if a trader has a 'Mainnet' network and is withdrawing in Bitcoin, the withdrawal fee will be 0.0004 BTC. The minimum deposit and withdrawal amount in this instance would be 0.0001 BTC and 0.001 BTC, respectively.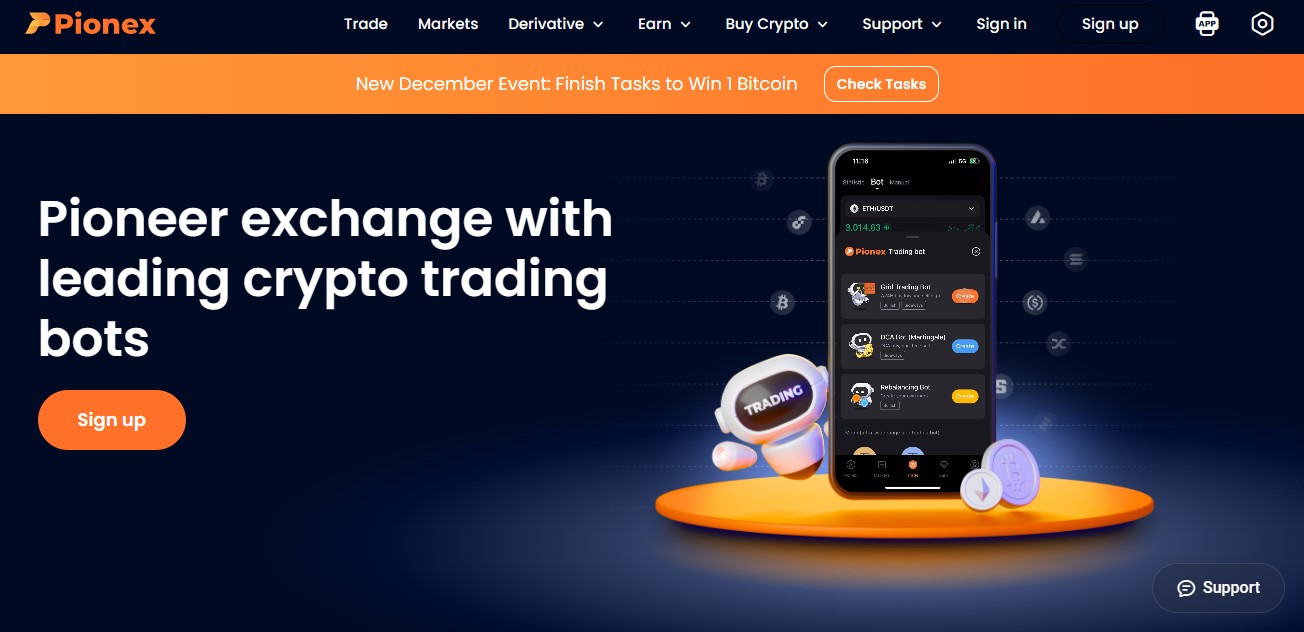 Overall, Pionex is a great platform for users who are looking to automate their trading activities. Customer support is also available both in the shape of live chat as well as email. With that said, other providers on this list of the best crypto trading bots – like Dash 2 Trade, offer a much better prospect of outperforming the market in the long run. 
Pros
Free mobile app available
16+ trading bots
24/7 customer support
Cons
Withdrawal fees
Minimum deposit and withdrawal requirements
o.5% trading transaction fees
What is a  Crypto Trading Bot?
A crypto trading bot is a software program designed to automate the process of buying and selling cryptocurrencies on exchanges. By using artificial intelligence and algorithmic trading, bots are able to scan the market for profitable trades in real-time and execute orders quickly and accurately.
The main purpose of crypto trading bots is to eliminate the need to monitor the market or execute positions manually. The best crypto bots can even adjust strategies in order to adapt to the volatility of the market.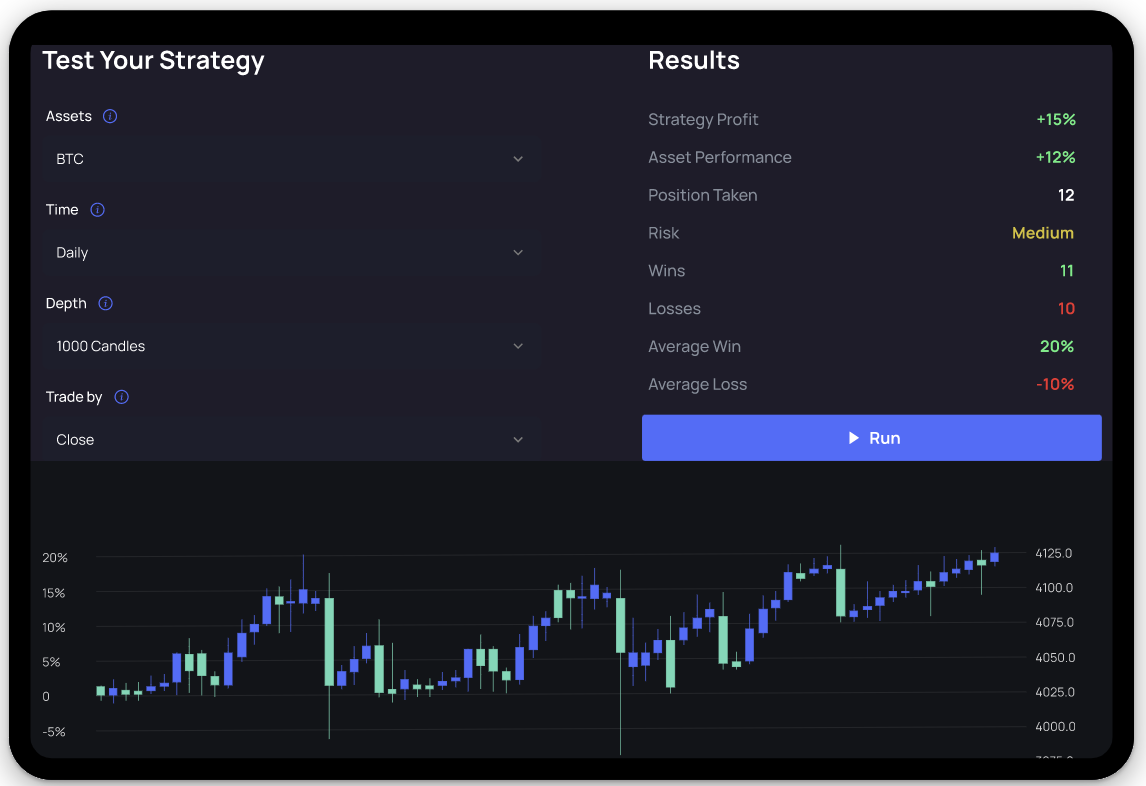 Many crypto bot providers of today pack tons of other useful features. For instance, traders can test bots with a paper trading account, customize strategies, and even access technical indicators.
Dash 2 Trade takes things to the next level by also offering access to on-chain statistics, social media metrics, and an in-depth scoring system for upcoming presales.
How Crypto Trading Bots Secure Profits? 
Trading bots are a great way to make money in the crypto space. They have the ability to automate trading processes, which allows traders to secure profits without having to be glued to their computer screens all day. But what makes the best crypto trading bots so effective? 
Here are some of the core reasons why trading bots will, in the long run, generally outperform manual trading strategies. 
Automated Trades 
When exploring the best crypto trading bots, users can be sure that their trades are executed quickly and accurately. This is an important aspect of successful trading because it helps investors to capitalize on market movements and reduce the potential for losses due to human error. 
Additionally, automated trades allow users to set up strategies in advance so that they don't have to worry about making rush decisions or missing out on potential opportunities. 
Advanced Algorithms 
Trading bots use advanced algorithms that are designed to analyze market data and make profitable trades. These algorithms are constantly being updated in order to stay ahead of market trends and take advantage of any opportunities presented by changes in broader sentiment.
By relying on these algorithms, traders can rest assured that they're capitalizing on profitable situations while reducing their risk exposure as much as possible.
However, bear in mind that not all trading bots use algorithms to execute trades. With some bots, traders are in full control of their positions, meaning that commands are only executed once the user provides confirmation.  
Risk Management 
Risk management is an essential component of successful trading and one that is often overlooked by crypto newbies.
By utilizing a trading bot, users can ensure that risk is managed effectively so that their positions remain protected even during volatile markets or periods of uncertainty.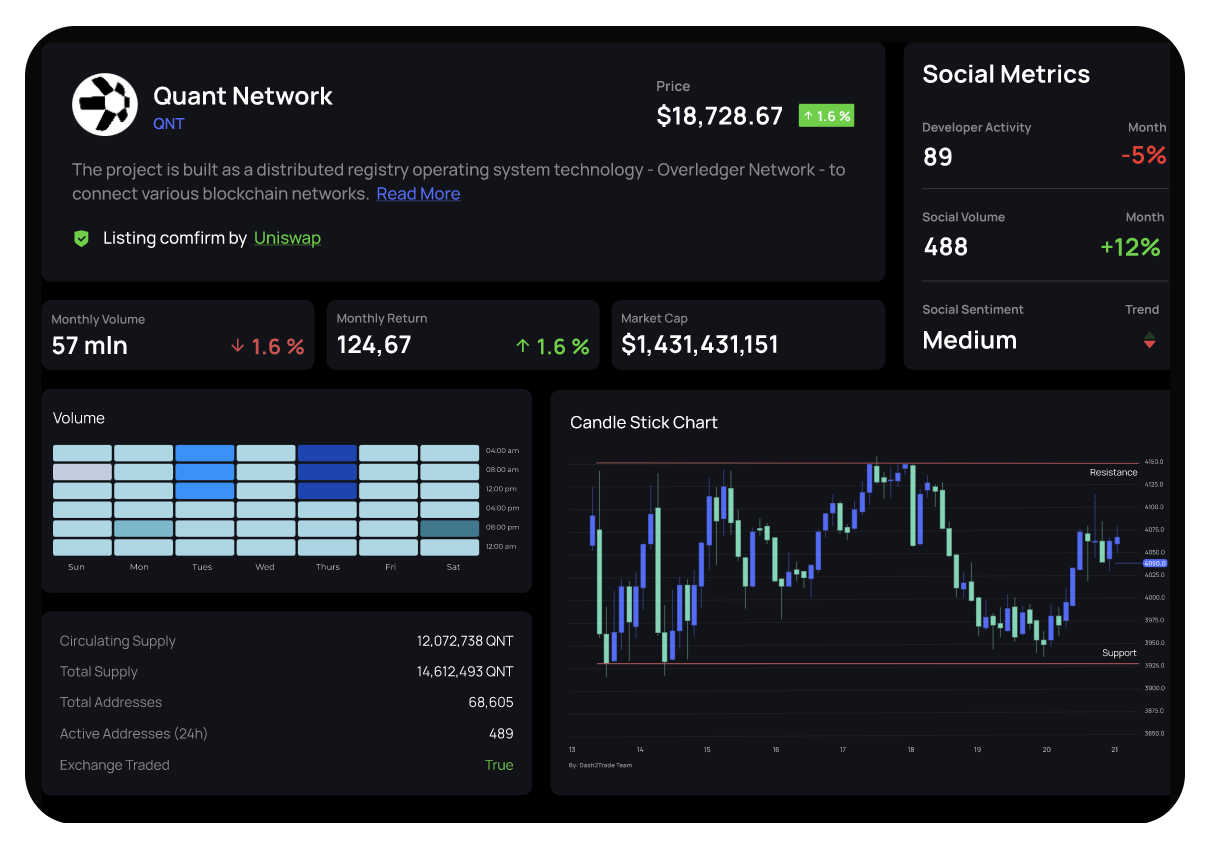 The bot can also help identify when it's time to exit a position or switch from one crypto pair to another based on its analysis of current market conditions. 
Execution Speed 
As we mentioned earlier, speed is key when it comes to successful trading, especially in volatile markets like that of cryptocurrencies. After all, the price of cryptocurrencies can change dramatically in a matter of minutes. 
With a bot, investors do not need to worry about manually executing trades because it functions automatically.
Instead, trading bots are equipped to move quickly, allowing them to take advantage of instances when prices suddenly spike or dip before resuming their previous trend again. 
Easy to Use
The best crypto trading bots are extremely accessible and easy to use, even for novice traders who may not have extensive experience.
All it takes is a few clicks, and traders are ready to start automating positions right away. Plus, many popular crypto exchanges now offer their own proprietary bots. In other words, trading bots have become more accessible than ever. 
Trading bots offer a range of benefits for both experienced and novice traders alike. From automated trades and advanced algorithms through risk management and accessibility, bots continue to grow in popularity – especially with newbies. 
How do Crypto Trading Bots Work? The Basics 
Crypto trading bots are automated algorithms that analyze market data in order to identify the best opportunities for buying and selling digital currencies and execute orders accordingly. 
They draw on the past performance of a specific cryptocurrency to make decisions and employ advanced indicators such as candlestick patterns, RSI, and other techniques to assess price movement. 
Crypto trading bots also automate risk management strategies such as asset diversification and stop-loss orders. By automating these processes, crypto trading bots can be used to reduce risk and generate profits for traders with little or no manual involvement.
That being said, it is important to understand that how each trading bot functions will differ significantly based on its specific parameters.
For example, some trading bots might be equipped to rebalance a trader's portfolio based on market conditions automatically.
On the other hand, there are also trading bots that function based on the preferences set by the user.
Moreover, the level of control a trader gets over the bot will also differ from one platform to another.
While some support customization, others only function based on pre-built conditions.
Therefore, it is crucial to understand how a crypto trading bot functions before choosing it as an investment tool.
What we Look for When Ranking the Best Crypto Trading Bots
A crypto trading bot is an automated and easy way for traders to stay on top of their investments and ultimately, become more profitable.
But how do investors choose the best trading bot for their needs? 
Below, we briefly discuss the main characteristics we looked for when creating this top-10 list of the best crypto trading bots.
Give Priority to Credibility
The first thing investors should consider when choosing a trading bot is its credibility. Users can start by researching different bot providers and reading reviews from other users.
In this regard, Dash 2 Trade is a crypto trading bot with the best overall reputation.
Dash 2 Trade is owned and powered by Learn 2 Trade, a crypto education platform established in 2017.
Learn 2 Trade is also extremely popular among crypto traders for its Bitcoin signals. 
In other words, the company behind Dash 2 Trade already has a solid reputation in the crypto space – which speaks volumes of its credibility. This is also one of the reasons behind the success of the project's presale, which has already raised over $10 million.
User-Friendliness and Features
The best trading bots make it easy for their users to access core features. That being said, some platforms are best suited for professionals and have bots that are highly advanced.
On the other hand, platforms such as Dash 2 Trade offer a simple dashboard and features that cater to both beginners and experienced traders alike. In addition to the user experience, investors should also consider what features are accessible to them on the respective platform.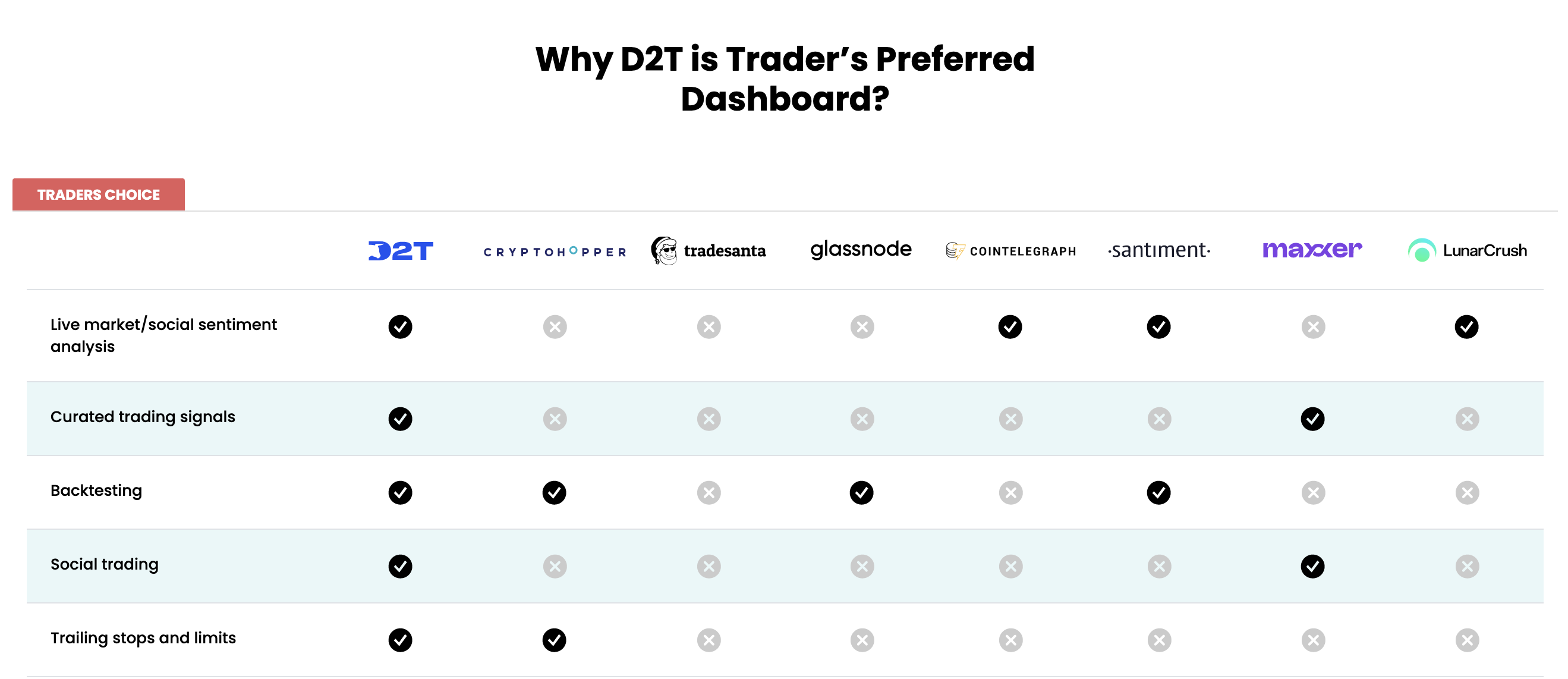 Once again, some might prefer providers that are focused on trading bots, while others might be seeking a one-stop solution for all crypto investment tools, data, and analytics – such as Dash 2 Trade.
Costs & Fees 
Crypto bots come with different prices. For instance, while some have a monthly subscription plan, others charge a trading commission. As such, it's important for traders to assess what makes sense for their budget and subsequently compare the fees associated with each bot. 
That being said, the best crypto trading bots offer a free plan or a trial period. This offers traders an opportunity to test out the bot before risking any money.
Security Features 
It's important that any data shared with the chosen bot provider is secured from unauthorized access, especially if it includes sensitive information such as passwords or financial details. Therefore, it is also important to check what security measures are set in place by the chosen platform.                         
Finding the best crypto trading bot isn't easy. But, it is important to invest time in researching the many options while keeping the above-mentioned points in mind. 
Conclusion
The importance of having the right tools for success in crypto trading cannot be overemphasized. One such tool that can be incredibly helpful is a crypto trading bot.
Based on our analysis – Dash 2 Trade, with its intuitive interface, an abundance of technical indicators, and social analytics – stands out in this marketplace. It has virtually all the analytical tools a crypto trader could wish for.
Dash 2 Trade subscribers can also backtest their strategies before running a trading bot – in live market conditions. Dash 2 Trade is offering its D2T tokens via presale right now – before being listed on crypto exchanges. Checked out the presale today to buy D2T tokens at a discounted price.
FAQs
Are there trading bots in crypto?
Yes, there are crypto trading bots that automate the buying and selling of various coins. These algorithms use advanced indicators and risk management strategies to identify profitable opportunities and execute orders accordingly. Dash 2 Trade is one of the best crypto trading bots in the industry.
What is the best crypto trading bot?
The best crypto trading bot is Dash 2 Trade, which uses advanced indicators and risk management strategies to identify profitable opportunities and execute orders quickly and efficiently. It also provides a powerful set of tools to help traders analyze market trends and make better trading decisions. This includes a fully-fledged crypto signal service.