 Free Crypto Signals Channel
More than 50k members
Technical analysis
Up to 3 free signals weekly
Educational content
Free Telegram Channel
Irrespective of the asset class – be it stocks, forex, or cryptocurrency – understanding the underlying market is crucial.
After all, in order to make money from your trading endeavors – you need to take on an element of risk. This sentiment could not be more fitting for the crypto market – which is both volatile and highly speculative.
Fortunately for you – we have put together the ultimate beginners guide on what the crypto market is, how it works, and what you need to do to profit from this ever-growing investment arena!
What is the Crypto Market – Quick Guide
If you're a bit short on time and want the lowdown on what the crypto market is and how it works – check out the quickfire guide below.
The crypto market allows people to buy, sell, and trade digital currencies like Bitcoin and Ethereum
When trading crypto, you will do so via a pair. For example, BTC/USD means that you are trading the value of Bitcoin against the US dollar.
You need to speculate on whether you think the price of the pair will rise or fall. For example, if BTC/USD is at $29,000 – do you think the price will go higher or lower?
Your ability to make a profit will be determined by whether you speculated correctly and by how much, as well as the value of your trade.
67% of retail investor accounts lose money when trading CFDs with this provider.
Overview of the Crypto Market in Simple Terms
In its most basic form, the crypto market works much the same as any other financial arena. That is to say, much like stocks or forex, your overarching aim is to predict the future value of a cryptocurrency.
For example, if you think that at $3,000 per token Ethereum is undervalued, you can place a trade at an online broker to try and profit from this.

Similarly, if you think that Binance Coin is overvalued at $290 – you can also look to profit from this by placing a sell order.
Ultimately, the secret sauce to the crypto market is that you need to forecast which direction a digital currency will go in the coming months, weeks, hours, or even minutes. This will, of course, depend on your chosen crypto market trading strategy – which we cover in more detail shortly.
In a similar nature to forex, cryptocurrencies are traded in pairs. This means that you will be speculating on the value of a digital currency in relation to another asset. This can either be a fiat currency like US dollars or an alternative crypto asset such as Bitcoin. Either way, crypto pairs change in value by the second – like all financial marketplaces.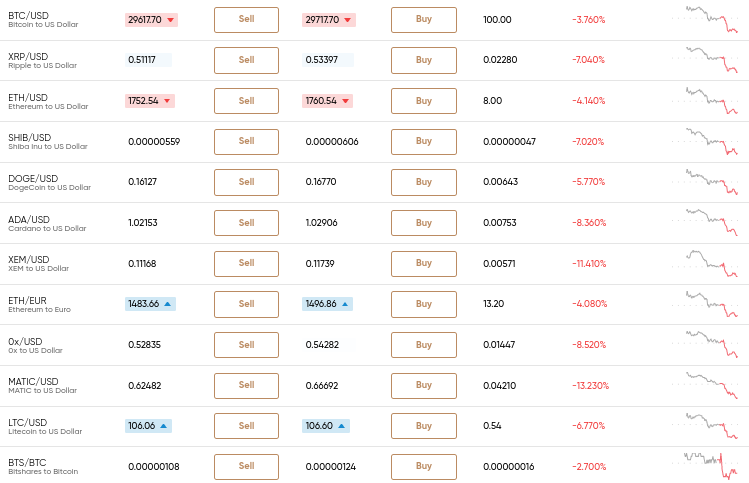 In order to access the crypto market, you will need a top-rated broker by your side. These platforms sit between you and your chosen cryptocurrency trade. For example, if you want to go long on Ripple, your chosen broker will execute your buy position for you in real-time. If the trade returns a profit, the broker will update your balance accordingly.
What can you Trade in the Crypto Market?
As noted above, the crypto market is accessed by trading 'pairs'. There are thousands of pairs in the crypto market, but perhaps, you might want to stick to just a few to begin with. After all, it can take some time to truly grasp how this volatile marketplace works.
However, before you can even think about trading digital tokens, you first need to understand the two main pair types. This includes fiat-to-crypto and crypto-cross pairs – which we discuss in the sections below.
Crypto-to-Fiat Pairs
If you are completely new to the crypto market – it's best to stick with digital asset pairs that contain a fiat currency. These are known as crypto-to-fiat pairs, not least because you will be trading a fiat currency against that of a digital token.
For example:
If you wanted to speculate on the exchange rate between Cardano and the US dollar – you would be trading ADA/USD
If ADA/USD is priced at $1.08 – you need to tell your chosen broker whether you think the pair will rise or fall
In the vast majority of cases, your chosen crypto-to-fiat will invariably contain the US dollar. This is because the US dollar is the benchmark currency used in the crypto market – much like it is when trading precious metals or oil.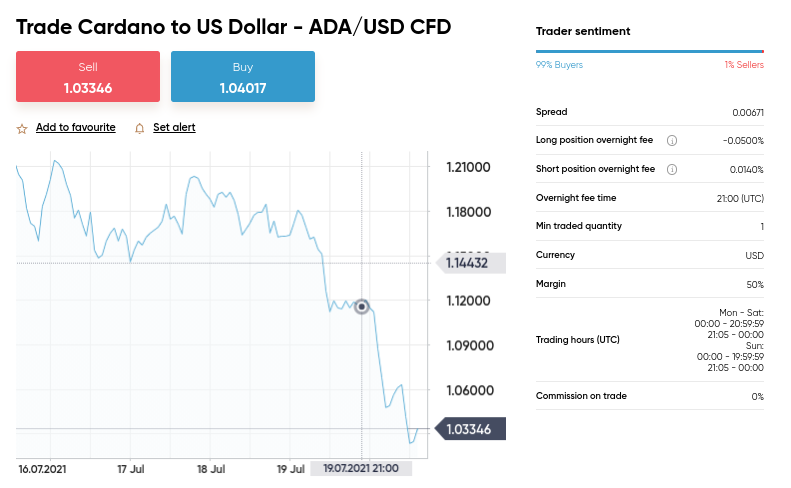 Some platforms  also support other pairs that contain alternative fiat currencies – such as euros, Japanese yen, or the British pound. Either way, the concept remains the same – you need to assess whether the value of the digital asset is likely to rise or fall against that of the respective fiat currency.
Crypto-Cross Pairs
The other option you will come across when learning how the digital asset market works is crypto-cross pairs. In a nutshell, these pairs do not contain a fiat currency like USD or EUR. On the contrary, you will be speculating on the exchange rate between two different cryptocurrencies.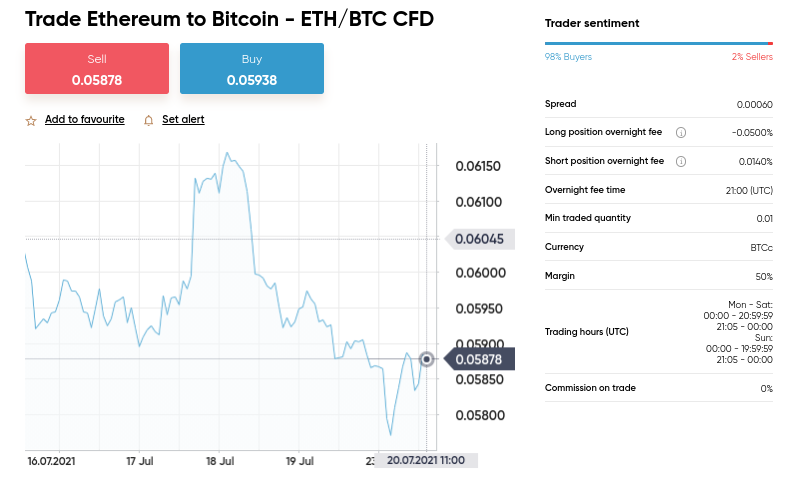 Naturally, this is a lot more difficult to do, as you need to have an intimate understanding of the relationship between each token.
For example:
If the crypto market is bullish on Bitcoin, what does this mean for the value of Ethereum?
To put it another way – if the price of Bitcoin increases by 10% against the US dollar and Ethereum rises by just 2% – then this means that the crypto pair ETH/BTC will decline.
Why? Well, in this example, Bitcoin has increased its value in the crypto market by a factor of 10x, while Ethereum stands at 2x – relative to the US dollar.
As you can imagine, trading the exchange rate between two digital tokens is extremely difficult. This is why newbies to the crypto market should instead consider sticking with pairs that contain a fiat currency.
In fact, not only should you focus on pairs denominated in US dollars, but those that are highly liquid.  Perfect examples of this include BTC/USD, ETH/USD, and BNB/USD.
How to Trade to Crypto Market?
In the previous section of our guide on What is the Crypto Market? – we explained that digital tokens are traded in pairs. We noted that fiat-to-crypto pairs are the best options for beginners – not least because crypto-cross markets are much harder to navigate.
With this in mind, we now need to discuss the intricacies of how you can actually trade the crypto market from the comfort of your home. To get the ball rolling – let's start with long and short orders.
Long and Short Positions
If you have previously invested in traditional stocks – then you will know that in order to make money you need the share price of the company to rise. With that said, in the crypto market, you have the opportunity to profit from rising and falling prices. This is because the best online brokers in this industry support long and short positions.
You will take a long position on your chosen crypto market pair by placing a buy order. This means that you think the exchange rate of the crypto pair will increase.
If you think the opposite, insofar that the exchange rate of the crypto pair will fall – then you need to place a sell order. This is known as a short position in the financial markets.
Let's look at a quick example of a long order to ensure you have a firm grasp of how this works in practice:
You want to trade the value of Dogecoin against the US dollar – which is depicted as DOGE/USD
The current price of this fiat-to-crypto pair is $0.16
You think that Dogecoin will rise in value – so you place a buy order
A few days later, Dogecoin is priced at $0.23 – which represents an increase of 43%
As such, you made a profit of $43 for every $100 that you staked
Now an example of a short position:
You are now looking to trade LTC/USD – which is a fiat-to-crypto pair that consists of Litecoin and the US dollar
The pair is priced at $105 – which you think is overvalued
To profit from your market research – you place a sell order at your chosen broker
Later that day – LTC/USD has fallen to a price of $96
This means that you have made a profit of 8.5% on this trade – which is the percentage that LTC/USD has dropped by since you entered the market
As you can see from the above two examples – the crypto trading industry allows you to make profits regardless of whether the wider markets are bullish or bearish. This is because the best crypto brokers in this space give you access to both long and short orders!
Crypto Market Stakes
It goes without saying that in order to make money from the crypto market – you need to risk some of your own capital. The money that you risk is directly correlated to how much you decide to stake a particular trade.
For example, if you think that Bitcoin will increase in value against the US dollar and you stake $50 – this is the amount that you are risking.
Then, if BTC/USD increased by 10% – as would the value of your stake. This means that your $50 stake would increase to $55 ($50 + 10%).
But, if BTC/USD dropped by 10%, then your stake would be worth less at $45 ($50 – 10%).
The obvious factor at play here is that the more you risk, the more you stand to make from the crypto market. Equally, the more you can lose, too.
This is why it is important to deploy risk management strategies when it comes to stakes. For example, consider capping your maximum stake to 1% of your brokerage account portfolio. You should also set up stop-loss orders on each crypto market trade to ensure your potential losses are minimized.
Crypto Market Platforms – Brokers or Exchanges?
If you have read our guide on 'What is the Crypto Market?' up to this point, then you should have a firm understanding of the basics. Next, you need to think about how long and short cryptocurrency positions are facilitated.
In simple terms, this works in exactly the same way as the forex market, insofar that you will need to go through a third party. The provider in question will ensure that your buy and sell positions are executed as per your instructions.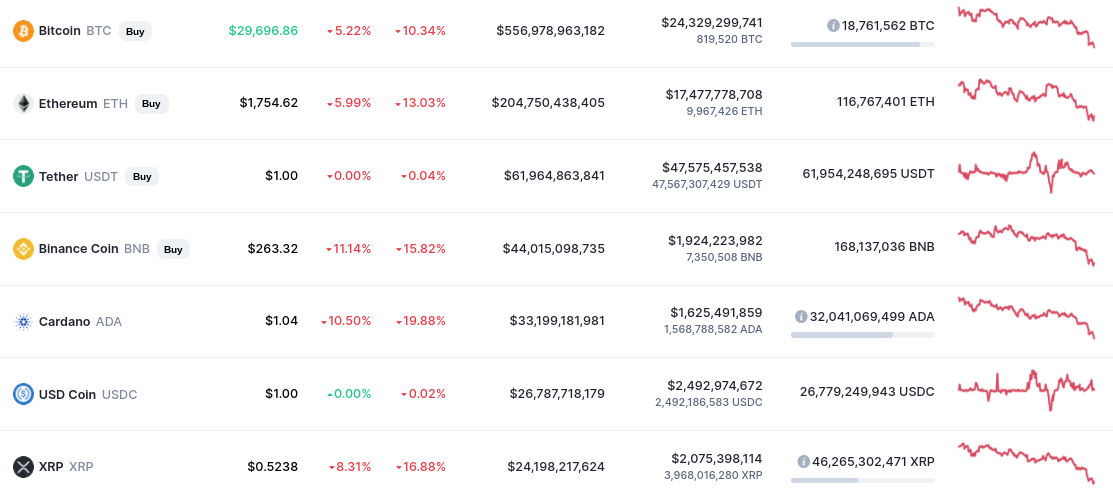 With that said, the crypto market is somewhat unique insofar that there are two main players in terms of platforms – brokers and exchanges. Choosing the right platform is crucial when learning about the crypto market – so we elaborate in more detail below.
Crypto Market Brokers
For all intents and purposes, cryptocurrency brokers work much the same as a conventional stock trading site. This is because the broker will give you real-time access to your chosen digital asset in a safe and regulated way.
The broker will also allow you to deposit and withdraw funds with a convenient payment method like a debit/credit card or bank transfer once you have gone through a KYC (Know Your Customer) process.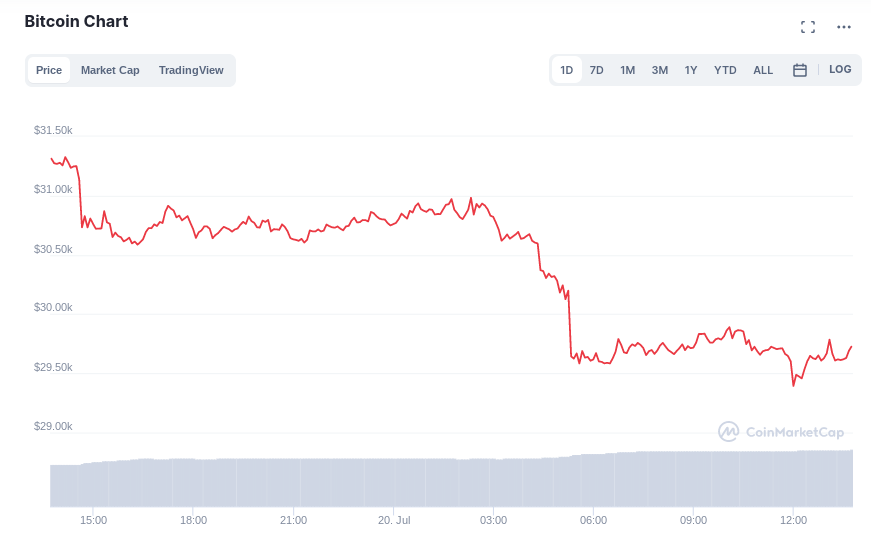 Furthermore, and perhaps most importantly, many regulated cryptocurrency brokers offer contracts-for-differences (CFDs). These are financial instruments that allow you to trade cryptocurrencies without taking ownership of the digital tokens.
In turn, not only can you choose between a long and short position, but you can also apply leverage. The latter means that you can trade with more money than you have in your account.
For example:
You have $200 in your crypto broker account
You decide to go long on ETH/USD via a CFD instrument
You apply leverage of 1:10
You close your ETH/USD a few days later at a profit of 10%
On your original stake of $200 – this would amount to gains of $20
But, you applied leverage of 1:10 – so your $20 profit is amplified to $200
All in all, if you want to access the crypto market in a safe and low-cost manner – it's best to stick with a regulated broker. Furthermore, if you want access to tools like leverage and short-selling, make sure your chosen broker offers CFDs.
67% of retail investor accounts lose money when trading CFDs with this provider.
Crypto Market Exchanges
As a newbie, you might be more familiar with crypto market exchanges like Binance, OKEx, and Bitmart. These exchanges are essentially middlemen between you and other traders.
For example, if you want to go long on XRP/USD at a stake of $500 – there needs to be at least $500 worth of short-selling orders on the exchange for the same pair.
Once a buyer and sellers are matched by the exchange, the provide will execute both orders in real-time.
In turn, they will collect a trading commission.
The key problem with crypto market exchanges is that most operate without a license.
This means that you need to trust that the provider has your best interests at heart. There is no sure-fire way of knowing this unless the platform is regulated.
How to Predict the Crypto Market in 2023
If you thought that traditional assets like stocks were hard to predict – you've seen nothing until you access ther crypto market. This is because cryptocurrencies are super volatile, with some pairs rising or falling by double digit percentages every day.
This makes it extremely difficult to know which way the crypto markets are likely to go. This is especially the case if you are a complete novice and thus – have no experience in performing technical and fundamental analysis.
The good news for you is that there is a simple solution in the form of crypto signals. This is something that we offer at CryptoSignals.org – and our service allows you to profit from the digital asset marketplace without needing to do any of the legwork.
Here's how it works:
Crypto market signals are essentially trading suggestions that are compiled by our experienced team of investors
The signal will tell you exactly what trade to place at your chosen broker – based on our own crypto market research
All signals tell you what pair to trade and whether we suggest placing a long or short order.
To ensure you trade in a risk-averse way, we also supply suggested entry, stop-loss, and take-profit order prices
We send out 2-3 signals per day – all of which are posted in real-time via the CryptoSignals.org Telegram group
Ultimately, all you need to do when receiving a crypto signal from us is to enter the suggested trading order details at your chosen broker.
How big is the Crypto Market?
When Bitcoin was first launched in 2009, the crypto market was virtually non-existent. Fast forward to 2023 and the crypto market is now a multi-trillion-dollar arena.
In fact, when the markets hit all-time highs in May 2021 – the total market capitalization for the entire cryptocurrency industry was at over $2.5 trillion. This works out at more than any company listed on the S&P 500.
At the time of writing, there are almost 11,000 digital currencies that can be traded in the crypto market. Most of these are small-cap tokens that are not worth considering.
Instead, newbies are best advised to focus on large-cap digital assets such as Bitcoin or Ethereum. Furthermore, you should consider trading these coins against the US dollar to benefit from the most liquidity and least amount of volatility.
Trade the Crypto Market Today – Step-by-Step Guide
If you like the sound of the crypto market and wish to start trading digital asset pairs today – we are now going to walk you through the process step-by-step.
Step 1: Choose a Crypto Broker
Before you can access the crypto market from the comfort of your home – you need a top-rated broker on your side. As we discussed earlier, regulated brokers sit between you and your chosen cryptocurrency trade – so it's important to choose wisely.
To help point you in the right direction, below we review the best brokers that give you unfettered access to the crypto markets in 2023.
2. Avatrade – Great Crypto Trading Platform for Technical Analysis
If you have an understanding of technical analysis and wish to use your skills in the crypto market - AvaTrade might be the right broker for you. This top-rated platform is regulated in over six jurisdictions and offers a plethora of trading tools. All you need to do is hook up your AvaTrade account to MT4 or MT5 and will have access to technical indicators, market simulators, and chart drawing tools.
All crypto markets at AvaTrade are offered on a 0% commission basis and at tight spreads. There are no fees to deposit or withdraw funds. You can use the AvaTrade demo account for free or meet the minimum deposit of $100 to start trading with real capital. All crypto markets at the broker come via CFDs - so that's short-selling and leverage sorted. Finally, AvaTrade can be accessed online or via the Android/iOS app.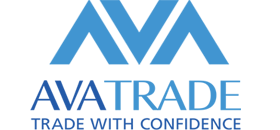 Lots of technical indicators and trading tools
Free demo account to practice trade
No commissions and heavily regulated
Perhaps more suited to experienced traders
71% of retail investors lose money when trading CFDs with this provider
Step 2: Open a Crypto Market Account
Once you have chosen a crypto broker that you like, you can then proceed to open an account. As you will be using a regulated broker, this will require some personal information and contact details. You will also need to upload a document that verifies your identity – such as a passport or driver's license.
Step 3: Deposit Funds
Once you have opened a crypto broker account – it's then time to make a deposit. Otherwise, you won't be able to place real-money trades on your chosen pair.
The brokers we discussed earlier allow you to deposit funds with the following payment methods:
Debit Cards
Credit Cards
E-wallets
Bank Transfer
If you want to deposit funds with a cryptocurrency – you'll need to go through an unregulated exchange.
Step 4: Search for Crypto Market
Now you can search for the crypto market that you wish to trade. Most brokers offer a search function – so it's just a case of entering the specific pair.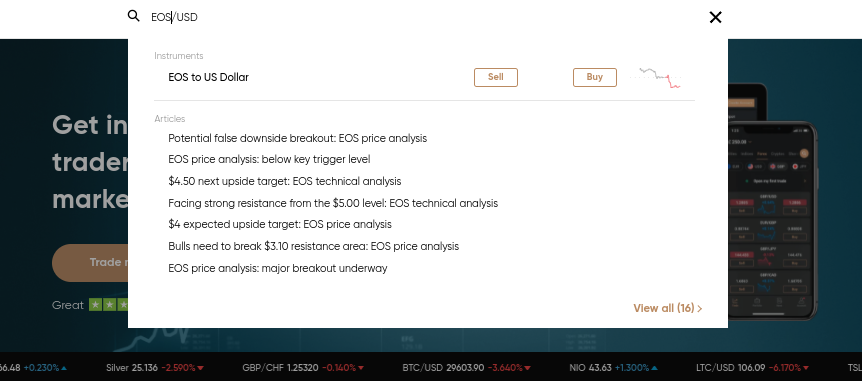 For example, in the image above, we are searching for EOS/USD. This means that we want to trade the future value of EOS against the US dollar.
Step 5: Place Crypto Market Trade
The final step is to place a crypto market trade. We explained earlier that a buy order is required if you think the exchange rate will rise and that a sell order is necessary if you think the opposite. You also need to enter your stake and if applicable – your chosen leverage ratio.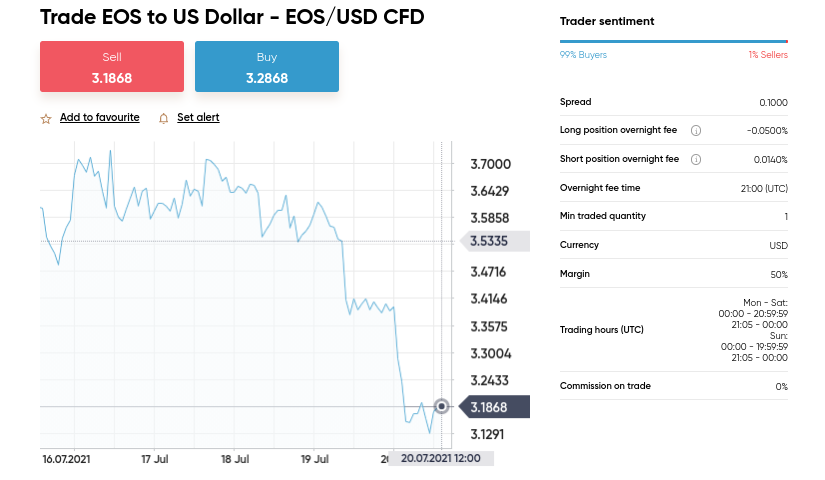 To ensure you enter and exit the crypto market with as little risk as possible – you should also consider setting up a limit, stop-loss, and take-profit order.
When you are ready to execute your crypto market trade – confirm the order at your chosen platform!
What is the Crypto Market? The Bottom Line
This guide has explained everything there is to know about the multi-trillion-dollar crypto market. You now know that digital tokens can be traded much in the same way as forex – as all crypto markets are represented by pairs. You also know the importance of choosing a trusted broker that offers low fees and support for your chosen digital assets.
If you are ready to access the crypto market right now – consider ByBit. This top-rated broker offers heaps of digital tokens on a 0% commission basis. You can get started with an account at ByBit in less than 5 minutes and most importantly – the broker is heavily regulated.
ByBit – Trade the Crypto Market Today
67% of retail investor accounts lose money when trading CFDs with this provider.