 Free Crypto Signals Channel
More than 50k members
Technical analysis
Up to 3 free signals weekly
Educational content
Free Telegram Channel
Are you thinking of trading Chainlink but not sure whether you should proceed because you need more experience? If so, Chainlink trading signals could be the right choice for you – especially if you need help learning about how to read pricing charts and researching trends.
Chainlink trading signals are generated by our team of professional traders that dedicate their time analyzing the cryptocurrency markets.
This data will form the basis of our of what trades to place with your chosen digital asset broker. As an example, a trading signal might tell you to enter the Chainlink market with a buy order at $29 and exit it once the digital coin hits $38. 
In this guide, we show you how Chainlink trading signals will allow you to maximize your investment capital from the cryptocurrency markets – even if you are a beginner.
What are Chainlink Trading Signals?
Our Chainlink signals are trading suggestions that our experts will send our members once we foresee that a profit-making opportunity is on the horizon. For instance, we might send out signals when we see that Chainlink is overvalued based on in-depth research – much of which is centred on technical analysis. 
Here at new.cryptosignals.org, this also includes advanced depth research methods via analytical software that backs up our conclusions. This data is what you need so that you can follow through with making the right orders with your cryptocurrency broker. 

An example of a Chainlink trading signal is as follows:
Chainlink Pair

: LINK/USD

Position:

Buy order 

Limit Price

: $29

Stop-Loss

: $24

Take-Profit

: $39
As you can see above, our in-house traders suggest a buy order on the crypto pair LINK/USD (Chainlink/US dollar). This means that our experts believe that the value of Chainlink will rise in the very near future.
Crypto signals also have extra guidelines, including the limit, stop-loss and take-profit order prices. These will be explained further on. When you are notified with a Chainlink trading signal from our team, all you need to do to follow it through is to place an order via your crypto broker.
What are the Benefits of Quality Chainlink Trading Signals?
There are many reasons why signing up for our quality Chainlink trading signals can be beneficial for you. At the forefront of this is that our trading suggestions are aimed at your long term cryptocurrency investment goals.
Proceed ahead to learn about what makes our research so vital and how it will help you when trading Chainlink:
Expert Analysts
new.cryptosignals.org is made up of a team of in-house traders with years of experience in the digital asset field. We spend many hours performing up to date technical analysis and researching the many changes that take place continuously in the cryptocurrency market.
Our professionals add up all gathered data, resulting in answers that a novice investor might not have come up with.  
Therefore, by becoming a member of our Chainlink trading signals group, you will benefit from the research compiled via technical analysis, artificial intelligence algorithms and fundamental data. 
In this manner, you will have the greatest chance of increasing the value of your trading portfolio.
Great for Inexperienced Traders
The service we offer is ideal for newbies. It also offers a great opportunity for interested members to learn the ins and outs of the cryptocurrency arena. We often disseminate information giving you the chance to acquire a firm understanding of how we try to keep ahead of the market.
Plainly, if you go into the cryptocurrency trading market alone, it might take many years to truly understand and thus – result in you losing a lot of cash along the way. This is why new.cryptosignals.org is here to teach and guide you on your journey into becoming an independent trader. 
In the meantime, you also get the chance of trading Chainlink without the necessary know-how to succeed in the cryptocurrency markets. 
Have Clear Entry and Exit Goals
We at CryptoSignal.org strongly believe that having concrete goals when trading cryptocurrencies, like Chainlink, is very important. For this reason, we always send out our trading signals with an entry and exit target.
These signals give you a clear indication allowing you to enter/exit the market at exactly the right time and at the best prices. To add to this, we also provide you with a stop-loss and a take-profit price.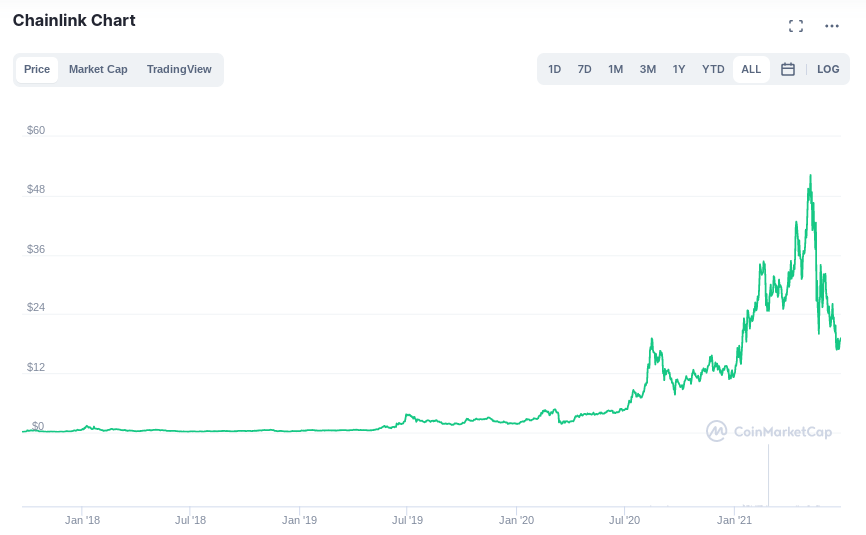 In the end, when you have instructed your online broker to follow our order suggestions, there will be nothing left to do with the particular trade.
Trade Within Your Budget 
Deciding on a realistic budget is an important move in order to grow your capital and minimise any future losses at the same time. When you are notified with a Chainlink trading signal, it is always up to your discretion to opt for the stake of your choice.
Nevertheless, our experts advise not to risk more than 1% of your trading account. For example, if your account balance is $3,000, the recommended amount on our signal will be $30. Or, if your balance is on the higher end and reaches $15,000, then we would recommend staking no more than $150 per trade.
Therefore, it is a process in which you will see a change in your allocated capital as days go by. But if your orders are made sensibly, then you are paving the way for growing your profits in a risk-averse way.
How do our Chainlink Trading Signals Work?
Here at new.cryptosignals.org, we know that the strongest trading signals must contain five vital data tips. This will be explained in detail below:
Chainlink Pair
As in the forex markets, you can select which currencies are being traded against Chainlink by the "pair" they represent. For instance, if you trade Chainlink against the US dollar, it would be represented as LINK/USD.
Our professionals are trained in dealing with crypto-cross and crypto-to-fiat pairs alike. Hence, you might notice our traders researching prices not only for Chainlink but also Bitcoin, Ethereum, Ripple, Litecoin and Binance Coin – to mention a few. This is always done with you in mind, to widen and choose the best trading horizons.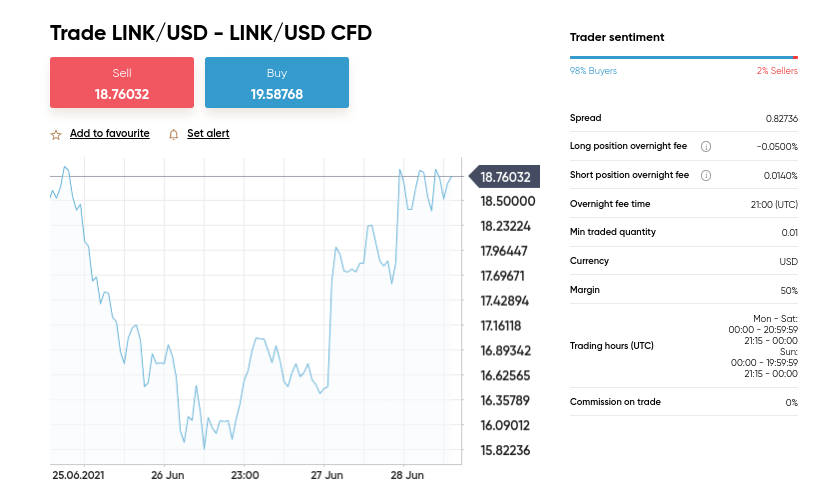 Since Chainlink can be traded with a wide variety of markets, it is very important to choose an online broker that allows you to deal with a good number of pairs. An example of a great broker in this respect is eToro  – since it offers a vast list of cryptocurrencies without charging commissions.
Buy or Sell Position
Once you know which Chainlink pair we suggest trading, the next step is understanding how to go about it with your broker. Needless to say, our analysts at new.cryptosignals.org will always be looking to profit both from the rise as well as the fall of the cryptocurrency markets.
Therefore, if our Chainlink trading signal heads you towards placing a buy order, this means we think the pair will rise in value.
On the other end, a signal represented as 'short' regarding a sell position, predicts that this pair will decrease in value in time. In any case, we guide you through the process clearly so that you can make the best decisions for each transaction, meaning you will not feel the burden on your own. 
Limit Price
Whether you are new to cryptocurrency or not, always remember that the following three bits of information are vital in making a profitable trade – limit, stop-loss, and take-profit orders. 
First and foremost, the limit order instructs your chosen broker the price in which you would like to enter the market. For example, you might be opting to place a sell order on LINK/USD at $29. If so, your broker will only commit to the trade at the limit price given ($29) no matter what the market circumstances are.
There is also a market order, which allows you to enter the market quickly at the next price available. However, our traders hardly ever make use of this, since one cannot specifically choose the entry price.
Your next move is to proceed to the broker chosen by you, place a limit order and just input the entry price we recommended through our Chainlink trading signal.
Stop-Loss Price
The stop-loss price is self-explanatory and was designed purposely to limit losses in the ever-changing trading markets. Our in-house professionals always ensure a stop-loss price that does not exceed a 1% loss.
Since 2014, our team is proud to hold a record of making steady gains; even though losses form part of the online trading risk. For this reason, our analysts are positive that through their research – they produce and send out highly proficient stop-loss prices.
Take-Profit Price
On the same note, a take-profit price was designed to assure that gains made are not lost. This is the reason Chainlink trading signals go about creating clear exit goals and sharing them with you.
Under normal circumstances, we target a risk-reward ratio of 1:3  – so that if you were to place an order at a stake of $60, we would aim for a profit of $180. Nevertheless, our Chainlink trading signals will also have a take-profit order price. At this point, it is important to input each recommended target price with your broker.
Chainlink Trading Signals Telegram Group
At first, we at new.cryptosignals.org used to send all of our trading signals by email. Although our signals were highly profitable, this system had some setbacks. One of them was that our clients had to update their inbox regularly to ensure that they don't miss out on a profitable trading opportunity.
Due to this fact, we now use the Telegram app. It is an excellent user-friendly platform and allows us to send out all of our trading tips in real-time. Effectively, your notifications arrive to you at the exact moment that we send out our trading signal!
Every signal will contain a description of the technicalities supporting the reasons for our conclusions towards your trade and how to secure the position with your broker. We will also be educating you with representations of charts and graphs, subsequently facilitating your entry into the cryptocurrency marketing world.
Free Chainlink Trading Signals
If you are still not decided on subscribing to our Chainlink trading signals, allow us to give you a good idea of what it would be like if you were to join. The first option to take advantage of is that we send out three FREE crypto trading signals every week from our Telegram group.
These signals will contain the same tips that we offer to our premium members, thus you will not be missing out on any important trading strategies. The free signals will include the important data points we spoke about above; the crypto pair in question for the trade, the stop-loss price and the take-profit price.
After that, when you begin to experience our crypto trading signals, not only will you be able to profit from the digital asset market – but learn along the way. Plus, if opting for the free crypto signals service, you can essentially test us out before proceeding with our premium plan.
Premium Chainlink Trading Signals
Allow us to explain what you can expect once you join our new.cryptosignals.org premium membership. 
Our plans give you access to 3 quality signals everyday – (Monday-Friday), a significant increase from our free Telegram service. As a result of this, most of our subscribers have chosen to continue using our premium service to get the most from our quality signals.
We are always transparent about what we do and invite you to look into our price list ahead of joining us:
If you are weary about our premium plan being the best option for you, then new.cryptosignals.org enables an opportune and risk-free suggestion.
Upon subscription to one of our premium plans, new members automatically get a 30-day moneyback guarantee. You may be asking why we do this – and our answer is that we are sure our service is ideal for new and potential members regardless of their trading experience and goals.
Chainlink Trading Signals – Risk-Free Strategy
Once you sign up at new.cryptosignals.org for a premium plan – you automatically have 30 days to try our service first-hand. With this, we highly recommend that you find a broker that also offers a free brokerage demo account. This will allow you to trade our crypto signals and start involving yourself with the digital currency market without the risk of losing money!
The list below shows you what you need to do in a step-by-step manner:
Select a Crypto Broker. Always make sure that you find one that allows you to do business with a good selection of markets such as eToro. It offers a large choice of cryptocurrency pairs without you needing to pay any commission.

Start up with a demo trading account with the broker that you choose.

Sign up for a premium plan with us at new.cryptosignals.org.

Join our VIP Telegram channel.

Upon receiving your first trading signal – make our suggested order via your newly created brokerage demo account.

After a few weeks, check into your account and see for yourself the profit that you have made.
When you are satisfied with our services and if you wish to continue your trading venture, there is a chance that we propose for you to consider opting for one of our longer plans. This will reduce the monthly cost of our premium signals and thus – get you a better all-round deal.
If you prefer to go for the moneyback guarantee – all you have to do is to inform us of your decision within 30 days of signing up and you will have your subscription returned.
Choosing a Crypto Broker for the Best Chainlink Trading Signals 
As you have likely realized by now, we continuously stress how important it is to use a top-quality crypto broker from the get-go. This is because it will be the direct link between you and your trades. 
In other words, the broker will be executing our suggested orders as you speculate on the Chainlink trading market.
The following sections will give you a quick guide on what you should look out for before you choose your Chainlink broker.
Fees and Commissions
Among the many ways in which crypto brokers can make money – one is by charging its customers a number of fees and commissions. To be clear, many of these crypto brokers can charge more than 2% on each trade that you place. This is the main reason why many crypto traders prefer to use the services of eToro.
Above all, these online brokers have a 0% commission fee policy – giving you the opportunity of trading in the cryptocurrency markets at a low cost. Therefore, it is crystal clear that our Chainlink trading signals – alongside eToro, make the perfect match! As we previously said, our principal aim is to target modest gains – so you won't need to worry about trading fees reducing your profits.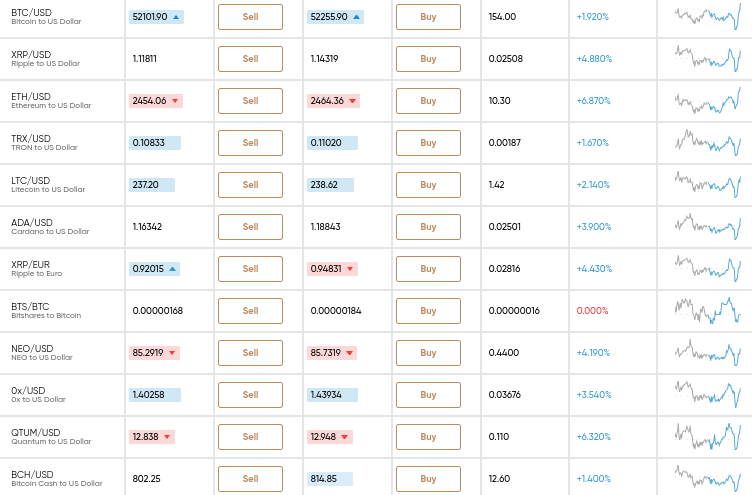 An important factor that needs to be considered is the 'spread' – which is the difference between the bid and ask price for the Chainlink pair you are trading. Essentially, the greater the gap between these prices – the more you are paying your broker.  The spread can change with every market and asset – so do not overlook this when selecting your online crypto broker.
Safety and Trust
When informing yourself about crypto broker options, do not forget to choose one that functions from a fully licenced platform. The reason behind this information is that a big proportion of cryptocurrency exchanges are unregulated – allowing anyone to open an account without even giving their personal details.
The truth is that you will be asked to risk a percentage of your capital into the crypto market, therefore making sure that your profits are safe is crucial. This is why we suggest checking out eToro – since this platform is heavily regulated. 
Supported Crypto Markets
As previously mentioned, our crypto trading signals will look into a wide variety of markets. For example, you might be notified about a crypto-cross pair like LINK/BTC. Sometime after, you might hear from us about a crypto-to-fiat trade such as LINK/USD.
With this in mind, you must find an online broker that allows you to access a big selection of the cryptocurrency markets. This will give you accessibility to act on our Chainlink trading signals – all through a one-stop reliable brokerage site.
Deposits, Withdrawals, and Payments. 
You might also want to deposit and withdraw assets by using fiat money. If so, you'll need to use a fully regulated broker. As we already mentioned, a big number of exchanges are unregulated, thus only accepting cryptocurrency payments.
From experience, eToro is very convenient in depositing funds – since the platform accepts all major debit/credit cards such as Visa, Maestro and Mastercard. This broker also supports a variety of e-wallets. Depending on your current location, you can make use of Klarna/Sofort Banking or other local payment methods too.
In terms of fees, eToro deposit charges are only 0.5%. However, if you choose to fund your account using USD as a payment method, the broker will waiver this 0.5% charge. To put this into perspective – Coinbase charges a fee of 3.99% on debit card deposits!
Get Started With the Best Chainlink Trading Signals Today
If with new.cryptosignals.org you have found what you are looking for, then signing up with us is very easy. Below you will find a guide with the steps you need to take so that you can start making use of our quality Chainlink signals:
Step 1: Join new.cryptosignals.org
In order to receive our Chainlink trading signals you must open an account with at new.cryptosignals.org:
The difference between our free service (3 weekly trading tips) and signing up for one of our premium plans is substantial, with the latter giving you the benefit of receiving 3 signals per day from Monday to Friday, throughout the year!
Also consider – we automatically give a 30-day moneyback guarantee to all our new premium plan members – so there will be no losses if you want to try us out!
Step 2: Join Our Crypto Trading Signal Group
When you create your account with new.cryptosignals.org – we will send you an email on how to join our VIP Telegram group.
For practicality, it is always better to set a custom notification in order for you to realise instantly upon receiving a trading signal from us. This will facilitate your action quicker when getting your order in with your online cryptocurrency broker.
Step 3: Place Chainlink Trading Signal Orders
When you receive a Chainlink trading signal from us, all that is left for you to do is to input the data of your order with your chosen broker.
The signal will consist of the Chainlink pair and whether it represents a buy or a sell position. It will also recommend the limit, take-profit and stop-loss price.
The Bottom Line
In conclusion, our Chainlink trading signals open the way to the cryptocurrency market in which you can profit. This implies – you can trade like a seasoned trader while our team compiles all the data needed to assist you in achieving your trading goals. All you need to do is input our suggested orders with the broker that you have chosen.
Therefore, if you feel ready to receive the full benefits of our quantitative and qualitative Chainlink trading signals, choose the best premium plan for you. Remember, we offer each new member a full 30-day moneyback guarantee – meaning that new.cryptosignals.org benefits you in every way!