 Free Crypto Signals Channel
More than 50k members
Technical analysis
Up to 3 free signals weekly
Educational content
Free Telegram Channel
If you are interested in trading Ripple but do not hold the technical knowledge needed to exceed in the cryptocurrency market – then signals might be exactly what you need. 
Ripple signals are trading suggestions our analysts will send out to help members become more professional traders. The signals that cryptosignals.org provides will contain all the core data you need to place an order with your broker.
For example, you may receive a notification telling you to buy Ripple when it reaches a price of $1.40 and cash out the trade when it exceeds $1.45. 
Throughout this guide, we will cover how our Ripple trading signals allow you to access the profitable world of cryptocurrencies – without having to spend hours researching or performing any technical analysis.
What are Ripple Trading Signals?
Ripple signals can be better described as a trading tip that informs you when a new market trend has been identified. Our analysts will research the market on your behalf, then promptly notify you if there are any profitable opportunities possible. 
For instance, you may receive a signal telling you to place a buy order on XRP/USD (Ripple/US dollar). This means that our traders think the pair will increase in price. The team at cryptosignals.org will use their years of finely tuned technical skills to reach all of their decisions. 

We have included an in-depth example of what this would look like as one of our signals: 
Ripple Pair

: XRP/USD

Position

: Buy Order

Limit Price

: $1.55

Take-Profit

: $1.60

Stop-Loss

: $1.53
As we mentioned above, this example shows us that our traders suggest you place a buy order on XRP/USD – which highlights that our experts think Ripple is currently being undervalued. This example also tells us the specified limit price, take-profit, and stop-loss.  We will cover these terms later in the guide. 
When you have received your signal, you can then proceed to your chosen broker and place your order containing all the suggested data we have given. 
What are the Benefits of Quality Ripple Trading Signals?
When you sign up for our quality Ripple trading signals, you will receive a full range of benefits—each one offering an advantage for your future investment goals. 
We have listed below what we believe are the main benefits: 
Expert Analysts
cryptosignals.org started back in 2014 when a team of traders formed an online community to help others learn about the cryptocurrency market. Our team of in-house experts performs high-level technical analysis day in and day out, concentrating primarily on the price movements of the crypto market. 
Our traders achieve our quality signals by carrying out advanced research procedures through a wide range of technical indicators. As a result, when you sign up for our Ripple trading signals – you have the peace of mind that our expert analysts are working on your behalf. 
Great for Inexperienced Traders
When our team formed cryptosignals.org, we made sure it was accessible and user-friendly for any new members. The reason being, in order to produce constant gains in the trading space, you need to have a firm understanding of technical analysis and other chart strategies.
These skills can take a long time to perfect, which is why we see new traders become overwhelmed. However, by joining our members at cryptosignals.org, you can buy and sell Ripple without any prior technical knowledge whatsoever. 
Have Clear Entry and Exit Goals
At cryptosignals.org, our signals will always provide you with a straightforward entry and exit goal.  What this means is that we will advise you of a price we feel is suitable to execute at your chosen broker. 
This ensures that you do not need to pick and choose when to enter or exit the market. As we mentioned above, we achieve this by including a take-profit and stop-loss order price. These orders assist traders in securing their profits while additionally ensuring they cap their losses when trades don't go to plan.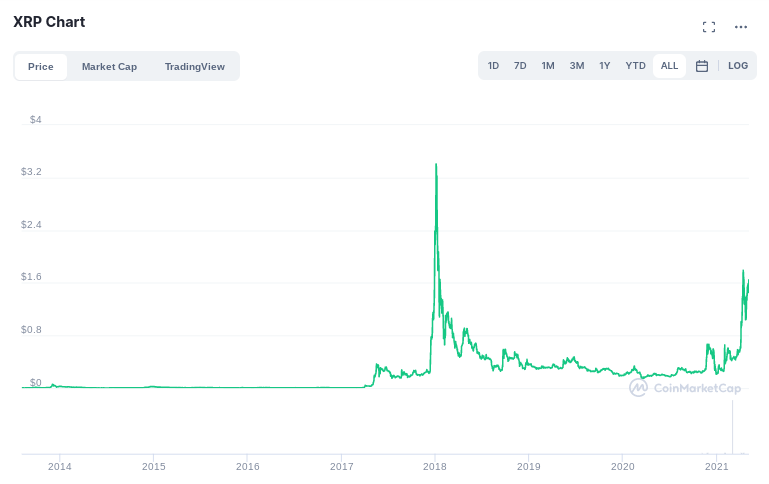 However, we have covered this in more detail further down in this guide to ensure you have all the information you need to trade Ripple. 
Trade Within Your Budget
When you receive a Ripple trading signal, the amount you wish to stake is entirely your decision. However, as most people know, setting up an investment budget is vital. That is why our team suggests keeping your risks to a maximum of 1% per trade.
For example, if your trading account balance was $1,150 – you may opt to risk $11.50 on our signal. Similarly, if your account balance was smaller at $100, then the suggested trade amount would be $1. By using this method, the balance of your account will increase and decrease throughout each month – organically. 
Therefore, this means that each stake value, when based on the 1% strategy, will also differ. We do this to teach our members how to trade Ripple steadily while simultaneously managing risks correctly. 
How do our Ripple Trading Signals Work?
At cryptosignals.org, we believe that the best Ripple trading signals contain five fundamental data points. 
To be sure you have a comprehensive view of how our crypto signals work – we have covered these in-depth below:
Ripple Pair
With the price of Ripple quickly growing each month, it is clear that you can trade XRP against a host of other assets. In the cryptocurrency markets, you can identify which currencies are being traded by the respective pair. 
For example, if you were looking to place an order on Ripple against the US dollar – this would be displayed as XRP/USD. This combination is also known as a crypto-to-fiat pair, meaning it consists of one digital coin and one fiat-based currency. 

USD is one of the most utilized fiat currencies in the crypto community. Therefore, our traders will concentrate on this – as there may be a higher level of liquidity and trading movements. 
On the other hand, if you were to trade Ripple against Binance Coin – this would be XRP/BNB. This is described as a crypto-cross pair, simply meaning it consists of two competing digital currencies. 
To ensure you are trading against the correct cryptocurrency, our traders will research prices for Bitcoin, Litecoin, Stellar, and Cardano, to name just a few. Regardless of which direction our team takes, our first data point will always be the pair you need to trade. 
Something to note is that it is essential to sign up for a broker that offers various markets. By doing this, you can ensure that you can act on all our Ripple trading signals through one individual platform.  An excellent platform to consider is eToro – as the provider offers a wide variety of cryptocurrency markets on a commission-free basis.
Buy or Sell Position.
When you have received your Ripple trading signal and are on board with the suggested crypto pair – you then need to consider which position to take. This decision can be complicated, especially if you are new to the trading world. 
To give you an example, if we feel Ripple is going to increase in price, then we will notify you to place a buy order with your online broker. However, if our analysts had looked over the technical data and believe Ripple is about to decrease in price – you would opt for a sell order. 
By using both long (buy) and short (sell) orders, our specialists will look to profit from the rise or fall of the crypto market.  In summary, by instructing you on which directions to take when trading Ripple – you do not need to judge the market conditions by yourself. 
Limit Price
If this is the first time you are delving into Ripple trading signals, you generally have two different options for entering the market. Brokers will offer both of these options; however, our signals focus primarily on 'limit orders'. 
Essentially, a limit order informs your broker at what specific price you would like to enter the market. 

For example, let's say you have gone long on XRP/USD with an entry price of $1.50. 

To make sure you can execute the buy order at this price, you would set your limit order at $1.50. 
Your chosen broker will only perform this trade if and when Ripple reaches $1.50 – otherwise, it will remain pending. 
The alternative is a market order. This order gives you the opportunity to enter the market instantly at the next available price. However, our team seldom opts for market orders as they do not let us specify a target entry price. 
Consequently, all you need to do is choose the limit order and input our suggested entry price when setting up a position with your preferred broker. 
Take-Profit Price
Using a take-profit order can give you peace of mind that your position will automatically close when you have reached your profit target. That is why you may have seen from the cryptosignals.org home page; we openly state our goals to work on a 1:3 risk-reward-ratio with every trade. 
For example, if you placed a trade on Ripple for $1.55, we would look for a profit of 3% – which equates to a take-profit order price of $1.60. 

By using the 1:3 objective, you will not risk too much per position – giving yourself a higher chance of making reasonable but more consistent gains.
As such, our Ripple trading signals will always contain a well-analyzed take-profit price suggestion. When you organize your order via your broker – you will need to enter this price alongside your limit order amount. 
Stop-Loss Price
As well as the take-profit order, there is an equally important strategy we utilize in our Ripple trading signals. This is the stop-loss order. This approach uses a precise price target to minimize any potential losses that may occur. 
This order is hugely beneficial if Ripple prices start rapidly fluctuating as it gives you more control over your trade. In most cases, the stop-loss price we would suggest amounts to no greater more than 1% of each trade. Taking the example of the $1.55 limit order we mentioned above, the suggested stop-loss, in this instance, would be $1.53 (1%).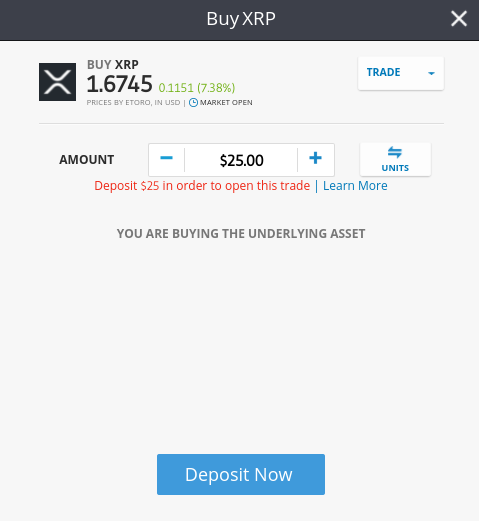 Although our signals boast a current success rate of 82%, we cannot guarantee that losses won't happen throughout your journey. That is why our team sends out risk-averse Ripple trading signals at every opportunity. 
Ripple Signals Telegram Group?
In the younger years of cryptosignals.org, we shared our crypto trading signals via email. However, as the trading market took off in a fast-paced manner, it only made sense to look for a more instantaneous way to distribute our suggestions. 
That is why our traders chose Telegram, this way; we can send our data out in real-time. Meaning – as soon as our analysts post the signal on the Telegram channel – you will be able to access it straight away. 
Telegram has a user-friendly interface meaning you can open your notification and read our signals with ease. In most cases, we will also give our members a chart or graph explaining the technical analysis behind the trade.
This data provides you an opportunity to learn the trading fundamentals needed to buy and sell Ripple.
Free Ripple Trading Signals
If free Ripple trading signals are something you are looking for, then cryptosignals.org has what you need. Our free Telegram group offers three crypto signals per week. You will be given the same information that our premium subscribers receive in their crypto trading signals. 
We never hide or keep back any relevant data from our members, whether they are premium or using our free service. You may be questioning why a business would offer this service – the answer is easy. 
We want all our potential subscribers to understand how our signals work before committing financially. If you feel more confident after a few weeks, you might then elect to subscribe to our premium signals. 
Premium Ripple Trading Signals
Our premium membership gives you access to between 3 to 5 crypto signals per day (Monday-Friday.) This is a considerable advantage to the free service of 3 signals per week – which is why a large portion of our members are long-time premium subscribers. 
For your convenience, we have included a complete list of our premium prices below: 
If you are still considering if our premium plans are suitable for your needs, our risk-free strategy may help you make your decision. At cryptosignals.org, we offer all new sign-ups a 30-day money-back guarantee. 
All you would need to do is reach out to us within these 30 days, and we will refund your subscription with no questions asked. We do this to show our customers that we are optimistic about the service we offer. As a result, most of our new members choose to stay with our platform for the long run. 
Ripple Trading Signals – Risk-Free Strategy
As we stated above, you have 30 days to trial our crypto trading signals before fully committing to our service. However, we often encourage our new members to run our Ripple trading signals through a demo account for the first month. 
You can find these demo accounts through a large variety of brokerage sites such as eToro. By choosing this option, you can place all of our suggested orders without taking any substantial risks. 
Here are the next steps you need to take: 
Select an online broker that supports a broad range of cryptocurrency markets and open a demo account. eToro is an excellent example of a platform that provides both of these necessities. 

Sign up for the cryptosignals.org premium membership that suits you. 

Join the VIP Telegram channel.

When you receive your first Ripple trading signal, place our suggested orders via your new demo broker account. 

When a few weeks have passed, you can count up your results and see what profits you have made. 
If you are impressed with our service and your trading profits, you can opt for an extended plan to feel the full benefits of our reduced monthly fees. 
On the other hand, you may decide to use our money-back guarantee. If this is the case, please let us know within 30 days of signing up, and we honor without delay.  
Choosing a Crypto Broker for the Best Ripple Trading Signals 
We can't emphasize how important it is to choose a great crypto broker when using our Ripple trading signals. After all, the broker will be the one to fulfill all your orders – consequently granting you full access to the cryptocurrency trading markets. 
You will need to research numerous crucial factors when looking for your online broker. To help make this a faster experience, we have included a detailed explanation of these factors below: 
Fees and Commissions
When it comes to trading Ripple or any cryptocurrency, you will run into some fees and commissions at one point. The reason behind this is that crypto brokers charge a combination of fees and commissions to make money. 
For example, you may see that 1.49% is a typical fee that crypto brokers will charge on each trade placed. 

However, if you were to opt for a broker such as eToro, you could buy and sell Ripple at a 0% commission rate. 
This makes the online broker ideal for our Ripple trading signals – as you won't have your profits consumed by expensive costs. 
One major factor you will need to consider is the 'spread' – which is the difference between the bid and ask value of each digital pair.  As such, the bigger the distance between prices – the more you will pay to your chosen broker. 
Safety and Trust
In the cryptocurrency scene, it is not uncommon to see unregulated exchanges. In fact, a large percentage of brokers don't hold a license with any of the necessary financial bodies. As a result, anyone can open an account and trade without supplying any personal details.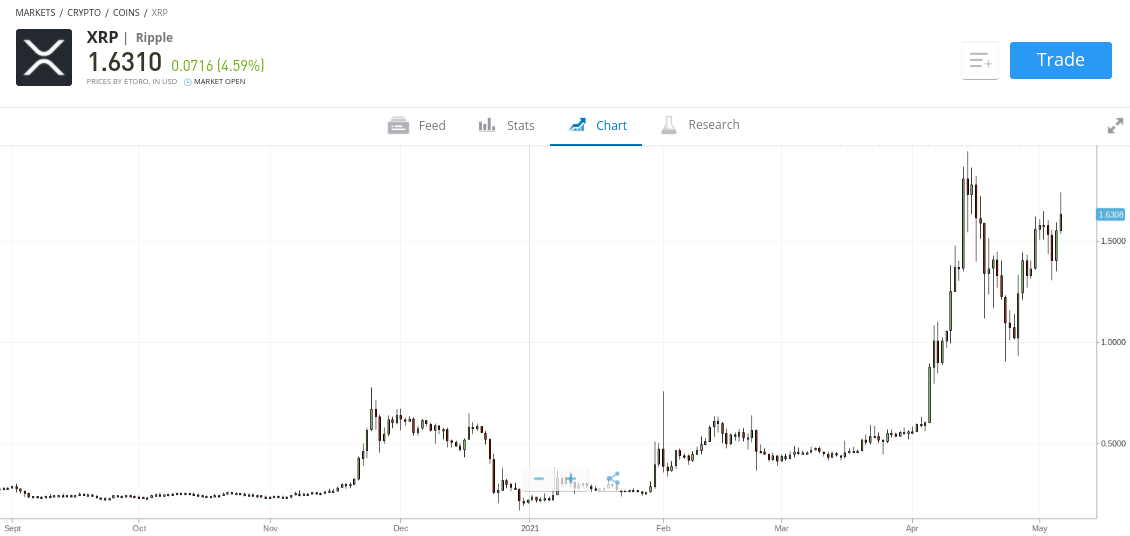 For this reason, we don't advise our members to use one of these platforms – as you will need to deposit your capital to start trading. With unregulated markets having a higher security risk – your money might not be 100% safe. 
Our suggestion would be to consider eToro – as ASIC, CySEC, and the FCA all regulate the online broker. As a premium to anyone living in the US, eToro is also registered with FINRA and the SEC. 
Supported Crypto Markets
As we have highlighted above – you can trade Ripple against a wide range of markets. For example, one of our signals might include a crypto-to-fiat pair like XRP/EUR. In the next, you may receive a crypto-cross combination such as XRP/ETH. 
That is why choosing a broker that supports an extensive range of cryptocurrency markets is extremely important. In doing this, you will be able to act on all of our Ripple trading suggestions through one single online broker.
Deposits, Withdrawals, and Payments 
The last thing you will need to look out for when choosing your broker is what payment methods are available. The vast majority of unregulated brokers will only accept cryptocurrency payments, which is another reason we don't encourage them.
On the other hand, there are limitless amounts of regulated brokers that allow you to deposit and withdraw funds using fiat money. At eToro, for instance, you can choose from a whole range of different options. These include debit cards such as Visa, Maestro, and Mastercard. 
Or, if you prefer to utilize an e-wallet, you can choose between Paypal, Skrill, and Neteller. There is the option of instant bank transfer; however, this depends on where you live. Perhaps one of the best benefits that eToro offers is that it only charges a 0.5% commission on deposits.
If you plan to fund your trading account with a USD-based payment method, then this 0.5% cost will be deducted entirely. This is a vast difference to many brokers – who will charge between 3-5% per debit card deposit! 
Get Started With the Best Ripple Trading Signals Today
If our Ripple trading signals are something you would be interested in receiving, then join our members at cryptosignals.org today! 
We have included a step-by-step guide below to show how easy it is to get started: 
Step 1: Join cryptosignals.org
To start receiving our Ripple trading signals straight to your Telegram app – you will first need to set up an account. This task should only take a couple of minutes. 
You can begin with our free service, which allows you access to three suggestions every week. Or, you can become a premium member and receive a substantial advantage of 3 to 5 signals per day!
Step 2: Join our Crypto Trading Signal Group
When you have opened your cryptosignals.org account – we will send you an email containing the steps you need to register our Telegram group. When you have joined the group, it is a good idea to set a custom alert sound. 
You can do this via the settings page on the Telegram app. By doing this, you can recognize when it is a new trading signal, therefore, giving yourself ample time to react to our suggestions. 
Step 3: Place Ripple Trading Signal Orders
When you receive your first Ripple trading signals – all you must do is place the orders we have suggested via your broker. As a reminder, this includes the crypto pair, is it if a buy or sell position, and the limit, take-profit, and stop-loss order prices. 
The Bottom Line
Allow us to summarize. By joining cryptosignals.org – you can receive quality Ripple trading signals via our instant Telegram group. You will be able to actively trade Ripple without any prior knowledge in technical analysis or chart reading. 
The only thing you must do is place the orders that our experts have suggested through your chosen broker. If this sounds like it is of interest to you, select one of our plans, and you can begin instantly. 
And, keep in mind we offer all our new premium plan subscribers the 30-day money-back guarantee – so you are covered in every way!