 Free Crypto Signals Channel
More than 50k members
Technical analysis
Up to 3 free signals weekly
Educational content
Free Telegram Channel
Best Binance Coin Trading Signals 2023 – Ultimate Guide
If you are interested in trading Binance Coin but don't have any background in technical analysis or the time to research the market, signals could be precisely what you need! Allow us to break down how our members at cryptosignals.org use Binance Coin trading signals, to outclass and navigate the market every day. 
Simply put, Binance trading signals let you know what trades to place with your broker and when is the key time to place them. An example of this would be a signal that suggests you buy Binance Coin when it reaches a price of $250 and sell it when it breaches $300. 
During the course of this guide, we will cover what Binance Coin trading signals are and how you can use them to your advantage to gain profit in the cryptocurrency market. 
What are Binance Coin Trading Signals?
Binance Coin trading signals are recommendations that our in-house experts will send you when they believe a profitable window has been established. To give you an example, you may receive a signal if we think that Binance Coin is set to increase over the next few days. 
Our experts and seasoned traders at cryptosignals.org will use their years of built-up research and knowledge of technical analysis to provide you with the best inside information. Each signal you receive will contain several key data points, such as the limit, stop-loss, and take-profit prices.

However, we will go further in-depth about each data point later in the guide.
To give you an idea of how our Binance Coin signals look, we have included an example below:
Binance Coin Pair

: BNB/USD

Position:

Buy Order 

Limit Price

: $250

Stop-Loss

: $220

Take-Profit

: $300
This example shows us that after researching the market, our team thinks Binance Coin is undervalued based on current prices. This suggests that now it is the best time to place a buy order on BNB/USD (Binance Coin/US dollars). As you have all the information you need, it is just a matter of placing the orders with your online broker. 
What are the Benefits of Quality Binance Coin Trading Signals?
When you subscribe to our quality Binance Coin trading signals, you will be presented with many benefits. All of which will advance your trading journey, subsequently allowing you to create and maintain consistent gains. 
We have included what we think are some of our core benefits are below: 
Expert Analysts
At cryptosignals.org, our in-house team of highly accomplished traders and analysts has spent years perfecting the skill of cryptocurrency trading. Our team focuses on performing advanced technical analysis to deliver top Binance Coin trading signals for our members. 
Our experts do this by conducting cutting-edge research on cryptocurrency pricing trends via a wide range of technical indicators and other chart resources. As a result, signing up for our Binance Coin trading signals gives you the freedom to trade while our analysts research the market on your behalf. 
Great for Inexperienced Traders
If you are a newbie in the cryptocurrency world, perhaps the most significant benefit we offer is that our platform is ideal for novice traders. To make consistent gains in online trading, it is imperative you have a solid grasp of technical analysis and necessary chart reading. 
This can take many years and a lot of money to master, which is why here at cryptosignals.org, we focus on achieving this goal on behalf of our members. By signing up for our signal service, you can trade Binance Coin alongside our experts without having any prior knowledge of the cryptocurrency market. 
Have Clear Entry and Exit Goals
When CyrptoSignals.org provides you with a Binance Coin trading signal, it will always include an entry and exit suggestion. This helps eliminate the guesswork of when it is best to enter or exit the market.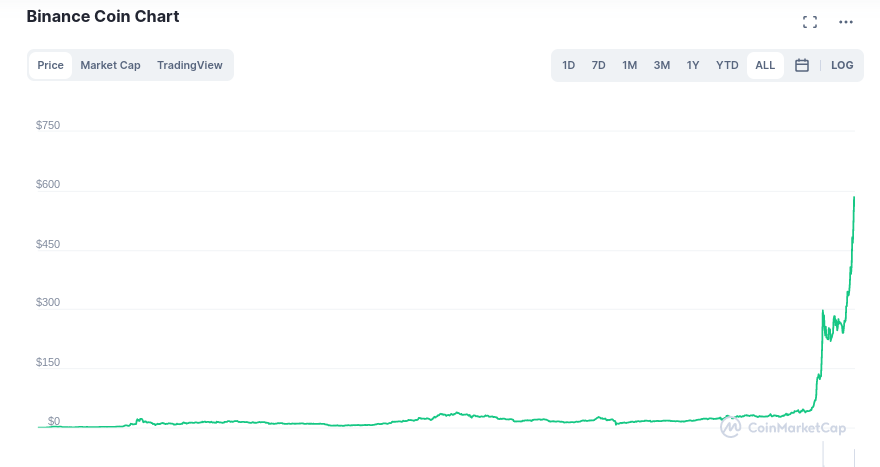 Crucially, these trading suggestions will tell you what entry price to execute with your online broker, giving you an opportunity to grow your trading account.  Although we cover this thoroughly in the sections below, it is important to note our analysts also provide stop-loss and take-profit price orders. These go hand in hand with our entry and exit goals. 
Trade Within Your Budget 
When you receive a Binance Coin trading signal via our Telegram group – it is entirely up to you how much you would like to stake. In saying this, our in-house experts will typically recommend not putting more than 1% of your trading capital at risk. 
For example, if your trading capital is positioned at $300, you may want to distribute $3 on our signal. On the other side of the board, if your account balance were higher, at say $50,000, the suggested trade based on the 1% rule would be $500. 
Needless to say, the balance of your account will fluctuate throughout each month. By determining a reasonable budget, you will continue to grow your trading accounts in a risk-averse and natural manner.
How do our Binance Coin Trading Signals Work?
At CyrptoSignals.org, all of the Binance Coin trading signals we send out contain five essential data points. To guarantee you have the best knowledge of how our crypto signals work – we have gone into more detail below:
Binance Coin Pair
The first data point included in our Binance Coin signal is which crypto pair you will be trading at your broker. The term "crypto pair" is described as assets that can be traded for one another during an exchange. 
To give you an example: 
If you were to trade Binance Coin against Ethereum, this would show as ETH/BNB. 

This is known as a crypto-cross pair, meaning it contains two digital currencies. 

A crypto-to-fiat pair, such as BNB/USD, indicates that you will trade Binance Coin against the US dollar. 
You can exchange Binance Coin against multiple other cryptocurrencies. For that reason, our in-house analysts will research various popular digital assets around the clock, including Bitcoin, Stellar, Ripple, Litecoin, and many more.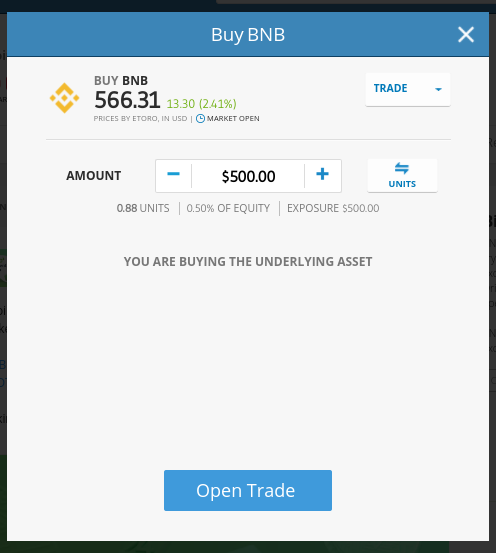 It is essential to sign up for an online broker that provides a wide range of crypto markets, and our suggestion would be eToro.  This trading platform – which is home to 20 million clients, offers numerous cryptocurrency markets. This means that you can take action as soon as our Binance Coin trading signal arrives. 
Buy or Sell Position
Naturally, our main objective is to profit from both rising and falling markets. When you receive our Binance Coin trading signal, you will see a suggestion on whether to go long or short. 
For example, if your signal instructs you to go 'long', our analysts think Binance Coin is being undervalued. 

For this reason, we would tell you to place a buy order with your chosen broker. 

Likewise, if your signal showed 'short', we believe Binance Coin is being overvalued. 

Thus, we would recommend a sell order. In the case of a sell position, we would be looking to profit from the pair dropping in value. 
Crucially, by instructing you to opt for a buy or sell order, you don't need to judge the market for yourself. 
Limit Price
If you are just beginning your journey in the world of online trading, a limit order advises your chosen broker on which price you would like to enter the market. For instance, you might want to place a buy order on BNB/USD at a price of $300. 
Regardless of what price the pair is currently trading at, your online broker will only execute your limit order when the c market matches your stated price ($300). Our Binance Coin trading signal will always provide you with a straightforward entry goal. 
Another possibility is a market order, which allows you to enter the market at the next available price. Our traders rarely opt for market orders as there is no option to voice our suggested entry price.  
As such, the next step would be to head over to your online broker, select a limit order and enter the price that our Binance Coin trading signal suggests.
Take-Profit Price
Here at cryptosignals.org, we like to provide clear and well-researched Binance Coin trading signals to our members. In most instances, we would look to make a gain of 3% when based on a risk of 1%. 
For example, if you were to place an order for $5, we would aim to make a $15 profit. This means our RRR (reward risk ratio) would be 1:3. One of the tools our analysts use to maximize profits is a take-profit price. 
We will include this price within our trading signals, making it easier for you to place a successful order with your chosen broker. 
Stop-Loss Price
When setting up your take-profit order, we also encourage placing a stop-loss order on your trade. In a similar nature that a take-profit order helps maximize profits – a stop-loss ensures your potential losses are limited.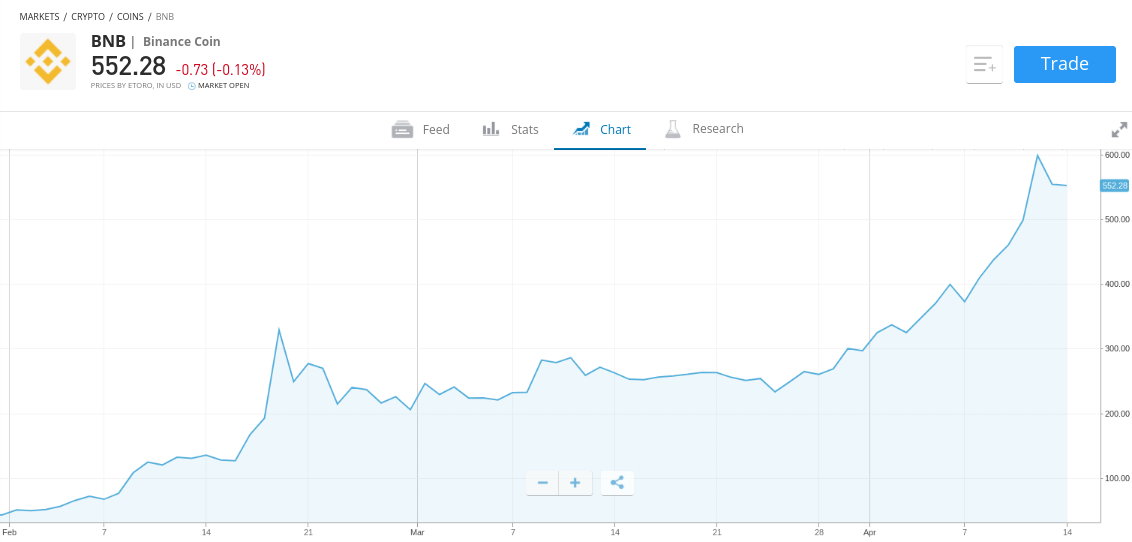 Our in-house experts often suggest a stop-loss price that amounts to no higher than 1%. It goes without saying that our team has a long-term record of producing consistent gains. However, losses are part and parcel of the cryptocurrency trading universe. For this reason, we always strive to send out reasonable and risk-averse Binance Coin trading signals.
Binance Coin Trading Signals Telegram Group
When our traders previously sent out our Binance Coin trading signals, this was in the form of an email. However, this proved to be a slow and inefficient way of providing our members with daily signals. 
Cryptocurrency is a forever-developing market, which is why we at cryptosignals.org opt for Telegram. By making this change, we can deliver our Binance Coin trading signals in real-time. 
Ergo, as soon as a signal is distributed, you will receive an instant notification. In most cases, we also provide a graph or chart to help you better understand the thought processes of our seasoned traders. In doing this, you will recognize when you have received a new trading signal.
Free Binance Coin Trading Signals
If you want to get a feel of how our trading signals work before committing financially, then cryptosignals.org has a solution. We send out three weekly crypto trading signals via our Telegram channel at no cost whatsoever. 
These free crypto signals contain the same key data points that our premium plan members receive, such as the recommended limit, take-profit, and stop-loss prices. We never 'hide' or 'restrict' any crucial information that might benefit our free subscribers. 
If you feel more confident after a week or two of using this service, you might then decide to join our premium membership – which we explain in more detail below. 
Premium Binance Coin Trading Signals
Let us review everything you will have access to when you join our premium plan. A large percentage of our long-term members continue to subscribe each month due to these same benefits. 
You will receive between 3 and 5 crypto trading signals per day, with all five of the crucial data points that we previously covered, and an incredible opportunity to learn more about technical analysis. 
We have listed our prices below: 
If you are still unsure as to whether our premium plan memberships are for you – cryptosignals.org has a perfect risk-free strategy! 
All of our new subscribers are offered a 30-day money-back guarantee. We do this to show that we are fully confident in the service we provide. If you want to learn more about how to make the most of us no-questions-asked money-back guarantee, we have provided a step-by-step guide in the section below. 
Binance Coin Trading Signals – Risk-Free Strategy
When using a Binance Coin trading signal provider like ourselves, we offer 30 days to trail our service before fully committing. In the beginning, we openly encourage running our crypto signals through a brokerage demo account. 
As a result, you can place our trading signals without risking any of your money! Below are the next steps you need to take:
Select an online broker that has a wide range of cryptocurrency markets. eToro is a good option as it allows you to trade multiple pairs commission-free. 

Open a demo account on your chosen broker's website. 

Choose which premium plan suits you at cryptosignals.org 

Register to the VIP Telegram group. 

Once you acquire your first signal, go ahead and place our suggested orders with your chosen brokerage demo account. 

After a couple of weeks, have a look at your results and see what gains you have achieved.
If we have fulfilled your expectations and you would be happy to upgrade, we may suggest one of our more extended plans to get the best out of our monthly fees. 
On the other hand, if you decide that you want to execute the money-back guarantee – just let us know within 30 days of signing up, and we will refund your subscription in full. 
Choosing a Crypto Broker for the Best Binance Coin  Trading Signals
We can't express enough how important it is to select the correct cryptocurrency broker. Ultimately it will be your online broker executing an order on your behalf. This ensures you are getting the most out of the Binance Coin trading market. 
We have listed what we feel are the core factors you need to look out for when choosing a crypto broker in the sections below:
Fees and Commissions
In order to make money, a crypto broker can charge a wide range of fees and commissions. To give you an example, TradeStation charges a commission of 1.50% on every trade you place. 
Whereas on the opposite side of the board, some brokers allow you to buy, sell and trade cryptocurrencies with a 0% commission rate! This makes some brokers highly suited to our Binance Coin trading signals, which regularly target small gains.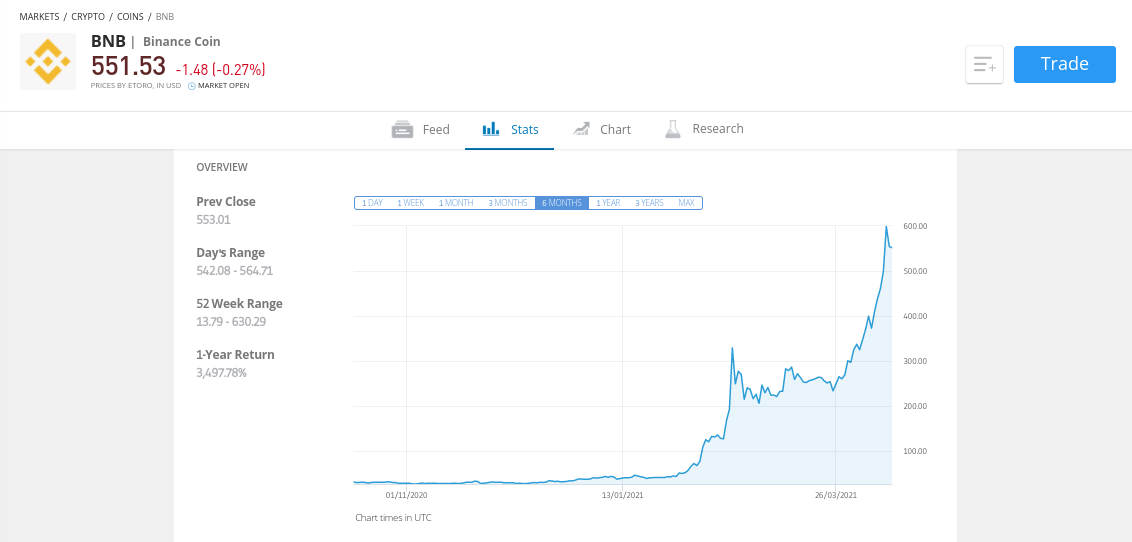 As a result, you won't have your profits flattened by expensive fees or commissions. One important thing you will need to factor in is the 'spread.' The spread is the difference between the purchase and sale price of the crypto pair you are currently trading. 
The more significant the difference between these prices, the more you indirectly paying to your online broker. 
Safety and Trust
As some may already know – many cryptocurrency exchanges are unregulated, which means anyone can open an account and trade without submitting any personal details. This is why, when choosing your online broker, checking if they are regulated is essential. 
After all, you will be required to deposit a portion of your capital into the platform, and thus you need to be positive that your money is safe. 
Supported Crypto Markets
As we have mentioned previously, our Binance Coin trading signals cover a wide range of markets. For example, one signal may highlight a crypto-cross pair such as BNB/LTC, while the next might focus more on a particular crypto-to-fiat pair such as BNB/EUR (Binance Coin/ Euro). 
Selecting a reliable crypto broker guarantees you can trade confidently and with ease on one single site. With this in mind, ensuring your crypto broker offers a variety of Binance Coin markets is perhaps the most important tip we could give. 
Deposits, Withdrawals, and Payments. 
The final reason why choosing a regulated broker is the right move is that you will be able to deposit and withdraw funds using fiat money. This is the reason many unregulated exchanges will only allow payments in the form of cryptocurrency. 
For example,  you can deposit funds instantly using a choice of debit or credit card. This includes Visa, Maestro, and Mastercard. If you prefer using an online e-wallet, you can also do this with Paypal, Skrill, and Neteller. 
You may be able to benefit from an instantly processed bank transfer. But, this depends on where you live, so it is beneficial to check this first. 
Above all else, some brokers charge just 0.5% on deposits. If you fund your account with a USD- funded payment method, they will wipe the 0.5% currency conversion fee. This is a far leap compared to other crypto brokers, who can charge over 3% on debit/credit card deposits (e.g. Coinbase).  
Get Started With the Best Binance Coin Trading Signals Today
If you would like to get started straight away with cryptosignals.org – simply follow the steps highlighted below to begin receiving quality signals via our VIP Telegram group today! 
Step 1: Join cryptosignals.org
Step one to receiving our quality Binance trading signals is setting up an account, which should only take 2-3 minutes. 
If more suitable, you can begin with our free signals, which will give you three suggestions per week. But, bear in mind that you can opt for the premium plan, which offers a considerable advantage of 3-5 signals per day and a 30-day moneyback guarantee.
Step 2: Join our Crypto Trading Signal Group
Once you have joined cryptosignals.org, we will provide you with an email on how to sign up for the premium Telegram channel. We recommend setting up a custom notification sound via the settings page (you can find more information on how to do this by searching on Google). 
By doing this, you can know precisely when you have received a new Binance Coin trading signal, giving you ample time to act on our suggestions.
Step 3: Place Binance Coin Trading Signal Orders
When you receive your very first Binance Coin trading signal, you can then make your way to your chosen crypto broker. 
All you need to do then is place your order using the suggestions we have provided. To reiterate, this will include the crypto pair, whether it is a buy or sell order, and relevant the limit, stop-loss, and take-profit price orders.
The Bottom Line
To recap, our Binance Coin trading signals give you access to the thriving world of the cryptocurrency market, all without performing any technical analysis. The only thing you must do is place the order our experts have recommended. 
When you are ready to get started with our Binance Coin trading signals, follow our guided steps above. And remember, all our new premium plan members are provided with a money-back guarantee. As such, you have nothing to lose by testing our crypto signals out via a brokerage demo account!