 Free Crypto Signals Channel
More than 50k members
Technical analysis
Up to 3 free signals weekly
Educational content
Free Telegram Channel
BTC/USD remains the most popularly traded cryptocurrency pair in the market. The pair offers you the tightest spreads and largest liquidity levels. It's only right that anyone interested in this coin would want to know the best Bitcoin brokers available in the market. 
However, the problem is not finding a broker with which you can trade. The challenge is getting the right one that offers you a great Bitcoin trading experience. Therefore, in this guide, we'll review the best Bitcoin brokers and how you can get started with an account today. 
Best Bitcoin Brokers in the Market – Quick Overview
We have provided below a list of the best Bitcoin brokers, following a careful evaluation of the market based on strict metrics.
67% of retail investor accounts lose money when trading CFDs with this provider.
Best Bitcoin Brokers in the Market Reviewed
Finding the best Bitcoin broker with which you can trade involves the ability to carefully evaluate the provider in question.
We have done that for you based on certain important metrics such as cost-effectiveness, ease of use, credibility, and suitability for trading Bitcoin. Consequently, we discuss below the top Bitcoin brokers where you can trade digital currencies. 
2. AvaTrade – Superb Bitcoin Broker for Technical Analysis
AvaTrade offers you access to impressive technical analysis tools that can help you make smart Bitcoin trades. This includes access to charts, the ability to draw trend lines, and indicators. These tools make it easy for you to understand the Bitcoin market and assess price movements. Experienced Bitcoin traders leverage these tools to determine when to open and close positions in the market.
So if you're just getting started, take some time to understand how to leverage these analysis tools. The broker is also a highly suitable option if you're just getting started in the Bitcoin markets. After signing up on the platform, you can use a demo account - which allows you to practice Bitcoin trading without using actual money. This way, you get more acquainted with the processes involved in trade Bitcoin and closing your position when the time's right.
Furthermore, as a spread-only broker, AvaTrade is significantly cost-effective. Instead of paying a traditional commission, the spread is all you need to bother about. Additionally, you pay no fees on deposits and withdrawals. You can also make payments into your account using debit/credit cards and several other supported e-wallet options. With just a minimum of $100 deposit, you can start trading Bitcoin on this broker.
If you're looking to trade Bitcoin on a short-term basis, then you'd want to consider a Bitcoin broker that offers CFD instruments. In this respect, AvaTrade is one of the best in the market. Trading Bitcoin via CFDs means that you don't need to own the underlying tokens. Instead, you enter and exit positions based on the underlying value of the asset. This allows you to profit from both rising and falling Bitcoin prices - as well as apply leverage.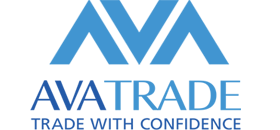 Lots of technical indicators and trading tools
Free demo account to practice Bitcoin trading
No commissions and heavily regulated
Perhaps more suited to experienced traders
71% of retail investors lose money when trading CFDs with this provider
How to Choose The Best Bitcoin Brokers
For a huge industry like cryptocurrency, it makes sense that there are many brokers that will allow you to buy and sell Bitcoin. However, as with every decision-making process, there's a significant need to exercise some level of care. You'll need to use certain metrics to assess these brokers to determine the ones that are most suitable for buying, selling, and trading Bitcoin.
In this section, we consider the important features you should look out for in a Bitcoin broker. A broker having these features is positioned to offer you the Bitcoin trading experience you desire.
Trade Bitcoin with Leverage
Leverage is a feature that experienced Bitcoin traders look out for when choosing a broker. This is because, with leverage, you can boost your trades, and consequently, the returns. This is why it's important to consider whether the broker you're choosing allows you to trade with leverage.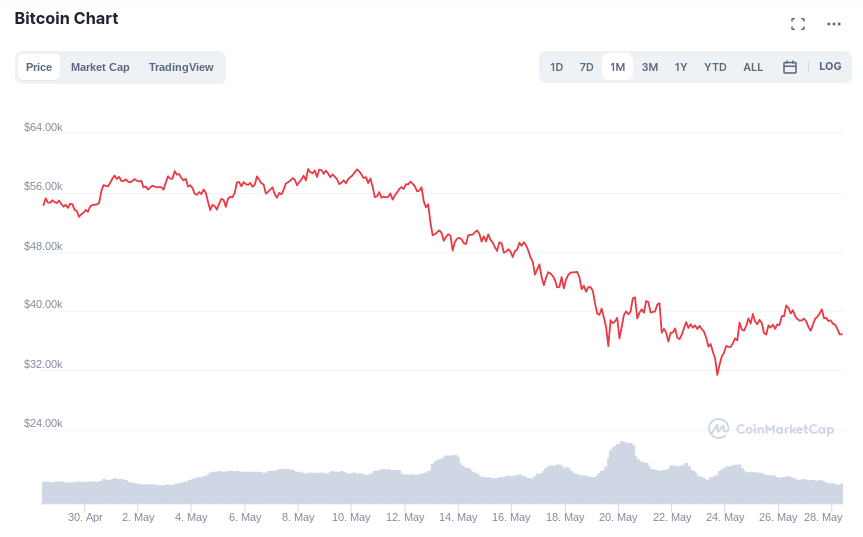 For example, let's say that your chosen broker allows you to trade Bitcoin with leverage of 1:2. Putting this in context, that means that you can open a $200 position with $100 in your trading account.
Essentially, with leverage, your broker loans you the remaining amount needed to open the desired position. However, do note that as effective as leverage might be, the risks are equally as high. As such, tread with caution if you are a newbie Bitcoin trader. 
User Interface
You want a broker that has a simple user-friendly interface, as this makes it convenient to navigate your way on the platform. This is important because trading Bitcoin and other cryptocurrencies generally involves charts, prices, and indicators, among other things.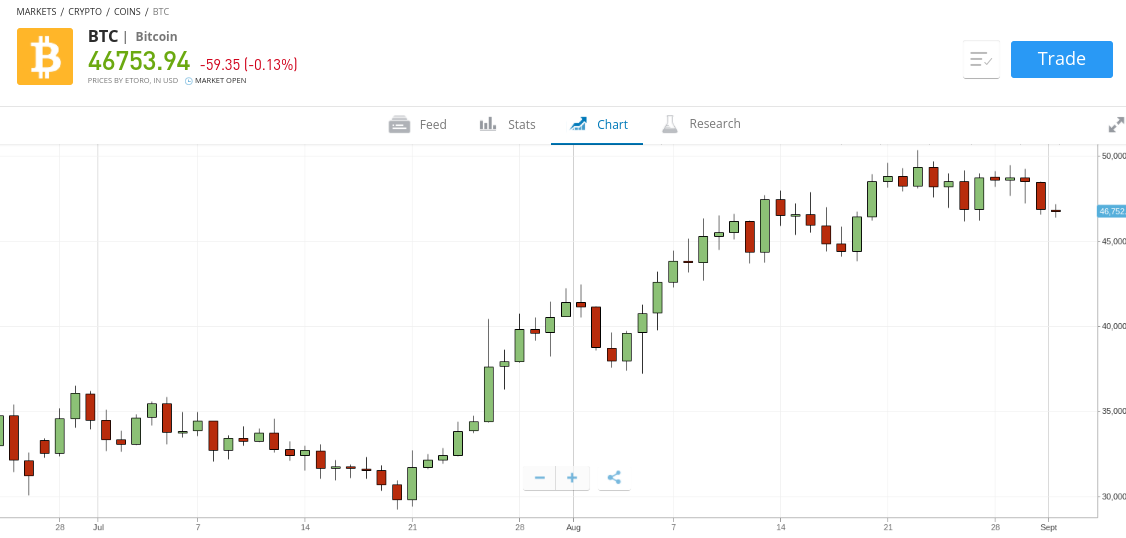 Therefore, it's crucial to trade using a broker with a simple user interface so that you can avoid silly mistakes. In this respect, if you're a beginner, bybit is a great broker that ticks this box. The platform has an appealing design and offers step-by-step prompts that makes Bitcoin trading an easy process for you.
Short selling
Short selling Bitcoin is a common approach in the market, especially with experienced traders. When you 'short' sell, you're essentially doing the opposite of going 'long.' This means that you sell Bitcoin when the price is high and buy the coin back at a lower value.
As you can imagine, this is against the popular philosophy of buying a token when the price is low and selling at a higher value.

But short selling is a way to reap returns when the markets are down.

T

his is why it's mostly done by experienced traders.

In order to short-sell, traders will leverage technical indicators to determine their positions.
All of the Bitcoin brokers that we reviewed on this page allow you to short-sell via CFDs. This means that you simply need to open your position with a 'sell order' to benefit from falling Bitcoin prices.
Copy Trading
Leveraging the experience of other traders is a smart way to trade Bitcoin. With bybit's copy trading tool, this process has been made easy. All you need to do is identify a trader that you like the look of and then elect to copy their trades automatically. This way, you can start trading Bitcoin without having much knowledge concerning the markets.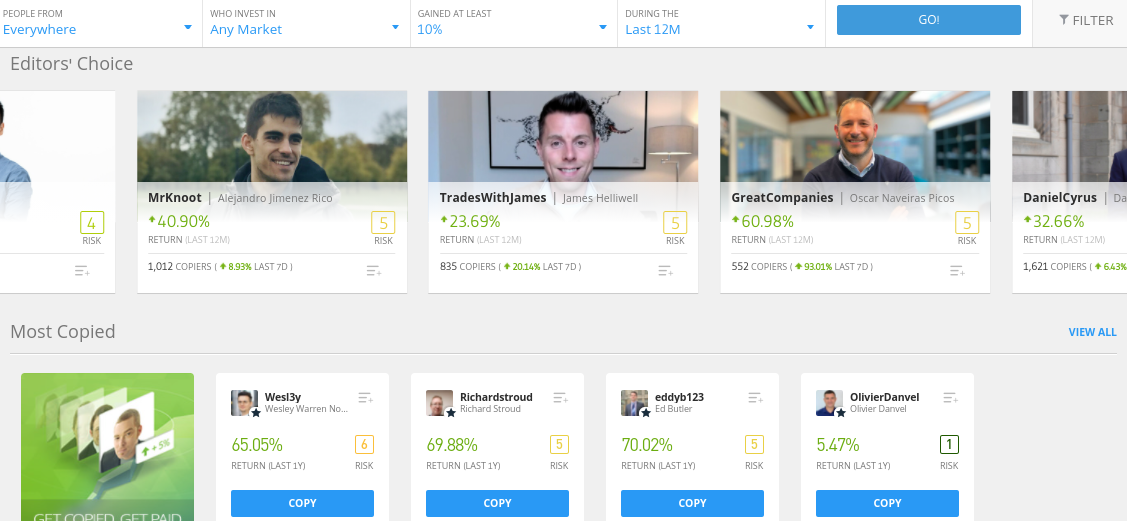 Therefore, when choosing a broker, you'd want to consider a platform that provides copy trading tools. This will make your Bitcoin trades more convenient – especially if you're a newbie. Additionally, you can add or remove trades from your bybit portfolio at any given time – which gives you full control over your investment funds. 
Regulation
Important considerations when choosing a Bitcoin broker should include whether the platform is regulated. This is because regulated brokers provide some sort of protection to their users.
Therefore, when you trade Bitcoin on these brokers, you will be within the regulator's safety net. 

All three providers are authorized and licensed by several regulatory bodies – meaning that you can be sure your money is kept safe at all times. 
For example, the best regulated Bitcoin brokers will ensure that your capital is kept in segregated bank accounts. Plus, the broker will need to ensure that it offers fair trading conditions and provides a transparent fee structure. Ultimately, by using a Bitcoin broker that isn't regulated – you are putting your hard-earned money at risk.
Fees and Commissions
When trading Bitcoin, your goal is to make monetary returns. This is why you should choose a broker that doesn't have a fee structure that significantly affects your profits. Therefore, although there are many Bitcoin brokers in the market, not all of them are suitable for you to use. 

This is why bybit is a great option. On this broker, you trade Bitcoin on a spread-only basis, meaning you're not charged traditional trading commissions. The spread is simply the difference between the buy and sell price of Bitcoin. Once your profit covers the spread, you're good to go.
It also allows you to trade Bitcoin on a 100% commission-free basis. Consequently, you get to keep most of your profits to yourself, which is essentially the reason you're trading Bitcoin in the first place.
Customer Support
Before you choose a Bitcoin broker, you should consider its customer relations. With the best Bitcoin brokers, you can access customer support when you're in need of help.
This is because there might come a time when you need to ask any question or address an issue. It's only right that you get swift responses in such cases so that you can continue trading seamlessly. We find that the best Bitcoin brokers offer live chat support on a 24/7 basis. 
Education
Some brokers provide you with learning materials to gain more insights into Bitcoin trades. This includes charts, guides, and tools that aid your analysis of the market. This is an important feature to consider when choosing a broker. Since your task as a Bitcoin trader is to speculate market movements, you'd want to consider a broker that provides essential materials which make the process of opening and closing positions seamless. 
Research
Lastly, although there are numerous features to consider when choosing a broker, you cannot substitute any of them for personal research.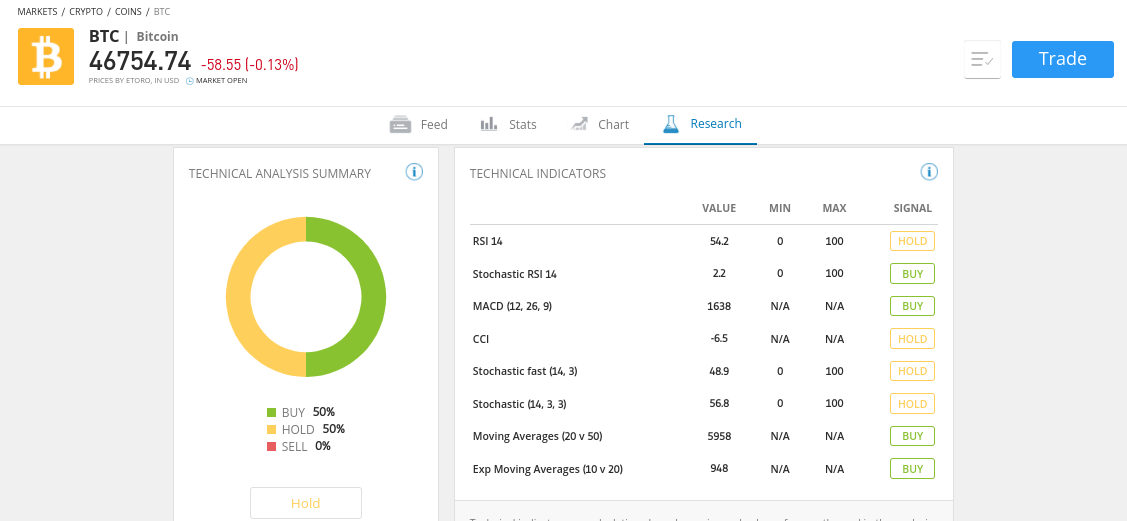 When making a choice in the cryptocurrency scene, it's essential to research adequately. Therefore, before deciding to trade Bitcoin with a broker, read all you need to know about the platform and see if it's suitable for your trading goals. 
How to Get Started on the Best Bitcoin Brokers – Detailed Walkthrough
After learning about the best Bitcoin brokers and the relevant strategies to trade on them, the next thing to know is how to get started. The process of getting started is generally similar across these brokers. Nevertheless, by following to walkthrough below – you will have an account with your chosen Bitcoin broker in under five minutes!  
Step 1: Open a Trading Account
You have to create an account with your chosen Bitcoin broker before you can get started. This will require some personal information and contact details. 
On a regulated broker like bybit, you'll need to complete a Know Your Customer (KYC) process, where you'll provide some personal information, a valid ID, and a utility bill/bank statement to verify your home address. 
67% of retail investor accounts lose money when trading CFDs with this provider.
Step 2: Fund Your Account
Once your account is set up, you have to fund it. Here, all you need to do is to consider the broker's minimum deposit and fund your account accordingly. For a broker like bybit, you simply need to deposit a $200 minimum amount. All of the best Bitcoin brokers discussed on this page support debit/credit cards, e-wallets, and bank transfers. 
Step 3: Choose the Bitcoin Pair
Here, you simply need to enter 'Bitcoin' into the provided search box. Once the system displays the result, click on 'Trade' to proceed.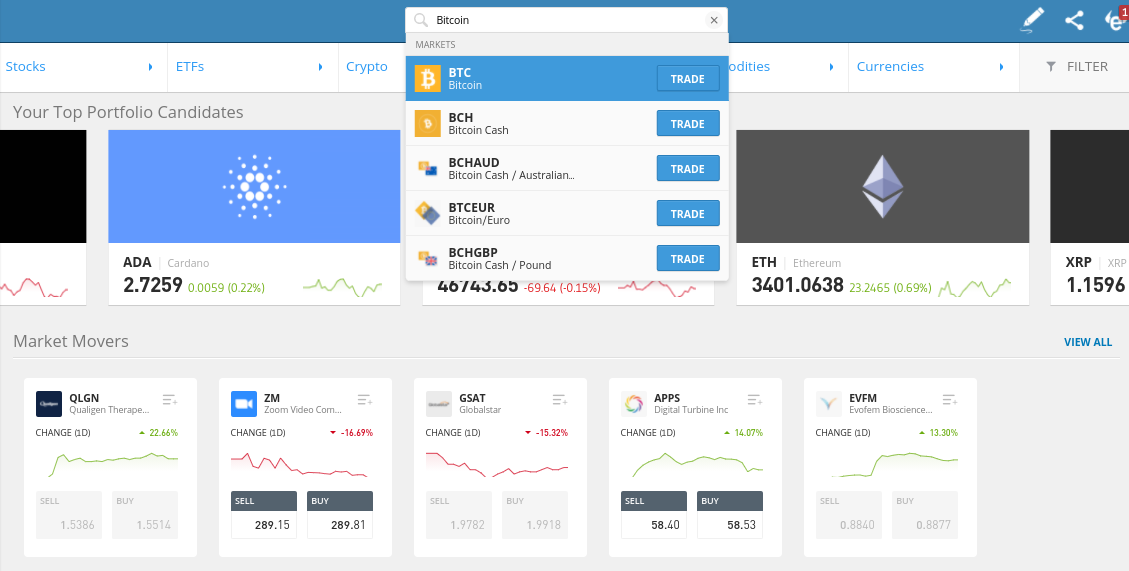 Step 4: Open Your Trade
Once you get to the relevant Bitcoin trading page, instruct the broker on the order you want to use. Once you confirm the order – your chosen Bitcoin broker will execute the trade instantly. 
Best Bitcoin Brokers – Bottom Line
If you want to trade Bitcoin seamlessly, you need to use the right broker. The best Bitcoin brokers must have certain features such as a simple user interface and a low-fee structure.
These brokers should also be regulated and provide educational tools that allow you to learn more about Bitcoin trading. These features will impact the quality of your experience while trading this innovative digital currency.
67% of retail investor accounts lose money when trading CFDs with this provider.
FAQs
What are the best Bitcoin brokers?
The cryptocurrency industry is filled with many brokers with which you can trade crypto. However, if you're looking to trade Bitcoin on a cost-effective and user-friendly platform, you should consider any of the following brokers: bybit and AvaTrade.
How do you trade Bitcoin?
You can get started by opening an account with a regulated broker like bybit. Then fund your account and locate the BTC/USD market. Enter your stake and instruct the broker on the order you want to use. Then open your BTC trade. That's all!
Can you trade Bitcoin with leverage?
Yes, you can. You simply have to choose a Bitcoin broker that allows you to trade leveraged CFDs. 
How can I make money from Bitcoin trading?
If you want to make returns from your Bitcoin trades, you need to understand the effective strategies that you can use. This includes swing trading, leverage, technical indicators, and maximizing market corrections. You should also constantly research the markets so you can be informed on when to open and close positions.
What's the best technical indicator for trading Bitcoin?
There are multiple technical indicators you can use to trade Bitcoin. We can't particularly say which is the best. Your choice of a technical indicator will be based on the specific analysis you are looking to perform. Regardless, the Moving Average Convergence/Divergence (MACD) is one of the most popular indicators in the market when trading Bitcoin.