 Free Crypto Signals Channel
More than 50k members
Technical analysis
Up to 3 free signals weekly
Educational content
Free Telegram Channel
Interested in trading Ethereum and looking for the best brokers for that purpose? The internet is filled with numerous brokers that list Ethereum as one of the markets you can trade. 
When choosing a broker, important considerations should include regulation, fee structure, supported markets, and numerous other factors that will be considered in this guide. To help you make the right choice, this page will discuss the best Ethereum brokers in the market right now.
Best Ethereum Brokers in the Market – Quick Overview
67% of retail investor accounts lose money when trading CFDs with this provider.
Best Ethereum Brokers in the Market Reviewed
If you're interested in trading Ethereum, it's crucial to know the best brokers to do this with. Some of the criteria to consider include reputation, payment methods, diversity of markets, ease of use, and more. We have assessed dozens of different platforms based on these metrics. So, if you want to trade Ethereum, you might want to consider the following brokers.
1. eToro – Overall Best Ethereum Broker
eToro is one of the best Ethereum brokers in the market - not least because it has a simple user interface that makes trading convenient for beginners and experienced traders alike. When you trade Ethereum on this spread-only broker, you don't have to pay the conventional commissions that you might find on other trading platforms. Instead, you simply need to make enough to cover the spread that comes with opening and closing your Ethereum positions.
Furthermore, eToro provides you with a copy trading tool that you can utilize to get started on the broker without any investment knowledge. Using this tool means that you'll copy the open positions of a successful Ethereum trader. You'll decide the amount you intend to put behind the trader - which starts at a minimum of $500. To make this easy, eToro offers you filter facilities to ensure you choose the right investor. Essentially, with this tool, you can start trading Ethereum passively even as a beginner.
Additionally, eToro allows you to get started with Ethereum trading in a cost-effective manner. You simply need to make a minimum required deposit of $200. Following that, you can start trading Ethereum for as little as $25 per stake. When it comes to making deposits, you can do so through the various supported payment methods including debit/credit cards, e-wallets, and bank transfers. Concerning the markets you can trade on eToro, you have a wide range of options asides from Ethereum.
Supported markets cover both small-cap and big projects, some of which include Bitcoin, Cardano, Ripple, Litecoin, and more. Asides from being able to trade all these markets on a spread-only basis, having access to these assets means you can diversify your trades to widen your portfolio easily.
Finally, eToro is a broker that comes with an in-built wallet. The usefulness of this is realized when you buy real Ethereum tokens and you need to store your coins. Using the in-built wallet, this broker saves you the trouble of moving your tokens from one platform to another. Such a process might complicate your tokens and private keys. In the same manner, when you want to cash out your Ethereum tokens, you can do so on eToro by simply placing a sell order.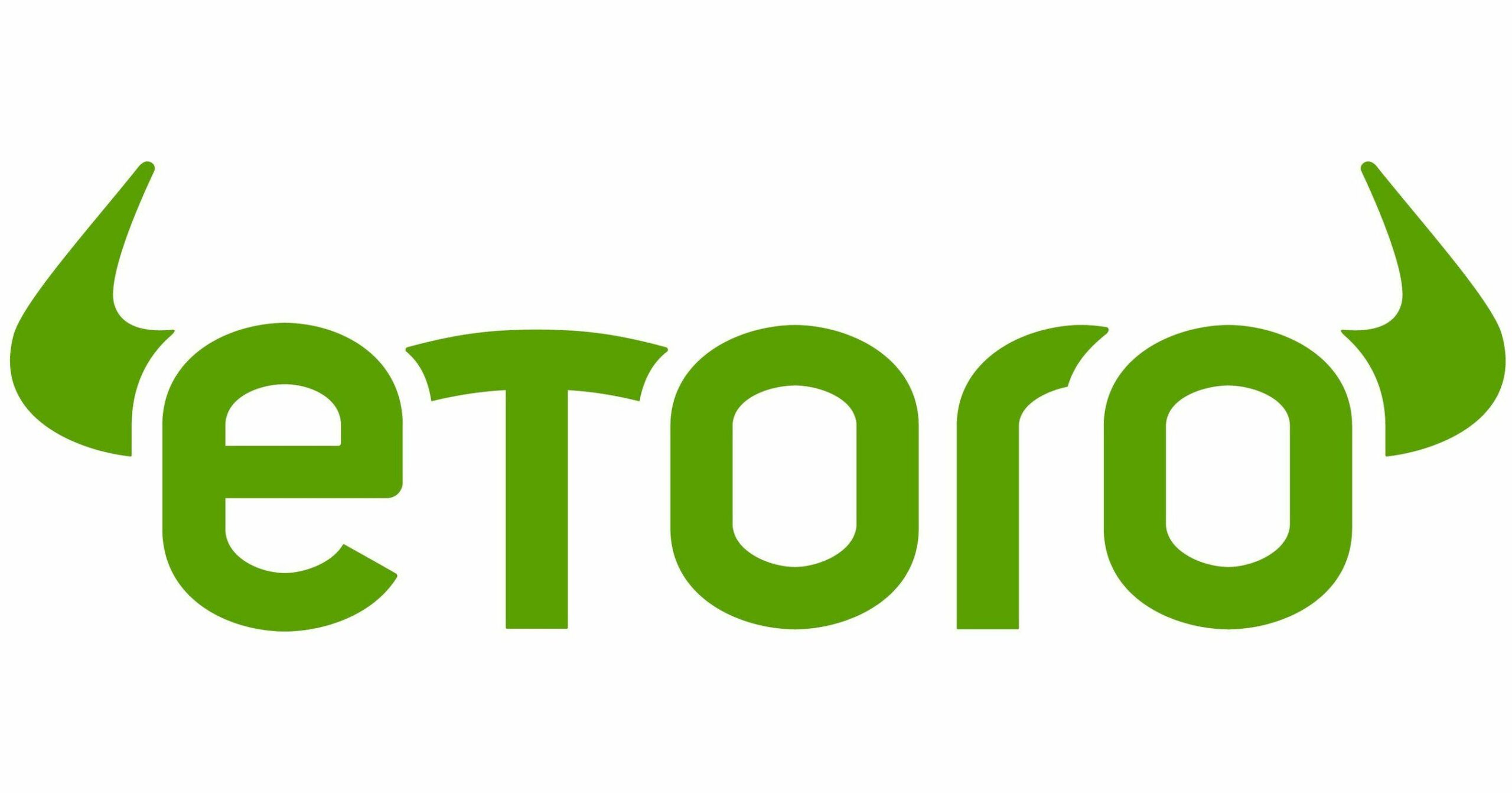 Trade Ethereum on a spread-only basis
Regulated by the FCA, CySEC, and ASIC - also approved in the US
User-friendly platform and minimum crypto stake of just $25
67% of retail investors lose money when trading CFDs with this provider
2. AvaTrade – Credible Ethereum Broker for Technical Analysis
AvaTrade is one of the best Ethereum brokers, not least because the platform is regulated in 7 jurisdictions and regularly monitored for compliance. The broker also executes Ethereum trades fast, which is a significant advantage if you intend to open several positions. Additionally, the broker offers you generous leverage levels for trading Ethereum, which is an effective way to multiply your returns.
More importantly, AvaTrade provides you with technical analysis tools relevant for making smart Ethereum trades. The broker offers you charts and advanced technical indicators that you can use to have a better understanding of the market. These tools are mostly leveraged by experienced Ethereum traders to determine when to open and close their positions. Learning how to use them will also help you navigate the Ethereum markets more precisely.
Interestingly, AvaTrade allows you to start trading Ethereum with a demo account. This is an account you can use to trade Ethereum without having to take actual risks that come with the real markets. This will give you enough time to familiarize yourself with the Ethereum market and determine the most effective ways to go about trading the asset. The platform supports many crypto markets, where you can proceed to trade Ethereum against alternative digital assets or fiat currencies like USD, EUR, JPY.
The broker also allows you to set a stop-loss order. This order allows you to instruct the broker to close your Ethereum trade once your loss reaches a particular price. For instance, you might set your stop-loss at 10% of your market entry price. In that case, if your entry price is $2,000, AvaTrade will close your trade if the market moves in a negative direction and reaches $1,800. The importance of this feature is that it helps you mitigate your losses before it's too late.
Lastly, once you make a minimum deposit of $100 on AvaTrade, you can get started with your Ethereum trading journey. This can be done through any of the supported payment methods including debit/credit cards, e-wallets, and wire transfers. On top of being a spread-only broker, you pay no fees on deposits and withdrawals, making this platform a cost-effective option. Also, the broker operates segregated accounts, meaning your money enjoys protection at all times.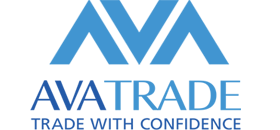 Lots of technical indicators and trading tools
Free demo account to practice Ethereum trading
No commissions and heavily regulated
Perhaps more suited to experienced traders
71% of retail investors lose money when trading CFDs with this provider
Choosing the Best Ethereum brokers
If you're looking for any broker with which you can trade Ethereum, you'll find many online. However, if you're looking for the best Ethereum brokers among these options, you must consider certain factors. Some of these factors include cost-effectiveness, listed markets, ease of use, payment methods, and more.
When you don't understand what makes a great broker, you might end up with the wrong platform, which will have adverse effects on your trading experience. Therefore, in this section, we shall provide an extensive explanation of all the factors you need to consider when choosing the best Ethereum broker for your needs. 
Regulation
Credibility is one of the essential reasons for choosing a regulated broker. This is because regulated brokers are often audited by leading financial institutions such as the FCA. This is the case with eToro, the leading regulated broker, that allows you to trade Ethereum seamlessly. 
Trading Ethereum with a licensed broker means that you're within the regulator's safety net.

Two of the brokers you can use here include eToro and AvaTrade. This is because these providers are licensed by reputable financial bodies. This then means that your funds enjoy adequate protection at all times.

Regulated brokers are mandated to ensure your money is stored in a bank account different from that of the provider. This ensures that any compromise that affects the provider's funds won't spill over to your money.
Additionally, these regulated Ethereum brokers will have to ensure their fee structure and trading conditions are transparent. For instance, there are no hidden fees with eToro and AvaTrade. These are some of the reasons why you should choose a regulated broker. 
Although trading with unregulated trading platforms might give you access to a significantly low-fee structure or allow you to operate anonymously, these seemingly enticing features come at the expense of security. Therefore, if you don't want to put your hard-earned money at risk, choose a regulated broker for trading Ethereum.
Fees and Commissions
Fees and commissions are some of the ways brokers make a profit for allowing you to trade Ethereum. As such, different brokers have varying policies concerning their pricing structure. This means that while some brokers have a high-fee model, there are also providers that are commission-free.

For instance, you won't incur commission fees when you use eToro since the provider is a spread-only broker. In a similar manner, it allows you to trade Ethereum without paying a dime in commission. 
Therefore, you can conveniently make profits from your Ethereum trades when using a low-cost broker of this nature. This is why you should pay careful attention to a broker's fee structure before making a choice. 
Let's assume you choose a broker where you pay commissions for trading Ethereum.

Suppose the broker charges a fixed amount. So, if you stake $1,000 on Ethereum and the fixed commission is 2%, that will amount to $20 when you open your trade.

Similarly, the platform will charge you at the same rate when you close your Ethereum trade. So, if you close your position at $1,200, that will be equal to $24. 
This means that you'll pay a total of $44 on that Ethereum trade. Even if this appears little to you, think about the cumulative effect these fees will have on all your trades, especially when you consider that you won't always make a profit. Therefore, choose cost-effective and spread-only brokers that make trading Ethereum seamless and more profitable.
The Spread
For spread-only brokers like eToro, when you open an Ethereum trade, you'll be entering the market at an automatic loss. That loss represents the difference between the 'ask'  and 'bid' price quoted for Ethereum.
In context:
If ETH/USD has an 'ask' price of $3,900.

The 'bid' price of the pair might be $4,100

In that case, the spread is at 5.1%
Therefore, for you to make a profit here, your returns must cover the 5.1% gap already created in the trade.
Other Fees You Should Know About
These are some other trading fees you should know about. Although not all Ethereum brokers charge these fees, knowing about them gives you an idea of what to expect.
Overnight Fees

: These are charged when you're utilizing CFDs and you keep your position open for over a day. In that case, the overnight fee will be paid for every day the position is open. For instance, if you're day trading Ethereum, this is a fee you might have to pay.

Inactivity Fees

: Brokers expect you to have an operative account. So, if you're not actively trading, you might incur monthly inactivity fees which will be charged for as long as you have funds in your account.
Trade Ethereum with Leverage
It's essential to consider whether your broker allows you to trade Ethereum with leverage. Asides from Ethereum, you might also want to ensure leverage is available for all the listed cryptocurrency markets in case you eventually want to diversify your trades. 
Leverage is an effective way to multiply your returns. With this feature, you can enter trades even when you don't have the required capital. You simply need to apply leverage based on the money you have and the broker will essentially lend you the rest. 
For instance, suppose you want to place a $2,000 buy order on Ethereum, but you only have $200 in your trading account.

Here, leverage of 1:10 is all you need. Using this leverage means that you can put the $200 on Ethereum while getting the rest from your broker. 

Thus, if you make a 20% profit on the trade, this will be calculated based on your full position, which is $2,000. Therefore, that would amount to $400.

However, if you had not used leverage, you'd have staked $200 and a 20% profit would have amounted to just $40.
Notably, you should note that using leverage is also risky. While it can boost your trades, it can also magnify your losses. Therefore, before trading Ethereum with this feature, learn how to hedge your risks effectively.
Short Selling
Experienced traders often short-sell Ethereum to make a profit. This is common among expert traders because short-selling requires some experience. In particular, you must be able to read charts and leverage technical indicators. 
When you short sell, you're going against the common notion of buying Ethereum at a low price and selling the coin after the value shoots up. 

Instead, you're selling Ethereum when the crypto pair has a high price and looking to buy the asset back when the value drops. 

But traders don't make these decisions blindly, and this is why you must be able to leverage technical indicators to determine the potential price movements of Ethereum.
Therefore, if you're interested in short-selling Ethereum, you must ensure that your broker allows you to do that. This is because not all brokers have short-selling facilities that you can use to trade Ethereum. Interestingly, all the brokers we reviewed in this guide will allow you to short sell Ethereum by leveraging CFD instruments.
Copy Trading
In simple terms, copy trading does exactly what you imagine. The feature allows you to copy the trades of other people that use the Ethereum broker themselves. This means that you can leverage the expertise of another trader to make a profit from Ethereum. That is, once you identify your desired trader, you instruct the broker to copy their open positions automatically.  

Notably, however, before choosing your desired Ethereum trader, you'll need to determine your stake. Depending on the broker you're using, you'll have a minimum amount you can trade in this instance. On eToro, the minimum you can put behind a copied trader is $500. Once you confirm the trade, the broker will deduct the money from your account balance.
Let's put all of this in context:
Suppose the Ethereum trader you intend to copy has put $10,000 on the asset.

This doesn't mean you also have to place $10,000 on Ethereum. Your stake can be any amount you desire.

Essentially, with copy trading, the capital isn't what matters, but the weighting. Therefore, whatever the copied trader does with their position will have a proportionate impact on your portfolio as well. 

That is, if they decide to sell and close their position, the same will happen in your portfolio. 

For instance, if you invested $500 into the trade and they risk 5% of their portfolio on Ethereum and 10% on Bitcoin, you would automatically purchase $25 of ETH and $50 of BTC.
Therefore, as you can see, you're technically trading with the experience of the other copied party. Thus, if you're a beginner who wants to start trading Ethereum without delay, you might want to consider if the broker you're selecting provides this tool. A provider like eToro does, which is yet another reason why it's one of the best Ethereum brokers in the market today. 
User interface
A broker with a user-friendly design makes it convenient to trade Ethereum. Many people assume that cryptocurrency trading is complex, since numbers, charts, and similar factors are involved. This is why the best brokers are designed with a simple user interface that allows beginners and experienced traders to have a smooth experience.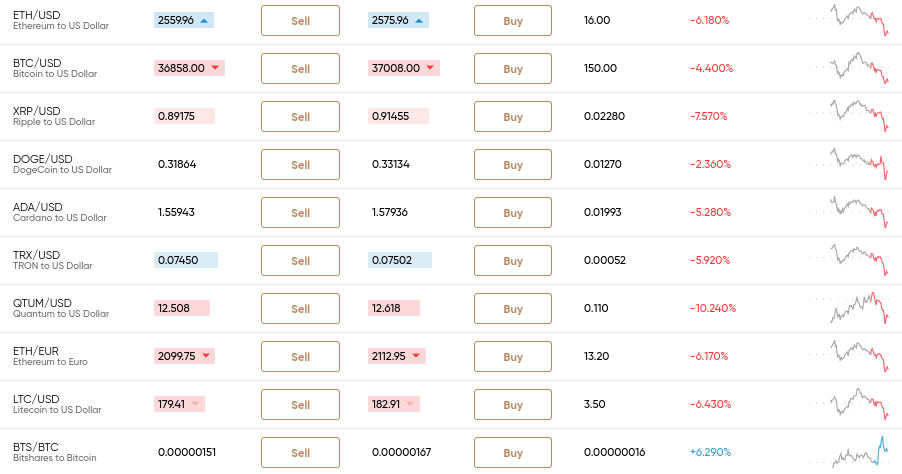 As such, it's imperative to choose a broker that's carefully designed so that you can avoid unnecessary mistakes. The last thing you want while trading Ethereum is to mistakenly input the wrong stake or execute a trade you're still deciding on. Mistakes of this nature can be avoided when you use a broker like eToro – which comes with a simple interface alongside prompts when placing your orders.
Customer Support
The best Ethereum brokers offer great customer support. This is important so that you can get help when you need answers to a question or concern. For instance, if your account suddenly develops an issue and you have a potential market opportunity you don't want to miss, you'll need a swift response from customer support.
Therefore, important considerations when assessing a broker's customer support should include whether there's a live chat option.

This is the fastest way to get in touch with the customer service team and a broker like eToro offers this option. 

Additionally, you can also consider whether there's provision for email and telephone support.

Similarly, the best Ethereum brokers will have an FAQ section, where the basic questions concerning the platform would have been answered. 
Finally, check the availability hours of the customer support. Preferably, choose a broker that's available 24/7. However, you can alternatively choose a broker that's available 24/5.
Education
Although you should be sufficiently educated about Ethereum before you begin to trade, when it comes to cryptocurrency, learning is continuous. Therefore, you should consider whether a broker contributes to your understanding of Ethereum trading. 
The best Ethereum brokers – such as eToro, provide you with guides, charts, and news feeds, through which you can educate yourself and stay updated with the market trends. eToro also has a research section dedicated to Ethereum, from which you can gain more insights into the cryptocurrency market. 
Since your task as an Ethereum trader is to speculate the markets, a broker that offers you access to learning materials will make your journey a smooth one. This is because, in most cases, you have all you need to trade via one single platform.
Demo Account
As a beginner, you should take all necessary steps to mitigate risks when trading Ethereum. While experienced investors can move rather swiftly while trading, newbies need to be cautious. One of the most effective ways to do this is by starting your Ethereum trading journey with a demo account.
A demo account allows you to trade risk-free and without actual money. The importance of starting with such an account is to get acquainted with the processes involved in trading Ethereum. So, essentially, it seems as though you're in the actual markets, but you aren't. You're simply learning and getting more familiar with the crypto world.
Mobile Apps
Trading Ethereum is more convenient when you can access your account while on the move. These applications are built so you can access the cryptocurrency market at all times and with ease. 
Therefore, if you're looking to trade Ethereum as conveniently as possible, whether the broker has a mobile app might be one of the things to consider. eToro and AvaTrade all have mobile applications that are compatible with both iOS and Android devices. 
How to Get Started on the Best Ethereum Brokers – Detailed Walkthrough
Now that you've learned about the best Ethereum brokers and the metrics to use when making a choice, the next thing you'd want to know is how to get started. The process is quite similar across all of the brokers we reviewed. Therefore, with the walkthrough we discuss in this section, you can open your account on your desired Ethereum broker in under five minutes!
Step 1: Open a Trading Account
Before you start trading Ethereum, you'll need to create an account with the broker you've chosen. Here, you'll need to go through a Know Your Customer (KYC) process if you're using a regulated trading platform – which you should be.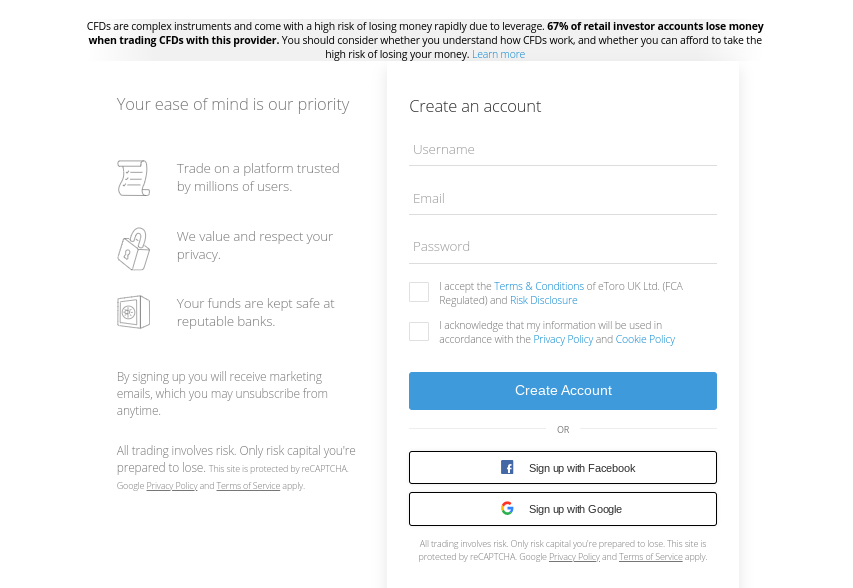 For eToro, you have to provide some personal details, a government-issued ID, and a bank statement/utility bill. These will be used to verify your identity and validate your home address.
Step 2: Make a Deposit into Your Account
An empty account is of no use to you if you want to trade Ethereum and make real profits. Therefore, you must fund your account using any of the supported payment methods. These methods typically include debit/credit cards, e-wallets, and wire transfers. 
Simply deposit at least the minimum amount that's required and ensure the figure is based on your budget and trading goals. With eToro, you're required to fund your account with a minimum deposit of $200 ($50 for US clients).  
Step 3: Choose the Ethereum Pair
Locate the search box and input 'Ethereum' into it. Once you search for the token, the system will display the pair, after which you should select it.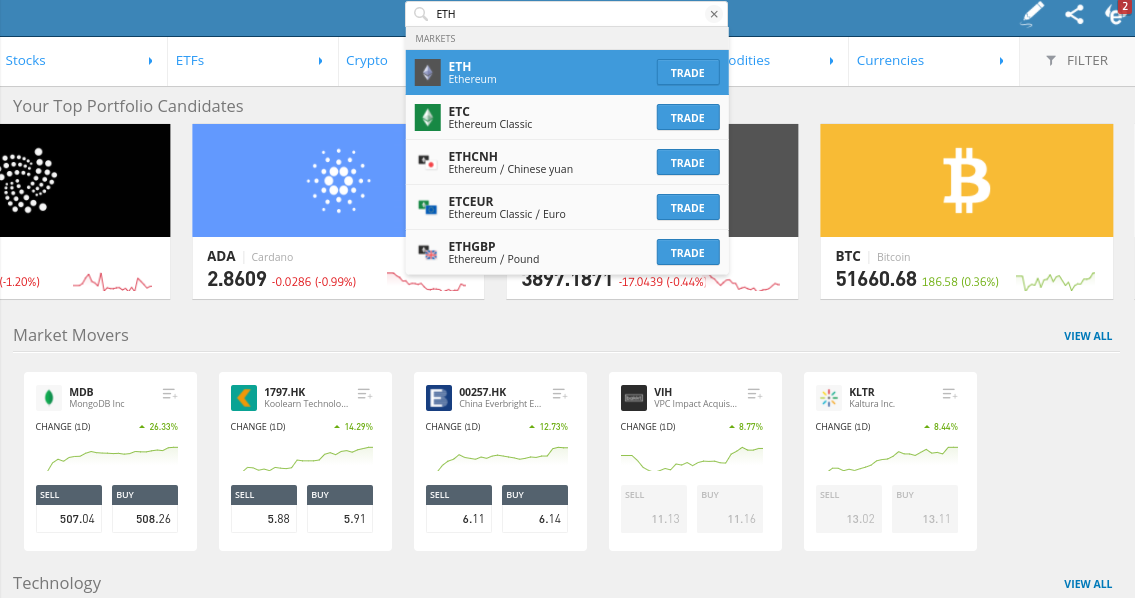 Step 4: Open Your Position
After getting to the Ethereum trading page, you'll be able to decide the orders by which you're entering the market. Choose the order, confirm it, and the broker will execute your trade instantly. That's it!
Best Ethereum Brokers – Bottom Line
Knowing the best Ethereum brokers is a significant step in your journey to trading this popular cryptocurrency. The best brokers for trading Ethereum are cost-effective, regulated, and easy to use. 
When you choose a broker that has these features and all those discussed in this guide, you're set to have a seamless experience trading Ethereum. eToro is a broker that ticks all of these boxes – as the platform is regulated, offers low fees, and allows you to trade Ethereum from just $25.
67% of retail investor accounts lose money when trading CFDs with this provider.
FAQs
What are the best Ethereum brokers?
Although there are numerous brokers for you to trade Ethereum, your focus should be on the best option for you. Choosing from the best Ethereum brokers is how you can have a seamless trading experience. Additionally, for top brokers like eToro, you can trade Ethereum on a spread-only basis. Other cost-effective brokers you should consider include AvaTrade.
How do you trade Ethereum?
Start by opening a trading account with a regulated broker such as eToro. Following that, make a deposit into your account and search for ETH/USD. Input your stake, place an order, and open your trade.
Can you trade Ethereum with leverage?
All you have to do is choose an Ethereum broker that allows you to trade leveraged CFDs. eToro and AvaTrade also allow you to trade ETH with leverage. Just remember – some regions – such as the US and the UK, do not permit leveraged crypto derivatives. 
How can I make money from Ethereum trading?
Making money from your Ethereum trades works in the same manner as any other asset class. You simply need to understand the best strategies to go about it. So, concerning Ethereum trades, you have to learn the effective strategies that will boost the possibility of impressive returns. 
Additionally, you should choose a cost-effective Ethereum broker like eToro – where you can trade crypto on a spread-only basis. The best Ethereum brokers will also offer you learning materials that will boost your trading knowledge and efficiency.
What's the best technical indicator for trading Ethereum?
There are numerous technical indicators in the market. Some of the best ones you can use to gain insights on Ethereum include the RSI indicator, OBV indicator, Moving Average Convergence/Divergence (MACD), and more.