Bitcoin Breaks $44K as Miners Begin Hoarding Coins Again
January 13, 2022
#BITCOIN#BTC#CRYPTOCURRENCY#New#TechnicalAnalysis
After taking a significant value hit throughout most of 2022, Bitcoin (BTC) appears to have entered a recovery path as BTC miners begin accumulating large amounts of tokens once again. Simultaneously, the market recently recorded its highest Bitcoin withdrawal from crypto exchanges since September 2021.
Considering that they are the backbone of the Bitcoin network, miners' outlook on BTC holdings typically dictates the overall sentiment around the digital asset. Miners tend to dump their holdings after a substantial price increase to foot some of the running expense bills or cash out profits, and vice-versa.
In recent times, this group has refused to part ways with their holdings, and the recent slump from $47K to sub $40K did not stop miners—instead—it prompted them to acquire even more, according to on-chain provider Glassnode.
The analytics platform recently revealed that BTC miners have increased their accumulation activities since the beginning of January. Due to this increase in accumulation, their overall balance has skyrocketed within the same periods to a new yearly high.
Apart from the unwavering accumulation of BTC, recent CryptoQuant data also revealed that investors have begun withdrawing massive amounts of coins away from crypto exchanges to private wallets.
The daily outflows of coins from large crypto exchanges peaked at 30,000 BTC yesterday alone, worth over $1.3 billion at press time.
Key Bitcoin Levels to Watch — January 13
In an unexpected turn of events, BTC has regained a significant degree of bullish momentum over the past 24 hours, following ailing US inflation reports. At press time, the benchmark cryptocurrency is on the cusps of retaking the $44K barrier as it shows no sign of a bullish slowdown soon.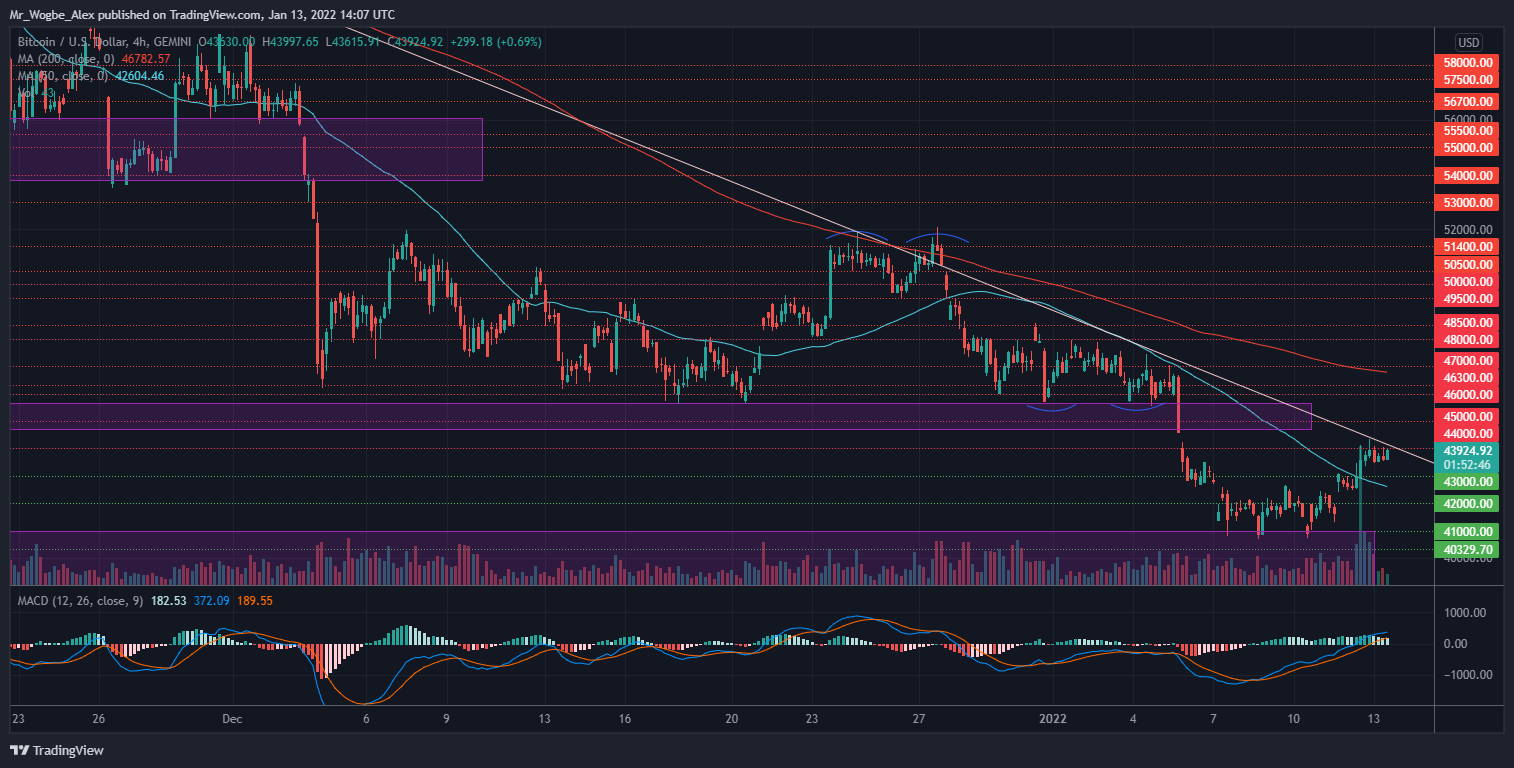 That said, successful position retention above the long-prevailing descending trendline and the $44K barrier should put BTC back on track for a reemergence above the $46K barrier in the medium term. However, failure to hold the critical level could set the cryptocurrency into consolidation before recording a bearish continuation.
Meanwhile, my resistance levels are at $45,000, $46,000, and $46,300, and my key support levels are at $43,000, $42,000, and $41,000.
Total Market Capitalization: $2.10 trillion
Bitcoin Market Capitalization: $837.8 billion
Bitcoin Dominance: 39.8%
Market Rank: #1
Join Our

Free Telegram Group

We send 3 VIP signals a week in our free Telegram group, each signal comes with a full
technical analysis on why we are taking the trade and how to place it through your broker.

Get a taste of what the VIP group is like by joining now for FREE!

Join Our Telegram