Bitcoin Remain Stuck Under $60K as PlanB Admits Incorrect Projection
November 30, 2021
#BITCOIN#BTC#CRYPTOCURRENCY#NEWS
As Bitcoin (BTC) struggles to break $60K into the last day of November following its fall from the $69K all-time high, pseudonymous crypto analyst PlanB—creator of the controversial stock-to-flow (S2F) model has admitted that his projection missed the mark in November. However, the analyst reassured that the benchmark cryptocurrency is still "on track towards $100K."
PlanB rose to prominence in the cryptocurrency community over the years thanks to his often correct BTC projections using his S2F model and has gathered over 1.5 million followers on Twitter as a result. The stock-to-flow model derives its protections by quantifying Bitcoin's scarcity and then dividing the figure by its yearly issuance.
While the S2F model made spot-on predictions over the last three months, it missed this month's mark following the emergence of unfavorable fundamental developments across the globe. PlanB tweeted on Thursday that: "Floor model $98K [November] close will probably be a first miss (after nailing Aug, Sep, Oct). S2F model not affected and indeed on track towards $100K."
However, the analyst tweeted recently about the primary cryptocurrency's relative strength index, noting that:
"Bitcoin RSI 66 and 10% below monthly close ATH," adding that "Bitcoin has better risk-adjusted returns than all other assets."
Key Bitcoin Levels to Watch — November 30
BTC continues to express significant bearish tendencies below the $57K resistance, where my three-week-long descending trendline resides. Yesterday, the primary cryptocurrency shot up to the $59K level but failed to sustain the bullish traction as bears pushed the price back to the $56K pivot mark.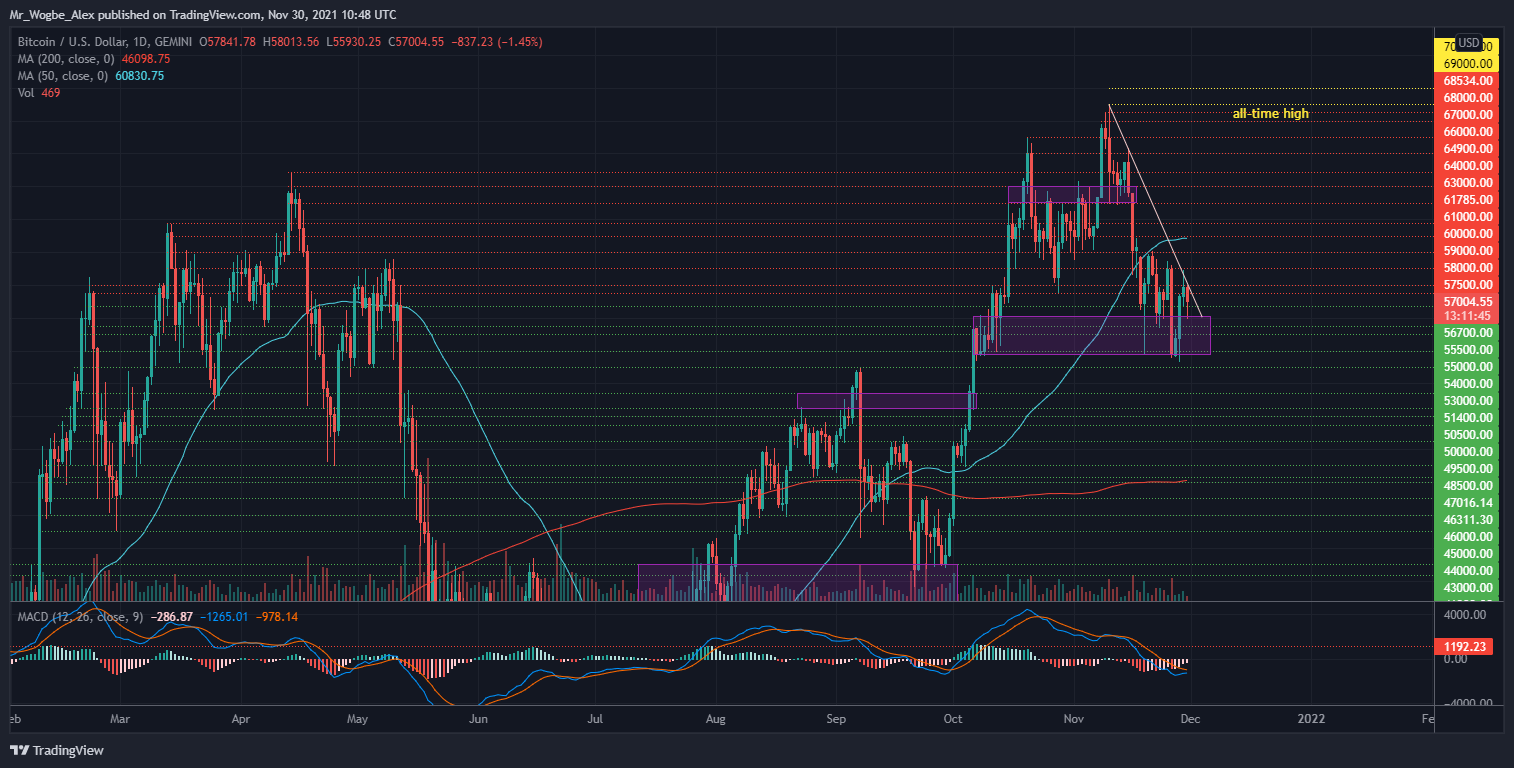 That said, the cryptocurrency has rebounded towards the $57K zone again as on-chain metrics begin to look more positive. I expect to see a break above the $57K resistance in the coming days. A break above the $57K resistance should catapult the benchmark cryptocurrency to the $60K area within a short period. In the meantime, traders remain on the sideline as volatility could surge ahead of a bearish monthly candle close in the coming hours.
Meanwhile, my resistance levels are at $57,500, $58,000, and $59,000, and my key support levels are at $56,700, $56,000, and $55,000.
Total Market Capitalization: $2.63 trillion
Bitcoin Market Capitalization: $1.08 trillion
Bitcoin Dominance: 41.4%
Market Rank: #1
Join Our

Free Telegram Group

We send 3 VIP signals a week in our free Telegram group, each signal comes with a full
technical analysis on why we are taking the trade and how to place it through your broker.

Get a taste of what the VIP group is like by joining now for FREE!

Join Our Telegram