Bitcoin Remains Under Tense Bearish Pressure Despite Positive On-Chain Metrics
November 23, 2021
#BITCOIN#BTC#CRYPTOCURRENCY#NEWS#Technicalanlysis
Bitcoin (BTC) has remained under intense bearish pressure for the past few weeks as it recently fell to the $56K level. That said, the benchmark cryptocurrency's on-chain metrics show signs of accumulation.
On-chain analytics provider Glassnode recently reported some positive data for Bitcoin, noting that:
"The number of #Bitcoin addresses with a non-zero balance [have] reached a new all-time high of 38.76 million addresses. The previous high of 38.7 million was set seven months ago on April 23rd, taking 213 days to fully recover."
Another on-chain data provider, Santiment, reported that despite the intense bearish pressure plaguing it, Bitcoin's supply on exchanges has diminished significantly, thereby reducing further sell-off risks. Additionally, the platform revealed that USDT supply on crypto exchanges continues to rise, indicating significant buying power. 
Meanwhile, reports show that short-term BTC holders consistently sold their holdings during the recent price correction. Glassnode reports a 15% drop in Bitcoin supply in profits and is in the bull/bear transition area. 
Also, Glassnode reported that short-term holders react the most to the volatile price action, noting that: 
"Short term holders (STH) are most responsive to price action due to a combination of having a higher relative cost-basis, a higher time preference, and potentially a lower degree of conviction in the asset. This week's price action was no exception, as STHs played a role in setting both the highs and the lows."
Key Bitcoin Levels to Watch — November 23
Despite having positive on-chain metrics, BTC still struggles to muster any bullish traction as bears keep the pressure. The benchmark cryptocurrency currently trades above the critical $56K – $53.7K pivot zone, which until last Friday remained unbroken for six weeks.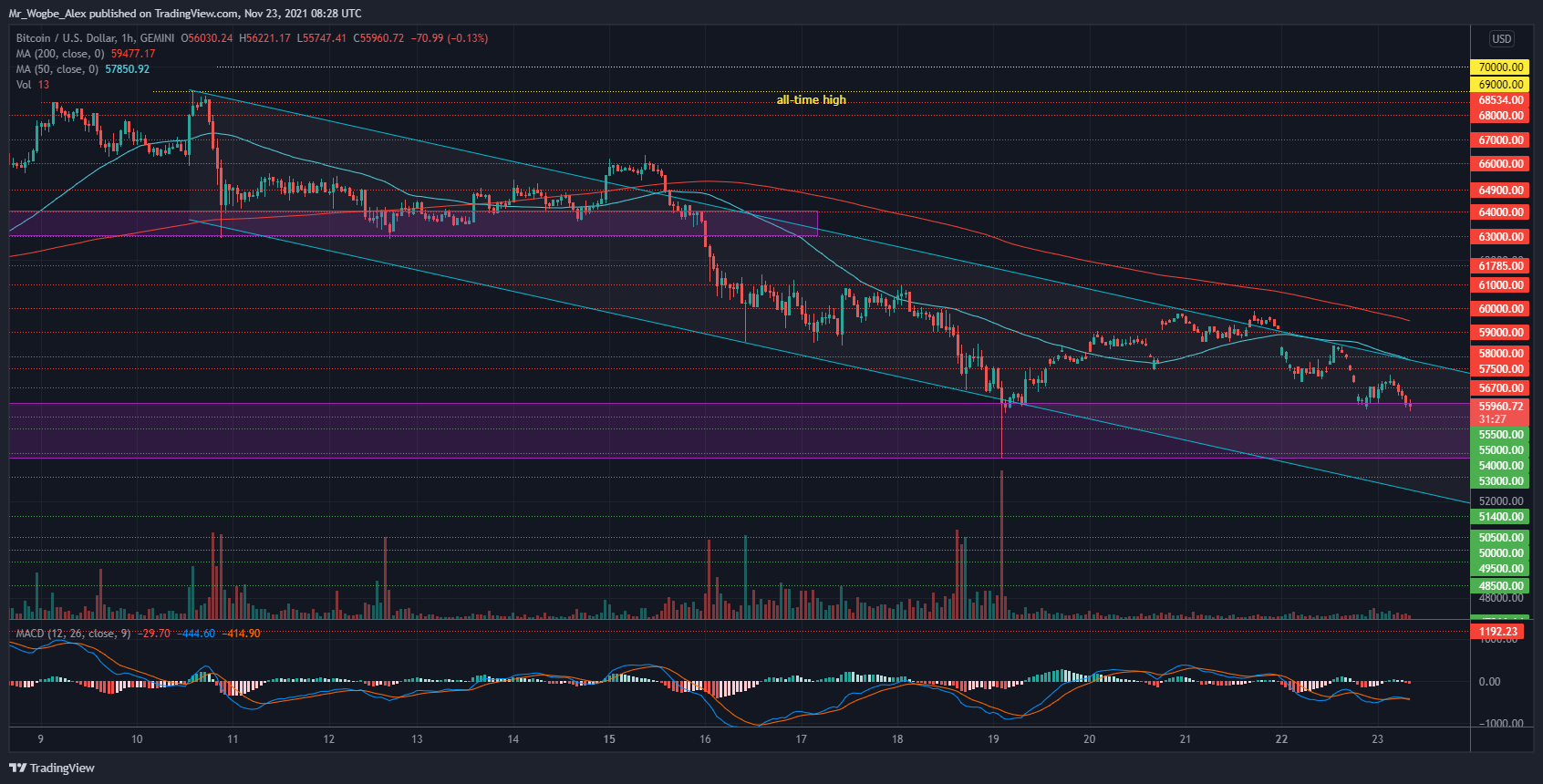 That said, if bears lack the strength to push the price below the upper limit and towards the $54K zone, we could see a bounce in the coming hours towards $58K. A successful push towards the $58K level should help BTC secure a move to the $60K psychological mark. 
Meanwhile, my resistance levels are at $56,700, $57,500, and $58,000, and my key support levels are at $56,000, $55,500, and $55,000.
Total Market Capitalization: $2.52 trillion
Bitcoin Market Capitalization: $1.05 trillion
Bitcoin Dominance: 41.8%
Market Rank: #1
Join Our

Free Telegram Group

We send 3 VIP signals a week in our free Telegram group, each signal comes with a full
technical analysis on why we are taking the trade and how to place it through your broker.

Get a taste of what the VIP group is like by joining now for FREE!

Join Our Telegram