Bitcoin Records Significant Hash Rate Spike Amid Bullish Resurgence
August 22, 2021
#BITCOIN#BTC#CRYPTOCURRENCY#NEWS#TechnicalAnalysis
The Bitcoin (BTC) network hash rate has recorded a massive spike since it bottomed at 69 EH/s. The hash rate peaked at 96 EH/s in July.
According to a report from coinwarz.com, the Bitcoin hash rate has climbed by 51% since it dropped to 69 EH/s and has maintained an uptrend ever since. That said, analysts predict that the recent increase in BTC hash power could make the difficulty adjustment, set for next Thursday, record a significant increase.
An increase in Bitcoin's mining difficulty adjustment would record a third consecutive increase for the network, which should boost the price outlook for the benchmark cryptocurrency.
The last difficulty adjustment recorded an increase of 7.31%. Estimates show that the upcoming adjustment could come in at 7.61%, from 15.56 trillion to 16.74 trillion. However, a lot could happen within the next four days for BTC, given how volatile the markets are.
Meanwhile, Bitcoin recorded a new 14-week high yesterday after peaking at $49,800, giving BTC miners more income than they earned last month. Currently, the top five mining pools, including Antpool, Poolin, Btc.com, Viabtc, and F2pool control 67.3% of the global hash rate.
Key Bitcoin Levels to Watch — August 22
BTC has reclaimed a healthy standing above the critical 200 SMA line after suffering a dip below that level last Tuesday. Following that dip, a double bottom pattern emerged on our daily chart, which typically indicates a bullish resurgence. That said, bulls took advantage of this bias and sent the price flying above $49k.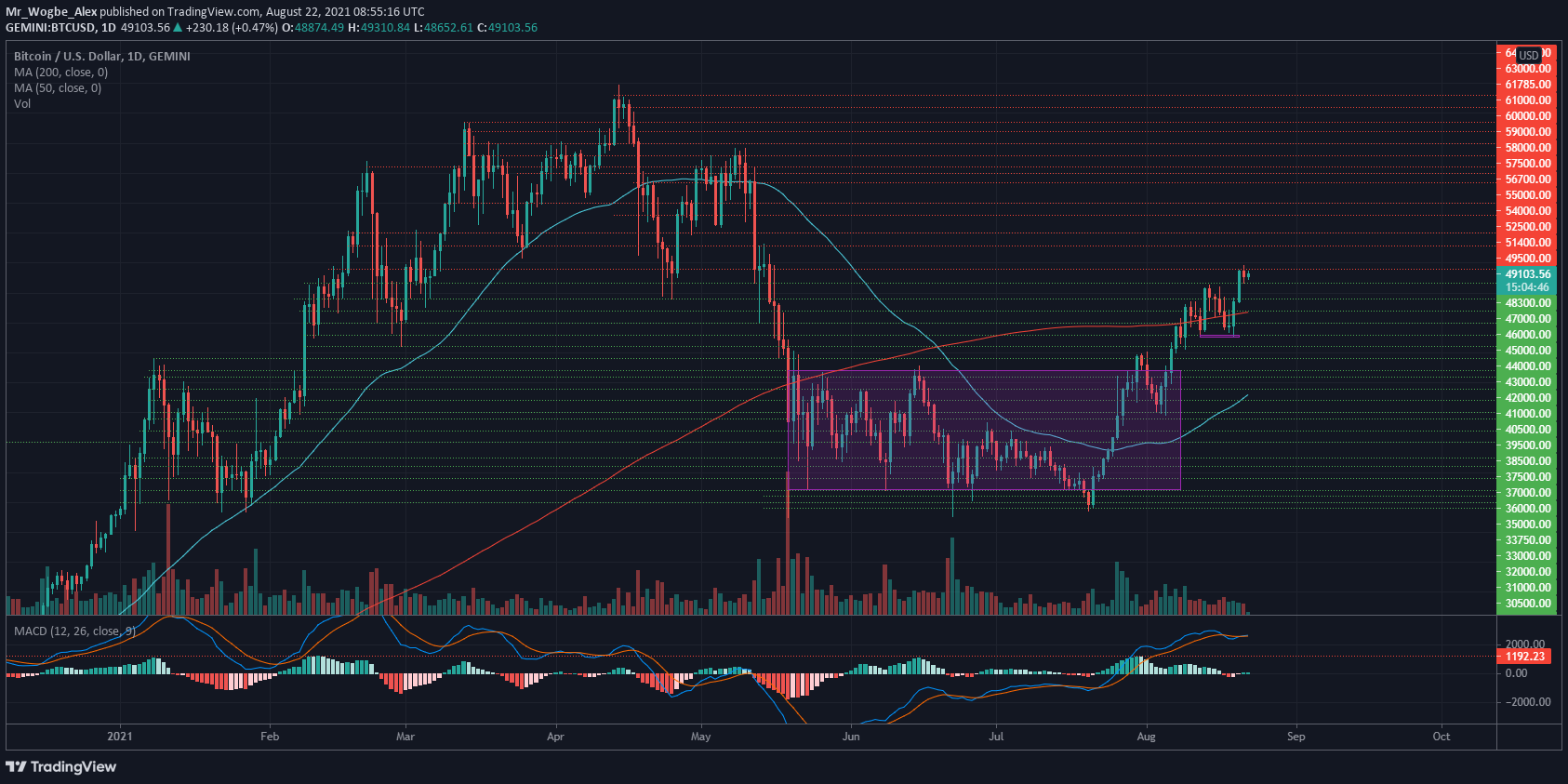 Although the benchmark cryptocurrency recorded a minor dip from its $49,800 top, we expect a full recovery of that level and a possible reemergence above the significant $50k resistance in the coming days.
Meanwhile, our resistance levels are at $49,500, $50,000, and $51,400, and our key support levels are at $48,300, $47,000, and $46,000.
Total Market Capitalization: $2.10 trillion
Bitcoin Market Capitalization: $922 billion
Bitcoin Dominance: 43.8%
Market Rank: #1
Join Our

Free Telegram Group

We send 3 VIP signals a week in our free Telegram group, each signal comes with a full
technical analysis on why we are taking the trade and how to place it through your broker.

Get a taste of what the VIP group is like by joining now for FREE!

Join Our Telegram