Dogecoin Marks Sharp Increase in On-Chain Activity as Whales Accumulate DOGE
January 23, 2023
#CRYPTOCURRENCY#DOGE#DOGECOIN#NEWS
In a major development for the world of cryptocurrency, Dogecoin (DOGE) has seen an unprecedented surge in activity over the past weekend. According to Whale Alert, a leading tracker of large cryptocurrency transactions, whales have collectively moved over 500 million DOGE tokens in the last 48 hours.
The largest accumulator of DOGE tokens during this period gathered an astonishing 165 million DOGE coins.
This surge in activity comes on the heels of an announcement from zero-fee trading platform Robinhood that it will now support DOGE in its newly released cryptocurrency wallet, the "Robinhood Wallet" self-custody app. The company's wallet address, "DPDLBA," is now the largest holder of Dogecoin, holding an astounding 34.76 billion DOGE tokens, or 25.21% of the total supply.
This equates to a staggering $3.1 billion worth of Dogecoin in this single wallet alone. The second-largest holder of DOGE only holds 7.08 billion coins, or just 5.14% of the total.
Data from WhaleStats shows that Dogecoin is now one of the most popular tokens purchased by the 100 largest Binance Smart Chain (BSC) whales in the past 24 hours. Additionally, it was observed that Dogecoin whale accumulation ranked highly among the top 500 biggest BSC whales.
Dogecoin Trades At $0.0880
These developments have led to a significant increase in the price of Dogecoin, with the cryptocurrency seeing a surge of 5.5% in the past seven days. According to data from CoinMarketCap, the current price of DOGE is trading at $0.0880, with a 24-hour low and high of $0.0866 and $0.0912, respectively, as demand continues to rise.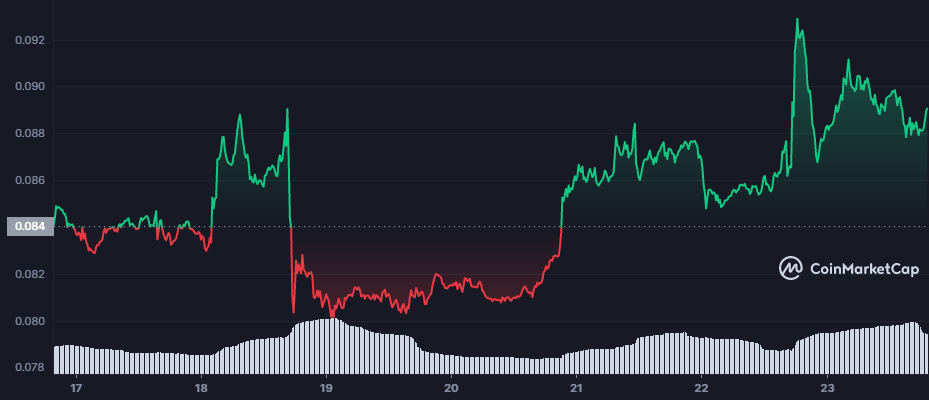 Overall, the recent influx of activity and support from a major player like Robinhood has sparked a wave of positive sentiment among investors and traders, and it will be interesting to see how this trend develops in the coming days and weeks.
You can purchase Lucky Block here. Buy LBLOCK
Join Our

Free Telegram Group

We send 3 VIP signals a week in our free Telegram group, each signal comes with a full
technical analysis on why we are taking the trade and how to place it through your broker.

Get a taste of what the VIP group is like by joining now for FREE!

Join Our Telegram