Ripple 2022 Price Projection: SEC Lawsuit Verdict Postponed by One Month Amid Rising Omicron Infections
January 12, 2022
#CRYPTOCURRENCY#Forecast#NEWS#RIPPLE#SEC#TechnicalAnalysis#XRP
New reports show that the ongoing Ripple vs. SEC lawsuit could be postponed by a month amid the rising number of Omicron coronavirus infections in the US. The report came via a tweet from popular Fox Business journalist Eleanor Terrett. She tweeted yesterday:
"The expert discovery deadline in the Ripple vs. SEC case will be pushed back a month due to the rapid spread of the Omicron variant. A source close to the case tells @FoxBusiness a letter outlining this new motion will be filed in court as early as tomorrow."
The US Securities and Exchange Commission filed a case against Ripple Labs and two of its executives in late December 2020 on claims that the accused facilitated an unregistered sale of $1.3 billion worth of XRP. However, Ripple and other involved parties have since denied the claims by the agency, arguing that it was biased in its assessment.
Most companies that have come under similar scrutiny from the SEC often acceded to the agency's demands. However, Ripple appears to be taking a firm stand and has refused to back down.
The defendant accused the SEC of bias, noting that it applies the definition of "security" to digital assets. If Ripple's claims turn out to be true, it could undermine the SEC's authority and fault the credibility of their case.
Annual Forecast for Ripple (2022)
XRP has maintained a downward trend since it peaked close to the $2 mark on April 12, 2021. Ever since the eight-largest cryptocurrency has only but struggled to pull off a steady bullish recovery above the $1.3 level.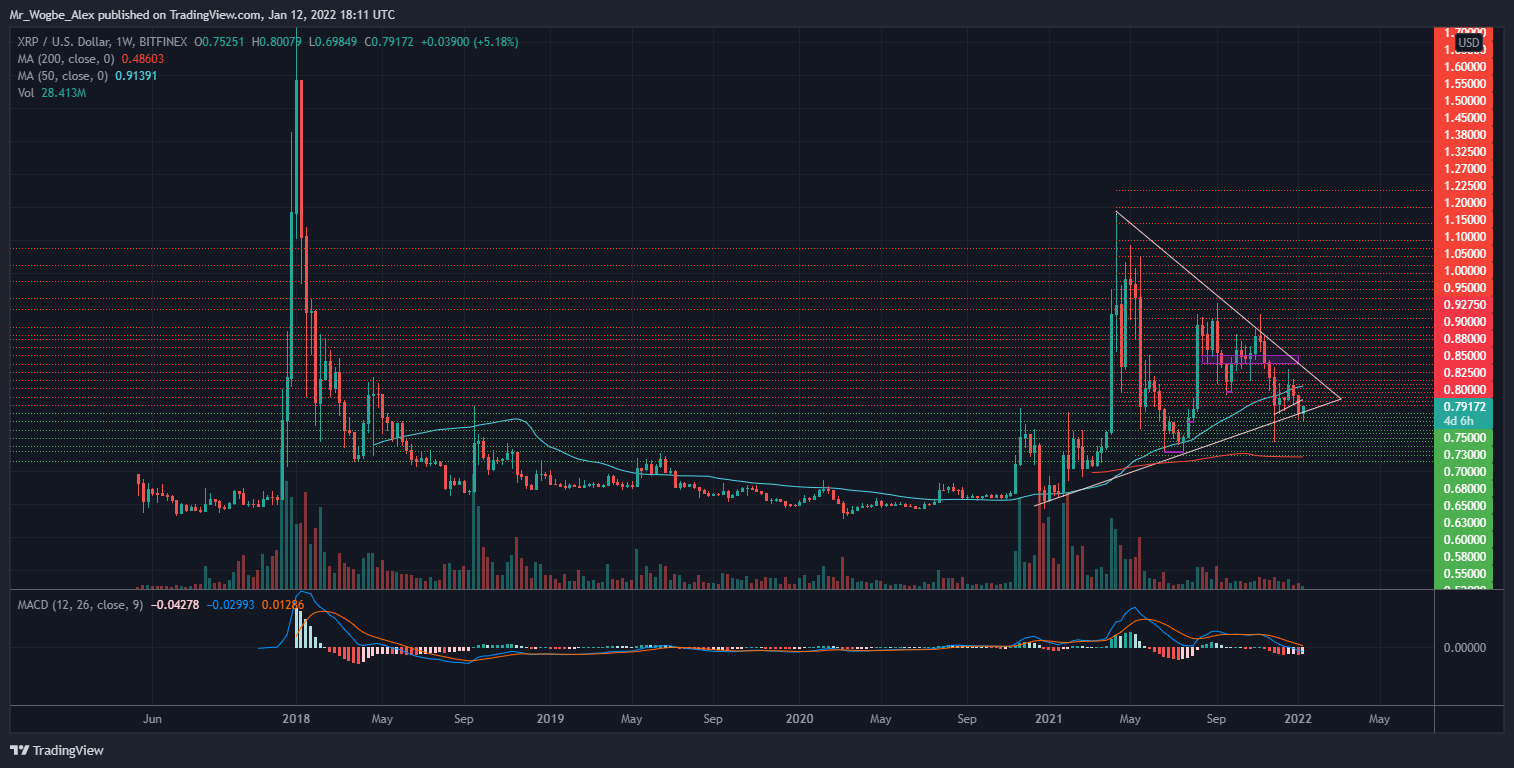 Interestingly, XRP trades within a converging neutral wedge as the SEC lawsuit drags on. That said, a conclusion of the case, said to occur in April or May this year, should have a significant impact on the price of this asset. Many have proposed that a close of the case in favor of Ripple Labs, which continues to look very likely as the days go by, could catapult the price towards the $3 mark.
However, until the end of this drawn-out lawsuit, I do not expect to see any meaningful bullish moves for XRP in the medium term. With that, all eyes should remain on the SEC lawsuit for a possible breakout for XRP in the coming months.
Meanwhile, my resistance levels are $0.8000, $0.8250, and $0.8500, and my support levels are $0.7500, $0.7300, and $0.7000.
Total Market Capitalization: $2.08 trillion
Ripple Market Capitalization: $37.5 billion
Ripple Dominance: 1.80 %
Market Rank: #8
Join Our

Free Telegram Group

We send 3 VIP signals a week in our free Telegram group, each signal comes with a full
technical analysis on why we are taking the trade and how to place it through your broker.

Get a taste of what the VIP group is like by joining now for FREE!

Join Our Telegram