MicroStrategy Boss Brags About Bitcoin Strategy, Says Company Outperformed Blue-Chip Stocks
August 4, 2022
#BITCOIN#BTC#CRYPTOCURRENCY#NEWS#TechnicalAnalysis
Giant Bitcoin (BTC) whale MicroStrategy has released its Q2 financial earnings report, with CEO Michael Saylor bragging via a tweet:
"Since adopting a bitcoin strategy, MSTR has outperformed every asset class & big tech stock."
Saylor further explained that Bitcoin's price increased by 94% since the company adopted the crypto-asset, while the S&P 500 and Nasdaq only rose by 23% and 13%, respectively, within the same period. The BTC enthusiast also mentioned that, in contrast, gold, silver, and bonds dropped by 13%, 29%, and 14%, respectively, within the said period. MicroStrategy originally adopted BTC in late 2020 and has never looked back since then.
The CEO further explained in another tweet:
"Since Microstrategy adopted a Bitcoin strategy, its enterprise value is up +730% (+$5 billion), and MSTR is up +123%."
Comparing MicroStrategy's stock performance since it adopted its BTC strategy to big tech stocks, the executive boasted that MSTR outperformed Alphabet/Google (GOOG), Amazon (AMZN), Apple (AAPL), Meta (META), Microsoft (MSFT), and Netflix (NFLX).
MicroStrategy claims it has two corporate strategies; one focused on business analytics and the other on BTC. The company explains in its Q2 financial report presentation that the Bitcoin strategy is to "acquire and hold bitcoin long-term; purchase bitcoin through use of excess cash flows, and debt and equity transactions."
As of today, the software company owns 129,699 BTC.
Key Bitcoin Levels to Watch — August 4
BTC is holding along the $23K price point as it prepares to end a six-day bearish streak. A successful close around the $23K mark by the Asian session open on Friday could kickstart a bullish reawakening for the cryptocurrency.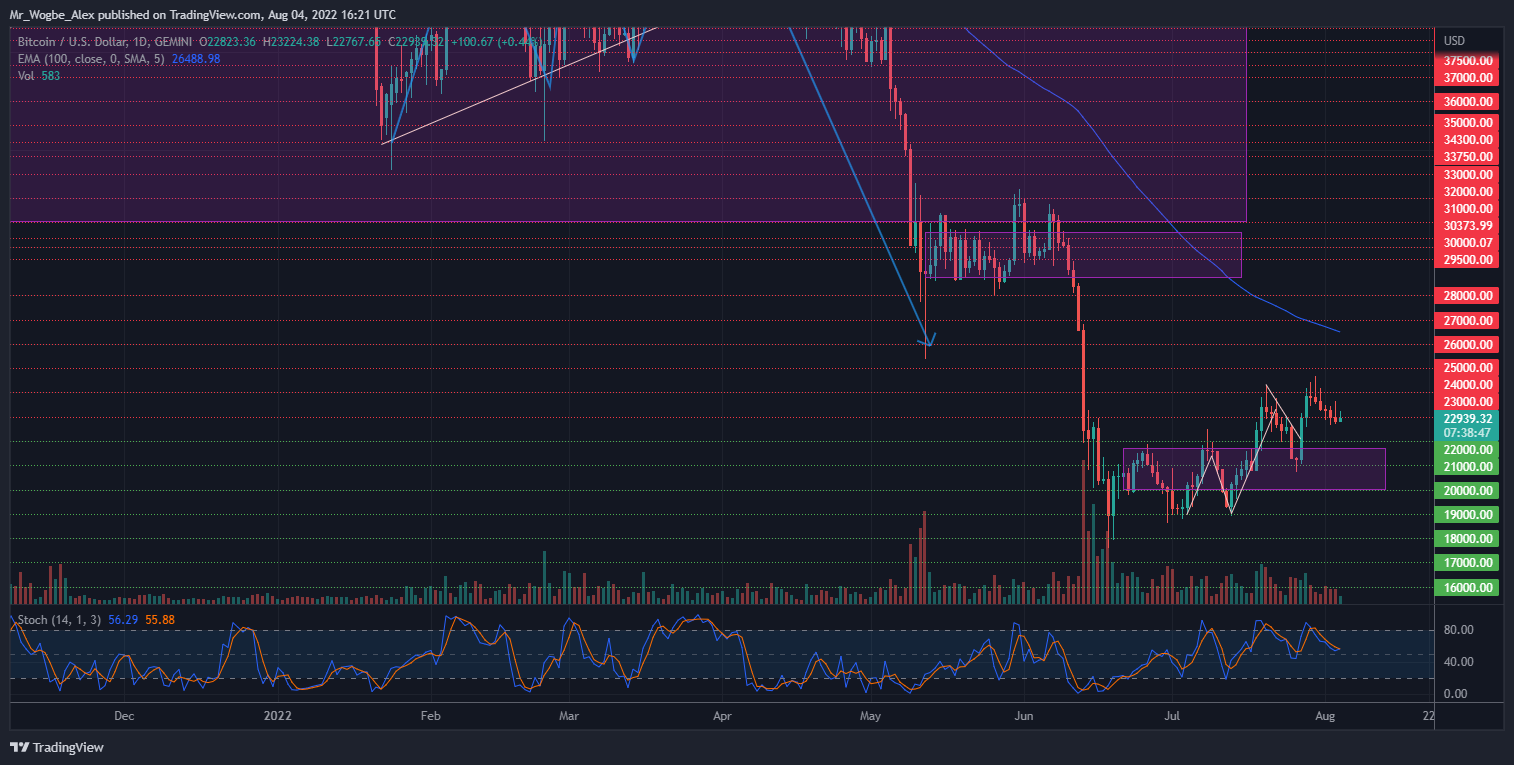 That said, a bullish re-emergence should prompt a retest of the $23.8K top and bring $25K back into focus.
Meanwhile, my resistance levels are at $24,000, $25,000, and $26,000, and my key support levels are at $22,000, $21,000, and $20,000.
Total Market Capitalization: $1.07 trillion
Bitcoin Market Capitalization: $437.3 billion
Bitcoin Dominance: 41%
Market Rank: #1
You can purchase Lucky Block here. Buy LBlock
Join Our

Free Telegram Group

We send 3 VIP signals a week in our free Telegram group, each signal comes with a full
technical analysis on why we are taking the trade and how to place it through your broker.

Get a taste of what the VIP group is like by joining now for FREE!

Join Our Telegram