Shiba Inu Records 50% Spike as Token Burning Picks-Up
June 22, 2022
#CRYPTOCURRENCY#NEWS#SHIB#Shiba Inu#TechnicalAnalysis
The ongoing crypto winter has done significant damage to the price of many cryptocurrencies including Shiba Inu (SHIB). However, the meme coin appears to be staging a strong comeback with the help of its broad support base, the SHIB Army. 
Shiba Inu has recorded a significant price rally over the past 24, spiking from the $0.0000080 low to the $0.0000120 level. Reports show that one of the factors behind this spike is the spate of token burning, as social media influencers double down on campaigns to burn SHIB and earn rewards in the Shiba Inu ecosystem's governance token, $BONE.
According to data from Shibburn, over 98 million SHIB tokens were burned in the last 24 hours. The largest burn occurred about 23 hours ago on the block height 15002644, with the transaction ID https://etherscan.io/tx/0xfa882a47e676dd71ee8e4d2fc44acdf4d8478e08d3b172e1bc59d2d0e0e4b82d. 
At press time, almost half of all SHIB tokens have been burned, as the network plans to significantly reduce the total supply token and boost the price. 
The meme coin also topped trending charts on social media, especially Twitter, in the last 24 hours. Additionally, the cryptocurrency climbed by some spots in its rankings on both CoinMarketCap and CoinGecko, moving up to the number 14 position. 
Key Shiba Inu Levels to Watch — June 22
Shiba Inu enjoyed a near 50% rally yesterday after tapping the $0.0000120 level for the first time since May 31. However, the meme token lacked the composure to sustain this rally and recorded a reversal near the $0.0000090, where it found some support from the 4-hour 100 EMA.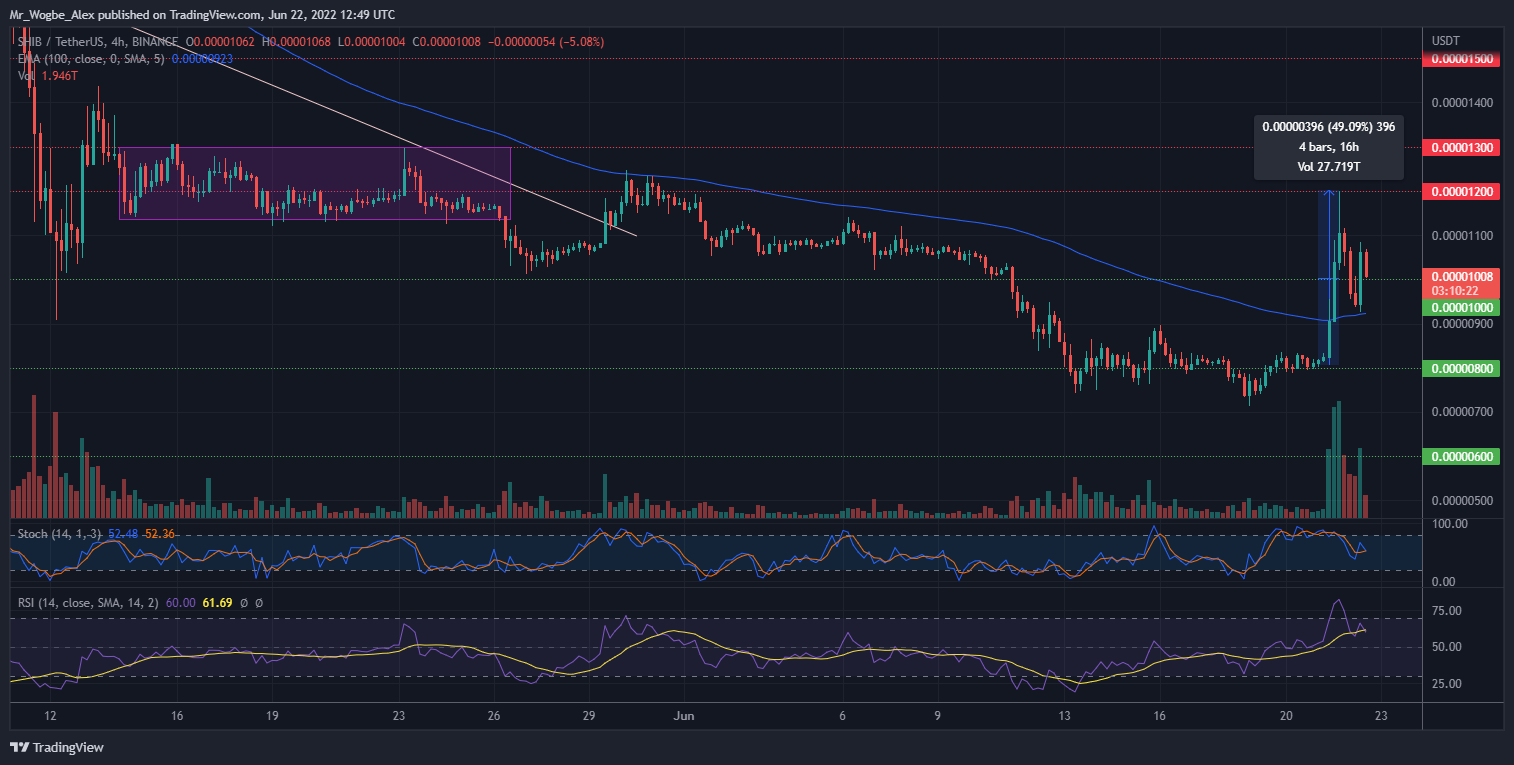 SHIB currently sits atop the $0.0000100 mark as the remaining bulls try to push it towards the $0.0000120 level again. With the mild bullish sentiment sweeping across the broader market, the meme token is likely to return to the mentioned top in the coming days.
Meanwhile, my resistance levels are $0.0000120, $0.0000130, and $0.0000150, and my support levels are $0.0000090, $0.0000080, and $0.0000070.
Total Market Capitalization: $893.4 billion
Shiba Inu Market Capitalization: $5.5 billion
Shiba Inu Dominance: 0.62%
Market Rank: #14
You can purchase Lucky Block here. Buy LBlock
Join Our

Free Telegram Group

We send 3 VIP signals a week in our free Telegram group, each signal comes with a full
technical analysis on why we are taking the trade and how to place it through your broker.

Get a taste of what the VIP group is like by joining now for FREE!

Join Our Telegram