Optimism Airdrops $26.7 Million in OP Tokens to Loyal Users
Optimism, the renowned layer-2 scaling network for Ethereum, has distributed a windfall of 19.4 million OP tokens, equivalent to a staggering $26.7 million, to its dedicated user base. The recipients of this impressive airdrop are the 31,879 unique addresses that actively engaged in the network's governance between January and July 2023.
Today Optimism is announcing OP Airdrop #3.

19M OP allocated to over 31k unique addresses to reward positive-sum governance participation in the Collective.

Read on for details on eligibility criteria and allocations.

— Optimism (✨🔴_🔴✨) (@optimismFND) September 18, 2023
Eligible users demonstrated their commitment either by delegating OP tokens above a specified threshold or by delegating their voting influence to an address that participated in on-chain voting at least once.
Optimism's motivation behind this benevolent act was to extend appreciation for their users' contributions to "positive sum governance participation." Astonishingly, the beneficiaries of this grand gesture do not need to embark on any arduous claims process; the OP tokens are being seamlessly dispatched to their wallets.
Optimism and Its Frequent Airdrops
This is not Optimism's first rodeo in showering its community with native tokens. In June 2022, when the protocol inaugurated its mainnet, it doled out a whopping 200 million OP tokens to its early supporters. Fast forward to February 2023, when an additional 11.7 million OP tokens rained down upon users in another airdrop event.
In total, Optimism has earmarked a substantial 19% of its initial token supply for rewarding its devoted community.
Optimism stands tall as a preeminent layer-2 solution for Ethereum, steadfast in its mission to enhance scalability and alleviate the ever-burgeoning gas fees that often plague the Ethereum network. It accomplishes this by executing transactions off-chain and periodically settling them on the Ethereum main chain. Also, DeFiLlama data shows that Optimism boasts the ninth-largest Total Value Locked (TVL) in the decentralized finance (DeFi) ecosystem, with an impressive $678.47 million fortifying its network.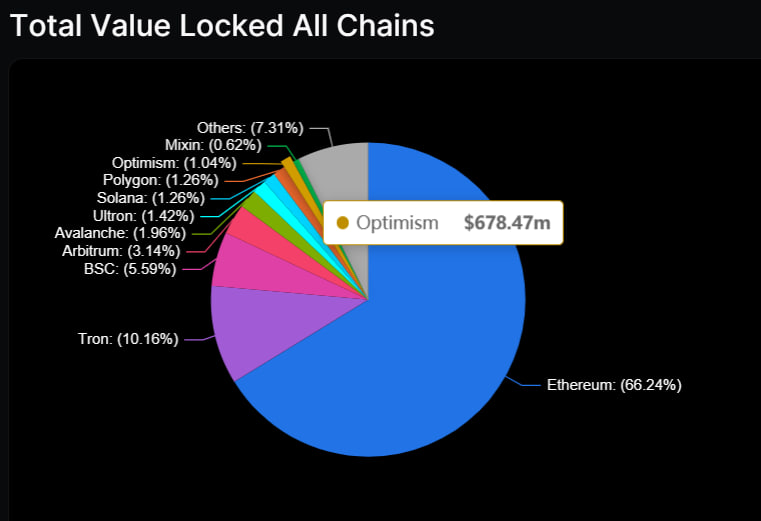 To empower the developer community, the protocol recently unveiled OP Stack, a versatile developer kit. This toolkit empowers developers to construct their own layer-2 blockchains utilizing the innovative technology pioneered by Optimism. Notable projects that have harnessed the power of OP Stack include Base, a network incubated by Coinbase, and opBNB, a blockchain-backed project by Binance.
Interested In Learning How To Use Leverage While Trading? Find Out Here