Ripple ODL Marking Notable Achievements: SBI Holdings CEO
November 23, 2022
#CRYPTOCURRENCY#NEWS#ODL#RIPPLE#XRP
Ripple is in the news again, this time as SBI Holdings reaffirms support for the payment solution. SBI Holdings CEO Yoshitaka Kitao published a blog article outlining recent achievements of Ripple's On-Demand Liquidity (ODL) service in a tweet on November 22.
Ripple Expands On-Demand Liquidity to Nearly 40 Payout Markets, Adds Machine Learning Capabilities https://t.co/guMC0I0xcS

— 北尾吉孝 (@yoshitaka_kitao) November 22, 2022
Notably, the business offers liquidity for international transfers utilizing the bridge currency XRP. Additionally, transactions take only a few seconds and are substantially less expensive than conventional settlement techniques.
In the blog post that was posted, Ripple states that "nearly 40 payout markets" are now covered by its ODL service. According to a statement made by Ripple's SVP of Global Customer Success, Brooks Entwistle, this accounts for around 90% of the forex markets.
This comes as the idea of cross-border settlements gains popularity in places like Israel, Argentina, Belgium, and Africa. Additionally, users of its RippleNet service, which is based on fiat currency, are migrating to the XRP-based alternative.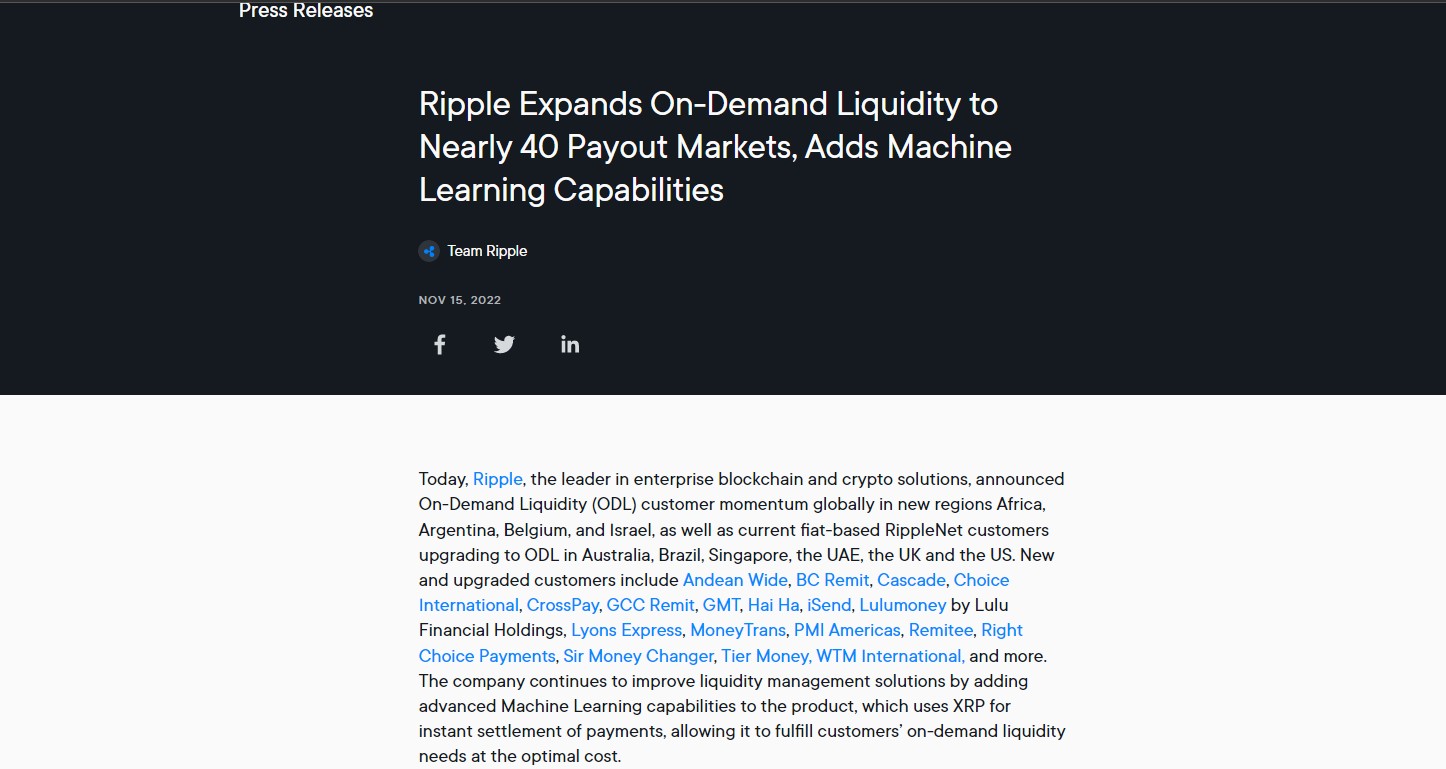 Meanwhile, Ripple is trying to get a foothold in Ireland and spread its services throughout Europe as it applies for a virtual asset service provider (VASP) license.
In addition, the business has added machine learning capabilities to expand the product with the extension of the ODL service. Speaking on its machine learning capabilities, Devraj Varadhan, SVP of Engineering at Ripple, stated: "Ripple's machine learning and automation efforts are focused on liquidity – the backbone of crypto and all of our enterprise-grade products." Varadhan added:
"We're excited to launch several of those capabilities this year to scale ODL efficiently to serve more customers globally and to provide the best experience possible for our customers."
Ripple and SBI Holdings Go Way Back
It is important to note that SBI, one of the biggest companies in Japan, and Ripple have a long history together. One of the main forces behind the adoption of XRP in Asia has been SBI. Interestingly, both businesses even established SBI Ripple Asia as a joint venture. From 2019 through 2021, Kitao also served as a board member for Ripple.
The Japanese corporation recently extended the life of its ODL-based XRP international remittance service and pledged to improve it and broaden its use cases. The first Japanese e-commerce site to accept XRP as payment was SBI Motor Japan in May.
You can purchase Lucky Block here. Buy LBLOCK
Join Our

Free Telegram Group

We send 3 VIP signals a week in our free Telegram group, each signal comes with a full
technical analysis on why we are taking the trade and how to place it through your broker.

Get a taste of what the VIP group is like by joining now for FREE!

Join Our Telegram