Dogecoin Stalls as Elon Musk Urge Proponents to Dump Centralized Exchanges
November 24, 2021
#CRYPTOCURRENCY#DOGE#DOGECOIN#ElonMusk#NEWS#Technicalanlysis
Tesla CEO Elon Musk has called on Dogecoin (DOGE) investors to stop patronizing centralized exchanges, following a minor spat with Binance CEO Changpeng Zhao.
In a recent tweet, the world's richest many encouraged DOGE proponents to withdraw their money from centralized platforms to allow them to control their private keys.
That said, this is not the first time Musk has called for an action like this as he is a supporter of the "not your keys, not your crypto" narrative. In February, the billionaire argued that any cryptocurrency wallet that fails to give users control of their funds should be "avoided at all costs."
At the time, Musk posted a Chuck Norris meme trolling Mt. Gox, a cryptocurrency exchange that went out of business after losing 850,000 BTC in the disastrous 2014 hack.
Meanwhile, there are several warnings against cryptocurrency holders leaving their coins on exchanges due to possible hacks, incidents, or theft. However, many have argued that beginners should not have to worry about custody of their holdings, considering that the process is a bit complex and could result in loss of funds.
Elon Musk has never shied away from doling out sage cryptocurrency advice. Last month, the CEO advised crypto holders not to bet their farm on cryptocurrencies amid the meteoric rise of Shiba Inu.
Key Dogecoin Levels to Watch —November 24
As the crypto market continues to wallow in bearishness, DOGE has fallen into a sideways pattern for the past week between $0.2400 and $0.2175. The meme coin continues to struggle to post any meaningful bullish gains above the 4-week-long descending trendline.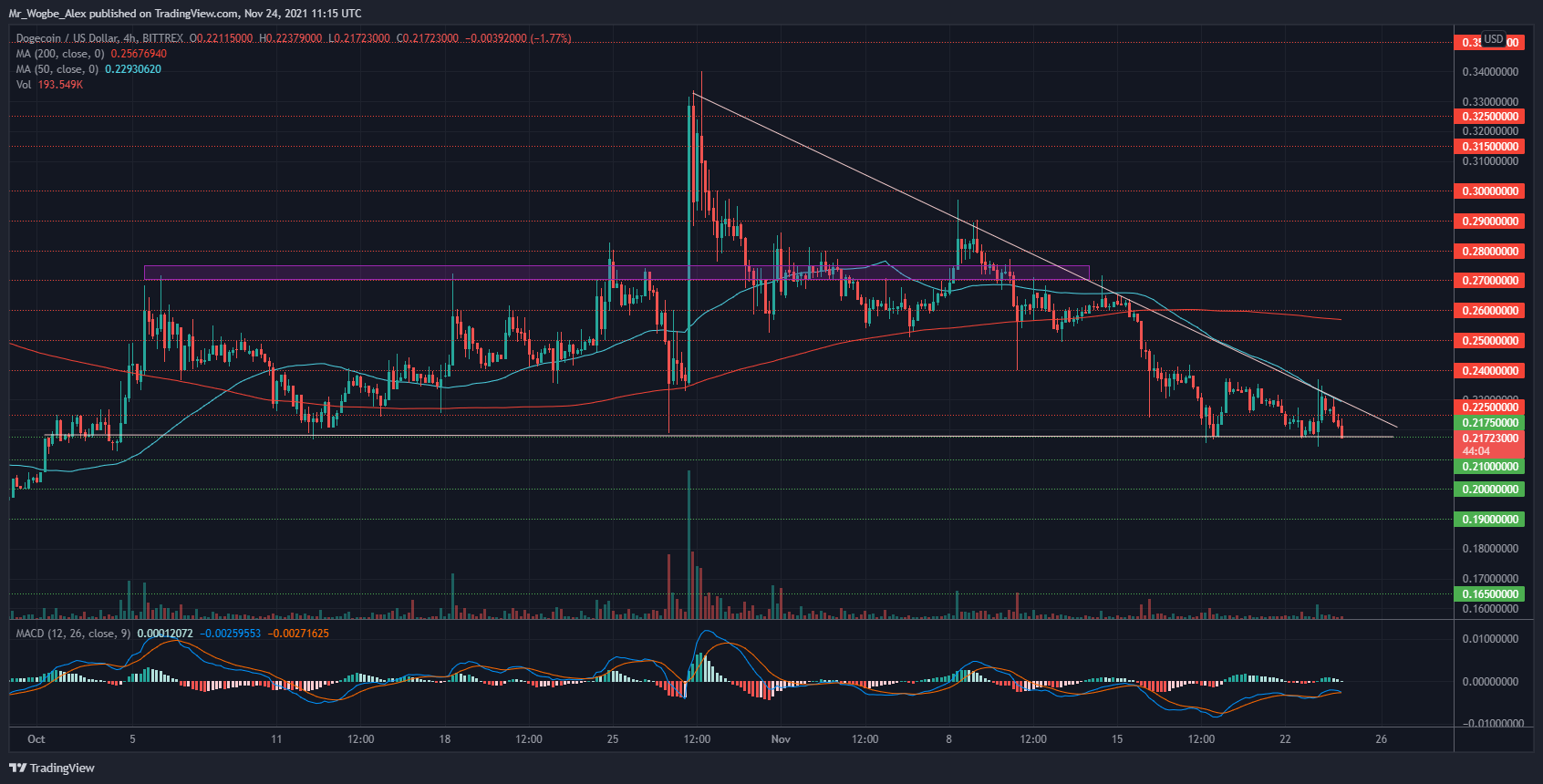 That said, DOGE now faces a critical juncture around the $0.2175 support as a possible breakout looms ahead.
A slip below the 0.2175 support could invigorate bears to keep the pressure and aim for the $0.200 – $0.1900 psychological axis. However, a rebound and break above the $0.2250 – $0.2300 axis would place the price above the descending trendline and the 4-hour 50 SMA level, which should help the tenth-largest crypto push towards the $0.2700 pivot point.
Meanwhile, my resistance levels are $0.2250, $0.2300, and $0.2400, and my support levels are $0.2175, $0.2100, and $0.2000.
Total Market Capitalization: $2.57 trillion
Dogecoin Market Capitalization: $28.8billion
Dogecoin Dominance: 1.12%
Market Rank: #10
Join Our

Free Telegram Group

We send 3 VIP signals a week in our free Telegram group, each signal comes with a full
technical analysis on why we are taking the trade and how to place it through your broker.

Get a taste of what the VIP group is like by joining now for FREE!

Join Our Telegram