Bitcoin Steadies as Third-Largest Whale Acquires 6,665 BTC in Two Weeeks
November 25, 2021
#BITCOIN#BTC#CRYPTOCURRENCY#NEWS#TechnicalAnalysis
New reports show that the third-largest Bitcoin (BTC) whale has accumulated over 6,600 coins (worth $379.5 million at press time) in the last two weeks, amid a 10% slump in price within the same timeframe.
Analysts show that this particular account tends to sell when BTC's price increases significantly within a short period and dumps when the reverse happens.
However, for the past few weeks, this account has focused on accumulation only, according to CryptoQuant analysts VentureFounder.
On November 2, the whale address initiated eight consecutive Bitcoin purchases amid declining prices. The first purchase involved the acquisition of 1,123 BTC, as BTC traded at $64K, while the last purchase involved the purchase of 616 BTC yesterday, as the crypto traded at $54.7K. Cumulatively, this whale address purchased 6,665 coins in under two weeks.
VentureFounder reports that this entity now boasts its highest wallet balance in four months when it accumulated BTC at around $30K. The analyst tweeted yesterday that:
"8 straight (business) days of buying:

The 3rd largest #Bitcoin whale wallet added 616 more #BTC today at $57.4k for a total of $35.3M.

The #whale bought 6,665 BTC in under 1.5 weeks. This has been the highest wallet balance since July 2021 (the low $30k accumulation period)."
Key Bitcoin Levels to Watch — November 25
BTC continues to struggle to record any meaningful bullish move as it remains within the confines of the $59K – $56K range over the past few days. With the increased whale accumulation activities, we expect to see some bullish moves in the benchmark cryptocurrency over the coming days.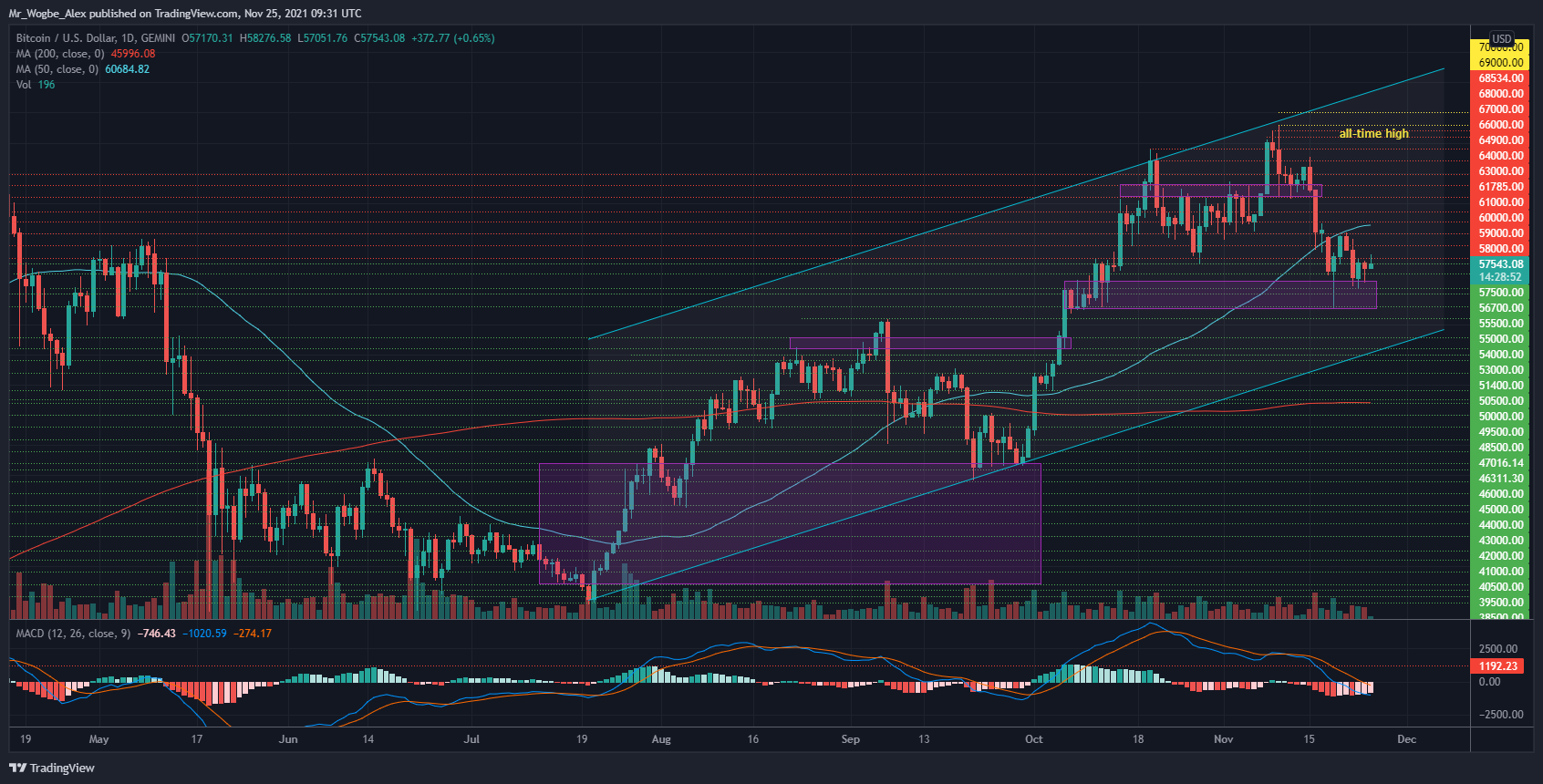 The first target for bulls is the $60K psychological resistance followed by the $60.7K, where my 4-hour 50 SMA resides. Also, given the repeated rejection of bears at the $56K pivot top, a slip below that level seems unlikely as long positions across exchanges begin to surpass shorts (50.2% – 49.8%).
Meanwhile, my resistance levels are at $58,000, $59,000, and $60,000, and my key support levels are at $56,700, $56,000, and $55,500.
Total Market Capitalization: $2.59 trillion
Bitcoin Market Capitalization: $1.08 trillion
Bitcoin Dominance: 41.9%
Market Rank: #1
Join Our

Free Telegram Group

We send 3 VIP signals a week in our free Telegram group, each signal comes with a full
technical analysis on why we are taking the trade and how to place it through your broker.

Get a taste of what the VIP group is like by joining now for FREE!

Join Our Telegram